Armenia Customs strengthen anti-counterfeiting enforcement thanks to high-performance analytical tools
By
Ruzanna Kusikyan, Head of Risk Analysis and Management Division, IT Department, State Revenue Committee of the Republic of Armenia
This article gives a snapshot of the evolution of risk management within Armenia Customs. It looks in particular into the analytical tools developed to strengthen anti-counterfeiting enforcement.
The implementation of a risk management tool to manage the movement of goods in Armenia dates back to 1999, with the deployment of UNCTAD's Automated System for Customs Data (ASYCUDA), which included a selectivity module. ASYCUDA, and the selectivity module, was replaced in 2008 by an in-house information system which in turn gave way to the National Single Window for Foreign Trade (https://trade.gov.am) in 2015. In 2017, the selectivity module that had been developed as part of the 2008 in-house information system was replaced by a risk management system which is still used today.
The designers of this new system took into account international norms and recommendations established by the WCO, the World Bank, the United Nations and the World Trade Organization. They also gained insights working with experts from European Union (EU) countries within the framework of a "Twinning project", the EU instrument for cooperation between public administrations of EU Member States and of beneficiary countries.
Flexibility and continuous improvements
The tool built is flexible and undergoes continuous development and expansion. Like other automated systems, it collects, organizes and categorizes data from various IT systems on the basis of rules developed using machine learning methods. Besides targeting functions, it includes feedback mechanisms as well as activity monitoring and analytical tools. Specific classifiers have been developed to ensure that data related to control results is used effectively to enhance the risk management policy. A classifier is an algorithm that maps the input data to a specific category. One such classifier focuses on risk mitigation measures, while another looks at the results of the implementation of such measures. There is also a classifier to examine the bases for a change of control procedures.
The National Single Window for Foreign Trade currently connects 30 systems or components, including the Customs automated system "eCustoms". The most recent components process the Transport Means Declaration and the Goods and Passenger Declarations for Express Cargo. The Integrated Border Control System was introduced in 2022, and ensures interoperability between the Customs systems and the IT system used by border guards working under the National Security Service. Other systems, such as the Unified Customs Offences Database and the PostClearance Control Analysis and Targeting System, are in the development phase. During the design and implementation of these systems, emphasis is laid on integration and interoperability with the risk management system, with functionalities extended to cover the specific risks attached to the processes managed by the newly added systems.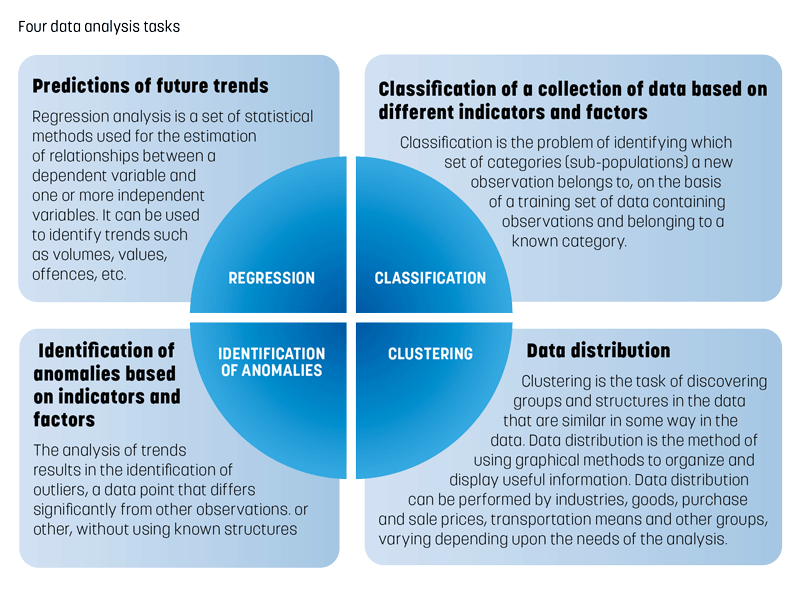 In 2018, a module for the identification of IPR infringements was developed. Risk profiles were established for each product registered by an IP rights holder with Customs. The IPR module is regularly assessed and analytical methods are enhanced to respond to specific challenges, such as attempts by traders to evade IPR control by miswriting brand names, false positives due to word similarities, the growing number of entities with the right to import or export branded products, and the existence of different products registered by different rights holders but bearing the same name. To overcome these challenges, risk profiles have been diversified and new selectivity rules have been established. One of the algorithms uses historical data to identify any potential matches for each registered product. Another identifies all of the possible ways of fraudulently writing product or brand names. As a result, if a cargo contains a product matching a risk profile, a warning is sent to a control officer as well as to employees of the State Revenue Committee involved in IP protection. If, after inspection, the product is still deemed suspicious, the release of the cargo is suspended and the legal procedure is triggered. In 2018, the number of cases of suspension of release of goods based on IPR infringement increased 21 times compared with 2017. Since then, this number has grown continuously. In 2021, it was 68% higher than in 2020. Increased efficiency in the protection of IPR translated into an increase in the number of requests for intervention registered with Armenian Customs, which have nearly doubled since 2018.
At the Georgian Cyber Security and IT Innovation Conference held in 2019, the IPR module developed by the State Revenue Committee of the Republic of Armenia won the prize for "Best Online Information Resource". During the event, the State Revenue Committee was also awarded "The Best IT Management Entity" prize for the completion of several IT projects in the field of Customs.
Way ahead: people, technologies and cooperation
The State Revenue Committee has adopted a strategy to embrace digitalization which impacts on how the administration manages risk and understands known and unknown risks. The strategy therefore goes hand in hand with the development of new analytical tools. If the administration has already proven its capacity to analyse big data, its next goal is the introduction of artificial intelligence to process large quantities of data very quickly using algorithms that change over time and get better at what they are intended to do. Realization of such an ambitious goal requires the mobilization of knowledge and expertise. Three main pillars have been established: people, technologies and cooperation:
Any innovation, advance or development is impossible without creative and visionary people who are professional in their fields and ready to expand their knowledge, learn and try new concepts. It is crucial to find and employ the right people, but even more important to continuously invest in their development, and provide opportunities for them to grow, learn and develop professionally and help put the vision into practice. The State Revenue Committee has this commitment and is developing training opportunities and experience exchange mechanisms with other Customs administrations. It also encourages staff to take online training, including those available on the WCO CLiKC! learning platform.
Technologies are developing at an incredible pace and, therefore, serious efforts are required to not only catch up with new technologies, but also adapt them to the specific needs of the Customs administration. For this purpose, it is important for officers to constantly explore the field and be aware of the latest innovations. This means that they must dedicate time in their daily work to reading and researching.
It is practically impossible to work effectively in isolation, especially when resources are limited. Therefore, it is crucial for a Customs administration to develop effective mechanisms of cooperation with other Customs administrations, as well as international organizations. Such cooperation should include exchanges of experience and good practices, but also undertaking joint projects such as the development of analytical tools. The Armenian State Revenue Committee is ready to collaborate with other Customs administrations, both to exchange knowledge and to implement joint pilot projects in this area. Those interested in knowing more about the Armenia Customs risk management system, for example, are invited to use the email indicated at the end of this article. The system has been presented at a number of events and has received strong interest and positive feedback from experts and Customs practitioners. The State Revenue Committee believes that cooperation is key to innovation and that, although it requires planning and resources, Customs have a lot to gain from working together.
More information
secretariat@customs.am
ruzanna_kusikyan@customs.am