Global Trade and Customs Journal, the premier journal for international trade practitioners
10th October 2018
By
Jeffrey L. Snyder, , General Editor, GTCJ, and Partner, Crowell & Moring LLP, Washington, D.C. and Brussels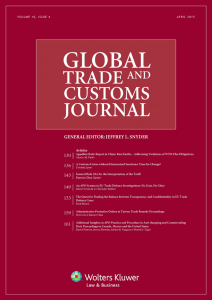 The Global Trade and Customs Journal (GTCJ) is celebrating its 10th year of publication. In its first decade, the Journal focused its work on the issues facing international business and the day-to-day challenges facing practitioners. It aims to provide its readers with new ideas, fresh insights and expert views on critical practical issues affecting international trade, with a growing focus on international investment regulation.
In 2015, the old clichés still hold true. The world is getting smaller and time flies. Globalization is driving businesses to be better, smarter and faster. To do more with less, and to do it safely, complicates compliance. Yet despite the pace and power of globalization, national borders are not fading away.
In fact, national borders have strengthened and national measures are multiplying. International business faces an array of obstacles to compliance which are exacerbated by preferential trading arrangements (PTAs), trade defence measures, trade remedies and international sanctions, and which it must address before it can even begin to think about saving money and perhaps leveraging any advantages that may result from mastering all this complexity.
Many colleagues already have it all figured out, or are at least a few steps ahead in this process. They may have had to deal with certain issues before you have, or they may have foreseen problems at an earlier stage. They may also have figured out solutions to them, or at least developed coping mechanisms. The main objective of the Journal is to bring this information to you on a monthly basis.
International trade and Customs compliance is a multi-disciplinary exercise, requiring a "menu" of essential skills. In fact, the issues facing international trade practitioners today stretch across various categories that include the following, among others:
Customs – perhaps the most challenging of the disciplines, if only because of the pressure to deliver "just in time," comply, save money and secure all at the same. Inevitably, something must give and it cannot be security. The biggest issues facing business are often in the area of Customs because it is at the heart of many operations. Supply chains are lifelines. Keeping them healthy and moving requires skills and foresight. Knowledge matters, not luck;
Export controls – a discipline that rarely saves money if carried out correctly, but often costs sales. Nonetheless, many transactions are needlessly cancelled. Understanding the rules not only reduces the amount of improper transactions, it can also free up those that are wrongly impeded. The idea voiced almost 20 years ago upon the fall of the Soviet Union that export controls were a thing of the past, has proven wildly inaccurate. Export controls, like national borders, show no sign of weakening. Their use by governments, and their reach, have only grown;
Sanctions – often viewed as part and parcel of export controls, sanctions and embargoes – are indeed converging in some ways. This convergence is only partial, however, and is complicated by the "list-based" sanctions programmes now in place, not only in the United States (US), but in many other countries. As the financial measure of choice to battle terrorism and other scourges, compliance and risk management talents are at a premium;
The World Trade Organization (WTO) – as the Doha Round continues to stall, trade liberalization is taking other paths, including FTAs. The continued vitality of the WTO dispute process is evident from its valuable role as a source of rules for governments. Good business depends on understanding and managing the impact of decisions about how governments regulate international trade;
Antidumping and trade remedies – trade remedy actions remain unpredictable and are severe obstacles to international trade. The persistence of antidumping measures and the growth in the use of countervailing measures and safeguards reflect a climate of continued national competition that creates additional compliance management challenges;
Anticorruption – the proliferation of anticorruption laws has begun to multilateralize the restrictions on the bribery of government officials, but has also increased variance in their implementation and interpretation;
Investment regulation – trade and investment go hand in hand, whether expressed through national restrictions such as the US Exon-Florio law or its Canadian counterpart; the growing network of bilateral investment treaties; or even China's new law. These issues will continue to drive international business decision-making.
The GTCJ is a source for practical treatment of these issues, providing guidance based on experience and knowledge, including a focus on cross-border and multi-jurisdictional compliance issues, interviews with practitioners and others who wrestle with these matters, and other contributions that are designed to deliver a useful and timely package of information.
In this age of what often seems to be excessive information, the GTCJ aims to provide a selection of contributions that is relevant to practitioners around the globe. Written for practitioners by practitioners, the Journal offers practical analysis, reliable guidance and experienced advice to support professionals in protecting their clients' or organization's compliance interests.
The GTCJ publishing team cannot do it without you. They need your guidance and direction, and look forward to hearing from you. Should you be interested in contributing to the Journal, please contact the General Editor, Jeffrey L. Snyder, for further information, including details on the Authors Guide and House Style Guide, or visit the publisher's website.
More information
jsnyder@crowell.com
www.kluwerlaw.com