Customs laboratories: available resources, assistance and networking possibilities
While many traded goods can be correctly identified and classified by simple visual inspection or documentation review, some require chemical or scientific testing to ascertain their identity and enable their correct classification. Products as diverse as acetaminophen (a pharmaceutical product), saccharin (an artificial sweetener), ascorbic acid (a vitamin), piperonal (a drug precursor) or potassium cyanide (a potent poison), for example, cannot be differentiated without being analysed.
This applies not only to classic chemical products. Without chemical testing, it is impossible to distinguish powdered baby formula from a milk protein concentrate, natural honey from a substitute made with glucose syrup and colourants, or wheat flour from a modified starch for industrial use. Equally, the classification of a ceramic mug depends on whether it is made of stoneware or earthenware, and the classification of a textile product made of a mixture of cotton and synthetic fibres depends on the predominance of one of the fibres.
Processing chemical and scientific analyses is not essential only for the correct classification of products in the Harmonized System (HS), it is also critical to the fight against dangerous substances, for instance, chemical weapons, ozone depleting substances, pesticides, persistent organic products, and drug precursors, etc.
These analyses are performed by laboratories. They can be Customs laboratories, which may be public or private but are specifically under the direction of a Customs administration, national laboratories which fall under the jurisdiction of another government agency, or private laboratories which undertake work on behalf of Customs.
Customs laboratories differ from other laboratories in that they have to analyse all types of products mainly for the purposes of Customs classification, with staff skilled in two disciplines: chemical analysis and Customs regulation. As well as solid training in analytical methods, industrial processes of manufacturing, and chemistry in general, the staff must have an in-depth knowledge of Customs procedures and regulations pertaining to, for example, the classification of goods, the application of excise duties and the processing of export refunds among others.
Most Customs administrations have their own Customs laboratories. The use of private laboratories and State-owned laboratories is exceptional. In such cases, ensuring good communication and coordination between Customs and the laboratories is crucial in terms of the relevance of test results.
Indeed, although basic analysis would not pose issues to the staff of private laboratories, some complex analyses may require a specific knowledge of Customs matters. The same problem may arise when working with a national laboratory falling under the control of another public agency. Some private laboratories include units specialized in carrying out analyses for Customs purposes – Danish Customs, for example, has used the services of such a laboratory since 1908 (see article on page XX).
Another benefit for Customs administrations in establishing their own laboratories is that, as they fall directly under the administration's authority, Customs has a direct say on issues relating to staff management, training and equipment, and can ensure optimal use of the laboratory. The drawback is that the costs associated with the running and maintenance of a Customs laboratory may be high, as it is important that they are well-resourced and fully equipped for optimum results.
Role of Customs laboratories
Customs laboratories are an essential instrument for Customs authorities, which rely on their expertise when faced with the classification of certain products for the purposes of their national tariff nomenclature. The WCO Secretariat also uses the expertise of laboratories when tasked with the classification of certain goods for purposes of the HS nomenclature. The work of laboratories, however, goes on behind the scenes on a daily basis, as one of the unseen faces of Customs and border management.
Traditionally, Customs laboratories perform chemical analyses to determine the tariff classification of goods referenced in the Customs nomenclature, which is crucial for applying the correct duties, particularly in agricultural and industrial trade, as well as for matters relating to antidumping procedures and export refunds. Customs laboratories may also provide advice on Binding Tariff Information (BTI) requests.
Customs laboratories are also becoming more and more involved in export control, in environmental protection (e.g., controlling the trade in ozone depleting substances and hazardous waste), in endangered species protection, and in controlling dangerous goods (e.g., pesticides, persistent organic pollutants and chemical weapons, and narcotics and drug precursors).
Some laboratories, such as the one in Japan, also provide advice on the performance assessment of various inspection equipment, along with methods for their practical use, and are collaborating with private firms to tap into new fields of research, including the development of contraband detection equipment.
For example, the Japan Customs Central Laboratory is currently conducting research on a "metal detector" that responds only to iron (the material used in firearms) and a "detection radar" that detects drugs hidden inside the hollowed-out cavities in stone or wooden objects.
There is no such thing as a typical Customs laboratory. Some have a long history, such as the Austrian Customs Laboratory in Vienna established in 1848, while others have only recently been set up. No laboratory is exactly the same as the next. They may differ in terms of staff numbers, remit, tasks, range of available equipment, accredited analytical methods, and particular specialities offered.
Taking the above factors into account, the WCO has drawn up practical recommendations, as well as a comprehensive technical assistance and training programme, to assist its Members in improving the efficiency of their Customs laboratories and in implementing such a facility or assessing its implementation feasibility and practicality.
The Organization notably developed a Customs Laboratory Guide as a practical handbook for the establishment or improvement of Customs laboratories in developing countries. It includes "best practices" covering a variety of issues and operations: from the organizational structure, staff categories, design, space utilization, equipment and information systems, to safety and pollution measures, sample preparation methods, recommended analytical methods, and operation and results reporting procedures.
Several databases, some managed by the WCO and some managed by other institutions, are specifically designed for the purpose of facilitating the classification of products. These databases may also be helpful in the day-to-day routine of a Customs laboratory:
The WCO's HS database and the database of classification advice offer the possibility of searching by keyword or by using an HS code to retrieve information.
The INN Table, an Excel spreadsheet that contains the HS classification of international non-proprietary names agreed by the WCO HS Committee (HSC).
The European Union (EU) Inter Laboratory Inventory of Analytical Determination (ILIADe) is a shared directory of analytical methods that laboratories are required to use for Customs purposes, as well as for authenticity and quality controls, consumer health protection and environmental controls.
The European Chemical Inventory of Chemical Substances (ECICS) which lists chemical names along with their tariff classification in the European Community's Combined Nomenclature (CN). As the CN codes are based on the WCO HS, ECICS tariff classifications are helpful throughout the world.
The Binding Tariff Information database (EBTI-database) which contains classification decisions issued by EU Member States. It also provides details of the composition of goods (excluding any confidential information), and justifications for classifications.
Another interesting resource for Customs and tax authorities is the sampling manual developed by the Sampling Working Group of the European Commission (EC) to ensure the quality of samples received for analysis at laboratories.
Also, the WCO launched the WCO/Japan Regional Customs Laboratories Programme (RCLP) in 2013, under the sponsorship of Japan Customs. It provides an opportunity for chemists or analysts working, or planning to work, at a Customs laboratory in a developing country to update their skills in chemical analysis for HS classification purposes and to improve their knowledge of the HS.
Under the RCLP, participants spend the first week of the programme at WCO Headquarters and then about seven weeks at the WCO Regional Customs Laboratory (RCL) in Japan where they are exposed to the latest technologies and techniques.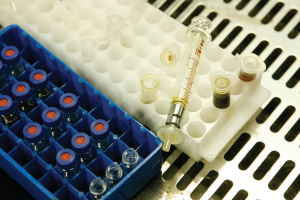 Based on the WCO Customs Laboratory Guide, the WCO Secretariat provides technical assistance for the implementation or modernization of Customs laboratories, as well as specific training for laboratory staff. Assistance generally takes the form of expert assessment missions and workshops.
To deliver assistance, the WCO has so far benefitted from the experience of Customs chemists from Germany, Japan, Mexico, the Netherlands and Spain, who have kindly been made available by their respective Customs administrations. Funding has been provided by German Customs, Japan Customs, the EC's Taxation and Customs Union Directorate-General (DG TAXUD), the Swedish International Development Cooperation Agency (SIDA), and the Norwegian Agency for Development Cooperation (NORAD).
Prior to the implementation of any assistance activity, the WCO Secretariat invites the future beneficiaries to express precisely the nature of the assistance requested and the objective sought, including a description of the status quo and plans for the Customs laboratory, its possible use, the volume of trade of target commodities, and the training required. This enables the content of the assistance to be customized accordingly.
Most WCO training starts with presentations aimed at broadening laboratory workers' knowledge of the HS Convention and its related tools, as well as the classification of chemicals in Sections V to VII of the HS. Moreover, analytic methodology, methods validation, quality assurance and modernization potential are usually discussed extensively with participants.
The content of the WCO Customs Laboratory Guide and existing useful resources, such as the databases and websites mentioned above, are presented and discussed too. Last but not least, some analytical determinations of special interest for the country concerned are conducted in the laboratory under the supervision of WCO experts.
The Serbian Customs administration, for example, requested the assistance of the WCO in modernizing its laboratory, which included the construction of a new laboratory and the purchase of new equipment, as well as taking on new employees and training employees on the use of the new equipment and on testing methods. Training was also conducted on specific issues identified by Serbia relating to alcohol, textured/non-textured vegetable fat/oil and mineral products.
WCO experts assisted Albanian Customs laboratory staff in analysing certain types of goods with which the administration was facing difficulties, such as energy drinks, solvents, additives, textiles and shoes. In addition, at Albania's request, information and examples of the classification of mineral oil were provided, as well as basic knowledge on the taxation of mineral oils in the EU and common variants of mineral oil tax evasion.
In Ecuador, a National Workshop on the Modernization of the Customs Laboratory was organized, enabling laboratory staff and WCO experts to discuss particular problems in the day-to-day routine of laboratory staff activities, as well as future plans for the enhancement of the laboratory. Staff were also trained on the amendments introduced in the 2012 edition of the HS, and more particularly on specific areas concerning chemical products, pharmaceutical products, "hi-tech" products and vehicles.
The WCO undertook a feasibility study for the implementation of a new Customs laboratory in Bogota, Colombia. WCO experts provided information on the equipment, infrastructure, staff and training necessary for the modernization process.
In Ethiopia, different possibilities were examined in detail regarding the use of laboratories. Two alternative scenarios were proposed to the Ethiopian Revenues and Customs Authority (ERCA): cooperation with the Ethiopian Conformity Assessment Enterprise (ECAE), or the creation of a new ERCA-owned Customs laboratory, even though this could result in a duplication of equipment. It was also suggested that a small laboratory be set up in the Customs warehouse at Kaliti, where about 90% of all imports are cleared, to speed up the clearance process.
Customs officers in Montenegro received expert training on the use and possibilities of a Customs laboratory for goods classification and tariff management, as well as training in the management of a Customs laboratory. Information about the equipment, infrastructure, staff and training necessary for the modernization of the country's Customs laboratory was also provided.
In Tanzania, a comprehensive feasibility study on the implementation of a Customs laboratory in the Tanzania Revenue Authority was undertaken. It included recommendations on the characteristics of Customs laboratories (i.e. their main field of work and how to develop this activity) and the number of laboratories to be set up, as well as their location, distribution, design, organizational structure and necessary equipment.
Cooperation and networking
Despite their particularities, Customs laboratories face common problems and challenges. During WCO workshops, participants are informed about relevant examples of cooperation and networking between Customs laboratories in the world. Among the initiatives taken in this domain are the WCO Regional Customs Laboratory (RCL) and the Customs Laboratories European Network (CLEN).
There is, for the time being, only one WCO RCL. Launched in November 2014 within the Central Customs Laboratory of Japan Customs in Kashiwa City, it will be used to provide regional training and technical assistance to Asia/Pacific administrations in the field of chemical analysis, as well as to promote information-sharing between the region's Customs chemists, classification specialists and enforcement officers.
Dating back to 1999, the CLEN aims to rationalize, coordinate and optimize the use of human and technical resources among European Customs laboratories. One of its most important missions is to anticipate changes in the Customs environment and to ensure that the Customs laboratories are sufficiently prepared to meet both current and future challenges.
Through networking and face-to-face contacts between the Customs laboratories, the WCO RCL in Japan and the CLEN aim to make it easier to exchange experiences and best practices. In addition, there are other platforms, such as the one developed by the European Monitoring Centre for Drugs and Drug Addiction for Customs chemists, which allow Customs scientists to share their results.
Informal presentations and encounters make it easier to establish collaboration initiatives as the case arises, and in this regard the WCO encourages its Members' Customs laboratories to develop cooperative links between one another, especially at the regional level.
From the moment a new fraud is detected, laboratories have to implement a new type of test within days. New techniques need to be developed in order to be operational as fast as possible. Today, with the arrival of new substances branded as drugs, more precise guidelines on the composition of food products in particular, and ever increasing security requirements, laboratories need to be ready and organize themselves to meet any challenges.
Concerning food products in particular, Customs administrations have to find ever more innovative solutions to identify transformed products. A French laboratory has developed a technique identifying fish species by DNA sequencing, for example. This technique is the only way to trace the species of fish when they are delivered in pieces.
To keep abreast of the latest techniques, as well as maintain cooperation among one another, there are many other bodies with which Customs laboratories should liaise, including universities, private companies and standardization bodies.
In the field of new psychoactive and medicinal substances, Customs administrations and universities often collaborate on one-off special cases. For instance, successful collaboration with the University of Toulouse in France helped French Customs to identify a medicinal substance distributed on the parallel market that was still at the experimental stage.
There have also been some interesting developments in the use of information technology (IT) to expedite procedures – a key issue for Customs administrations. The Austrian Customs Laboratory, for example, has a computer system allowing a Customs officer to fill in an electronic form to request clarification about a Customs classification and add images of the product concerned. The same system is visible to the laboratory, saving time and informing staff what samples are on the way before they have physically arrived on the premises. The Customs officer can later see the outcome of the analysis on his or her screen.
More information
www.wcoomd.org/en/topics/key-issues/customs-laboratories.aspx