French Customs puts data science to work for all its officials
By
French Customs
In late 2019, French Customs set up a programme called "Valorisation des Données" ("Data Exploitation"), placing data at the heart of its various lines of work. Its intention in embarking on this project was to seek out new tools to transform the way in which its officers carry out their jobs. The objective was to optimize all activities: targeting, interactions with the economic operators that it advises, resource management, operational efficiency, etc.
At the end of June 2022, as this article is published, six apps are already up and running. The development of these tools went hand in hand with the building of a "Big Data" platform to host all the data required by Customs and, in due course, additional external data. This means that French Customs now has a robust, state-of-the-art platform that is second to none.
This data exploitation approach is also accompanied by action in the fields of data governance, essential in order to "urbanize"[1] the data layer of the information systems and make the data accessible, and of the in-housing of competencies.
Apps
Below is a brief overview of the apps that have been developed.
"Minoration de valeur" ("Undervaluation") app
Developed for the national risk analysis and targeting service, this app helps to detect instances of undervaluation by flagging import flows with abnormal values. Feedback collected in March 2022 shows that users are satisfied overall. As one of them explains, "the data provided are signals that need to be verified and converted into an operational target when necessary". Another user says that the tool "saves time when you are studying transactions and makes it easier to draw up the analytical report on price quotations for goods".
"Atypie" ("Atypicality") app
With this app, the user can model any trend observed in the flows declared that does not conform to the reference model. Feedback from a satisfaction survey carried out in March 2022 is very positive, with some users describing the tool as "innovative, completely transforming working methods", while others even talk in terms of a "revolution".
"Vision 360 des opérateurs économiques" ("360-degree view of economic operators") app
Developed both for the services responsible for advising companies in their international trading operations and for economic operators, this tool provides a simple, comprehensive statistical display of import and export operations by country, by region and by operator. By rapidly accessing a display of the background to the flows, Customs officers are better able to meet companies' needs quickly and comprehensively. Some of them describe an amazing saving in terms of time. Companies that have access to this tool can view only the data relating to them.
Originally, the aim was to meet the needs of large companies, which wanted greater visibility of their Customs operations, in particular to identify the risks of non-compliance and their fiscal impact. These companies have said that they are very pleasantly surprised by the tool's functionalities, which exceed their expectations.
Officers say that many other smaller operators were waiting for a tool of this kind. Since it was launched on 21 June 2021, an average of 20 private-sector users log on every day. Changes are being made as and when required to meet their needs. To date, there have been no reports of any anomalies.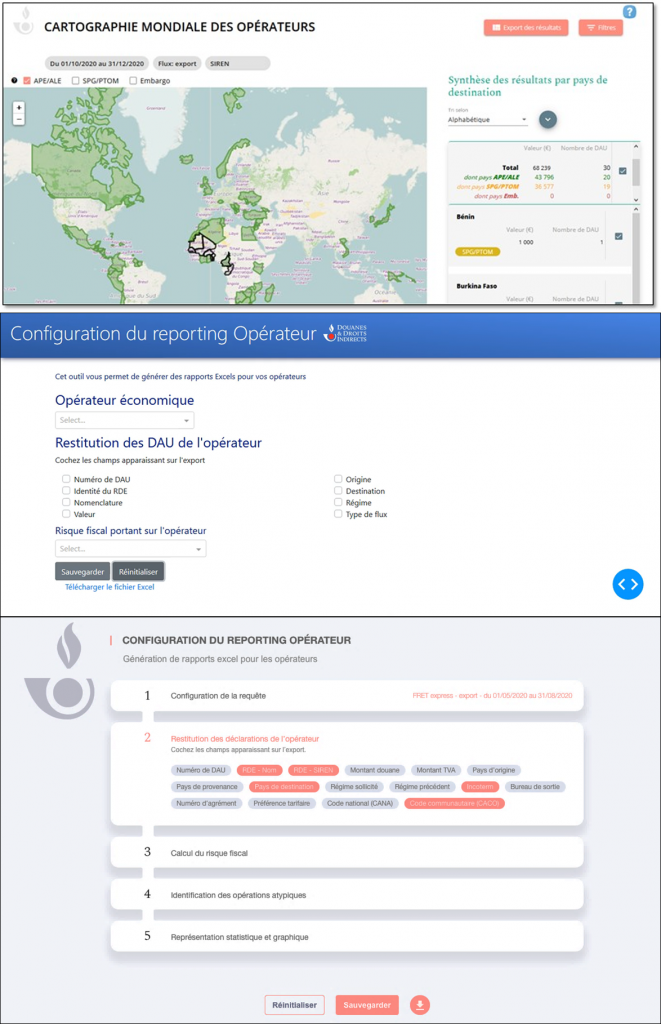 "Aide à la decision – déploiement routier" ("Aid to decision-making – Deployment on the roads" app
France is a transit country within the continent of Europe. One of the hallmarks of French Customs is that it has inland Customs units to combat major trafficking on the highways that criss-cross the country.
Developed specifically for these units that check vehicles on the roads and motorways, the purpose of this app is to optimize the deployment of personnel and the control strategies on these roads. It reconstructs on a map the history of the units' activities and the record of legal action. An algorithm analyses these data to recommend that checkpoints be set up on particular dates and within specific time slots. By providing greater visibility for these operations, the tool also facilitates the dialogue between the various levels of the Administration and improves the coordination of the units at national level.
"Simulateur de mutation" ("Transfer simulator") app
As part of his or her career development plan, an officer may ask to be transferred, in other words change his or her job with a relocation and/or a change of duties. A mapping tool has been developed to give the officers concerned easy access to the list of vacancies and related information, such as the number of mobility points required in order to be eligible. Between February 2021, when it was launched, and March 2022, the tool recorded an average of 80 visits a day. According to users, "the simulator is practical and user-friendly and, most importantly, it gives you all the information you need".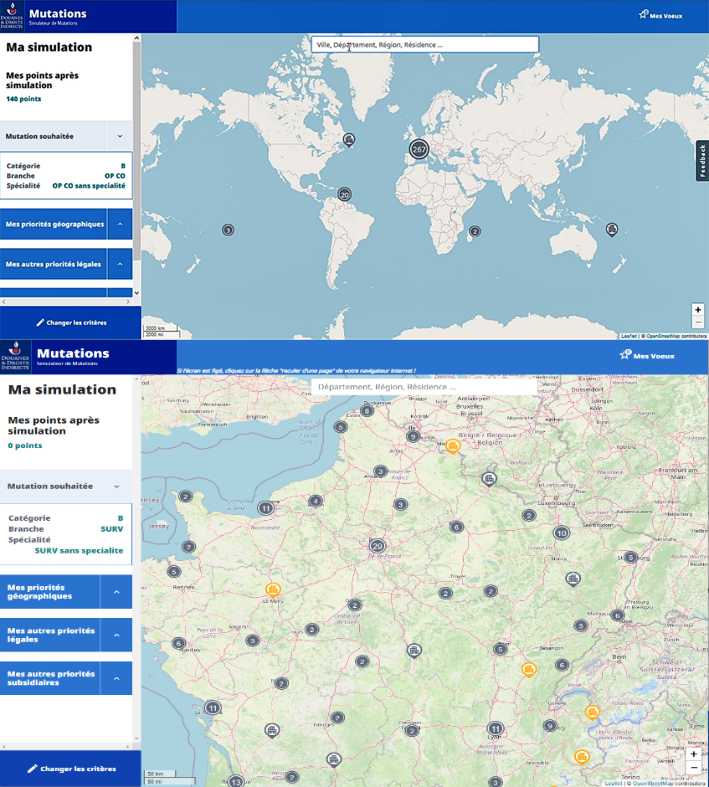 A year from now, the "Data Exploitation" programme will have produced around 20 apps. For example, three other apps are due to be released shortly:
for all Customs officials: a "human resource chatbot" which will answer officers' HR questions;
for staff combating online tobacco trafficking: an analytical tool using web scraping techniques (techniques that extract website content) to identify illicit tobacco sales on public social networks and web-based collaborative platforms;
for enforcement staff: a mapping tool displaying tobacco flows and enabling fraud risks to be evaluated.
Underlying the introduction of these apps is major work on the infrastructure. To avoid the creation of silos, that is to say sets of data that cannot be shared or be put to any other use within the Customs Administration, a "Big Data" platform was set up back in 2016. A "best of breed" approach was adopted, according to which the platform designers sought out specialized solutions meeting specific functional needs, rather than relying on all-in-one or integrated suites.
Like most other French authorities, Customs has also opted to host the platform components (routers, switches, firewalls, storage systems, servers, etc.) on its own infrastructure, which, among other things, it makes available and maintains (servers, premises, power, etc.).
The platform construction phase is coming to an end with the installation of the main components. In 2022, it is planned to integrate other components, providing the means to implement various artificial intelligence techniques.
Customs also works with other national authorities, in particular with the tax authorities, to look into the conditions according to which they might bring their respective data platforms together. Sharing data in this way would mean that the databases could be enriched and human and material resources could be pooled. Lastly, the data lake could be populated with data from outside the Customs information systems in the years to come (such as data from carrier companies).
The data platform also provides an opportunity to take a fresh look at performance steering tools. Early in 2021, an experiment called "Pilote Performance" was launched in order to define the indicators for nine topics (the fight against trafficking, Customs clearance, etc.) and to present the results in the form of interactive dashboards. The users taking part in the pilot programme stressed significant time-saving compared with the previous performance measurement procedures and the production of more plentiful information.
Governance and bringing competencies in-house
French Customs has realized that it needs to administer its data so that their potential can be fully exploited. The databases and the fields of these databases are currently being documented, the quality of the data is starting to be evaluated, the principles of compliance with the regulations on data protection and security have been clarified and communicated, and working procedures have been developed, which have also been circulated.
The Administration used the services of external experts to develop both the data platform and its apps, while working on the development of key competencies in-house. The future challenge is to build up the Administration's self-reliance in the implementation of the programme, not least by speeding up this in-housing process. The services concerned are becoming engaged. Among other things, training and awareness-raising activities about the challenges presented by data are being developed, not only for the officials in charge of the data, but also for those who have to use them or work on their exploitation. Recruitment efforts are also planned, along with an action plan focusing on the attractiveness of the Administration and employee retention.
More information
delegation-strategie@douane.finances.gouv.fr
[1] The term "urbanization" likens the organization of an information system to that of a town. If a town is properly planned, it is able to meet the needs of its users. There are networks for natural exchanges between the various districts, and each district develops without adversely affecting the whole, as the overall structure allows for development of this kind. When applied to information systems, "urbanization" makes it possible to "arrange" the information system. This is about establishing or re‑establishing a link between the information systems and the organization's strategy.