Customs-Ports partnership and engagement in Abu Dhabi
17th October 2023
By
Eng. Khalid Hasan Ali Al Marzooqi and Brahim Tchina, Abu Dhabi Customs Administration
and
Yousef Al Riyami, Chief Technology Officer, Maqta Gateway
Abu Dhabi (AD), the capital of the United Arab Emirates, was one of the early adopters of trade digitalization in the Middle East and has made considerable progress in this field. To achieve this, it needed to establish a solid partnership between key private- and public-sector stakeholders, including AD Customs, AD Ports Group[1] and the Abu Dhabi Department of Economic Development (ADDED).
In 2019, the ADDED formed the Abu Dhabi Logistics Sector Development Committee.[2] Under its umbrella, AD Customs and AD Ports Group discuss future changes, share ideas and positions, obtain valuable information to extend their horizons, review progress and brainstorm (see Figure 1).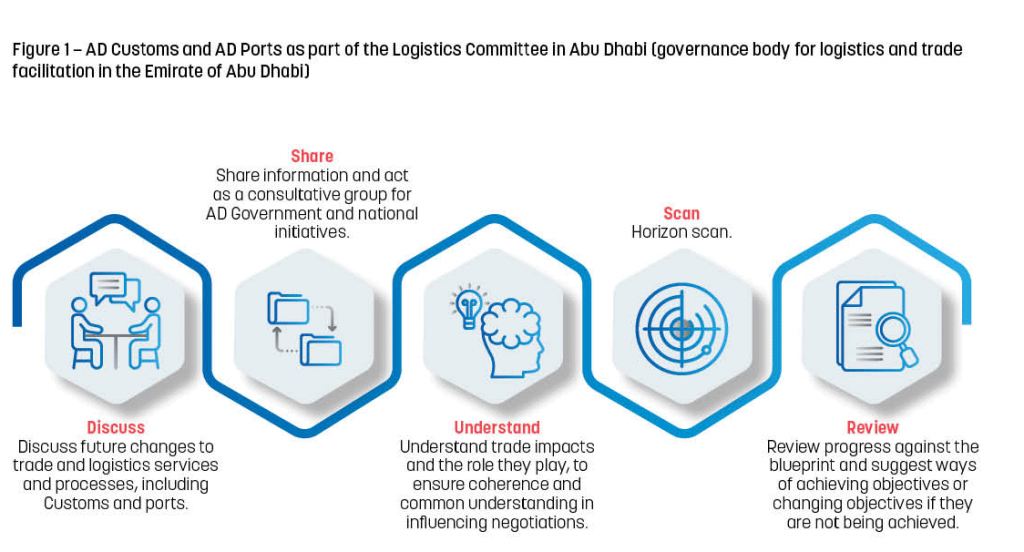 Both entities have the common objective of reducing the time it takes to complete trade transactions and the associated costs, using cutting-edge technologies and smart ways of working. They are working together closely to meet businesses' expectations and ensure that regulations, policies and programmes respond effectively to an ever-changing environment.
This dynamic partnership is driving several initiatives, which are outlined in further detail in this article: the Advanced Trade and Logistics Platform, the Border Meter App, the live streaming of the inspection process in Khalifa Port, the Smart Gate pass solution in Khalifa Port and the Virtual Corridors initiative.
The Advanced Trade and Logistics Platform
Back in 2014, the government selected the AD Ports Group – the master developer, operator and manager of commercial and community ports within the Emirate of Abu Dhabi – to build what was to become the UAE's first dedicated Single Window Port Community System: Maqta PCS (M‑PCS). The objective was for M‑PCS to act as the point of convergence between all the entities involved in the process. Among other things, it enabled Abu Dhabi Ports to capture information (such as the manifest) from stakeholders and to receive and share information from Abu Dhabi Customs regarding the release of shipments when Customs procedures were complete. Another system called MAMAR was developed alongside M‑PCS to send and receive Customs declarations.
The introduction of the platform has had a tremendous impact on port and coastal operations. The digitalization of core documentation and the integration of the multiple systems used by each participant in a transaction has helped to bring about a dramatic reduction in what used to be very paper-heavy, manual and frequently inaccurate processes governing the movements of vessels and cargo in ports, as well as payments for port services. Additionally, a considerable part of the process of digitalizing port services was devoted to re‑engineering trade processes, eliminating much of the red tape that had hampered them in the past.
In 2016, soon after the successful launch of the system, AD Ports Group created a subsidiary, called Maqta Gateway, which is responsible for using advanced digital solutions to facilitate trade. In 2020, Maqta Gateway was mandated by Abu Dhabi Executive Council to extend the scope of M‑PCS and create the Advanced Trade and Logistics Platform (ATLP).
The Platform integrates the Abu Dhabi trade Single Window and onboards all IT processes for cargo inspection and clearance. The service catalogue on inspection and clearance is divided into seven categories, covering Customs clearance, Customs clearance at Customs warehouses, Customs clearance in free zones, Customs warehouse licensing, financial services, intellectual property brands and commercial agencies protection, and registration and licensing.
In total, the platform includes more than 800 trade services developed by 70 public- and private-sector entities, providing trade operators with a single window ecosystem that encapsulates everything they need in terms of administrative procedures. Since its launch in 2020, the ATLP has handled more than 100 million transactions. All maritime cross-border operations are processed through the platform, and adoption rates continue to rise for trade by air and land, and through economic zones.
The ATLP is expected to increase exports by 142 billion Emirati Dirham (AED) (36 billion euros) and imports by AED 111 billion (28 billion euros), adding AED 127 billion to Abu Dhabi's GDP by 2030.
AD Ports Group and AD Customs are also considering using the ATLP to develop the AEO programme further by increasing the benefits provided to the operators. Abu Dhabi Customs will use the ATLP to share AEO information with other regulatory authorities, enabling them to take into account AEO status when processing licences, permits, certificates, and accreditation and provide AEOs with some benefits.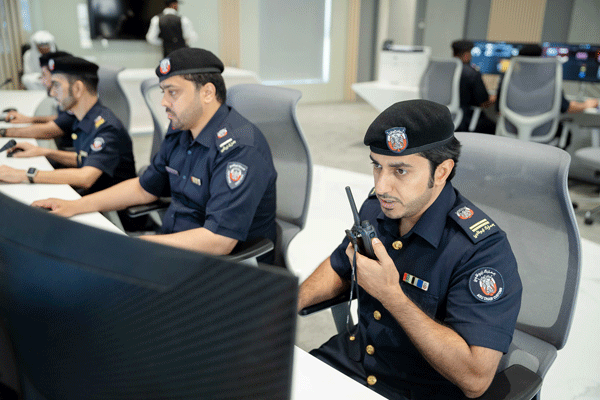 Border Meter App for real-time measurement of the time required to release goods
In 2022, the Abu Dhabi Port Group and Customs worked together on developing an Automated Time Release Application called BorderMeter™, a project which was initiated by the Abu Dhabi Department of Economic Development (ADDED) and which has already featured in the WCO News magazine. The app combines data from ports, governmental authorities and Customs, and processes these data with artificial intelligence models. To develop it, a pilot Time Release Study was conducted at Khalifa Seaport. It covered nine cargo "journeys", from the moment the goods arrive at the port to the moment they are released, for three regimes (import, export and transit):
Import + no other governmental agencies (OGA)
Import + Agriculture and Food Safety Authority (ADAFSA) permission
Import + Ministry of Climate Change and Environment (MOCCAE) permission
Import + Ministry of Health and Prevention (MOHAP) permission
Import + Industrial Development Bureau (IDB) permission
Export + no OGA
Export + Ministry of Foreign Affairs and International Cooperation (MOFAIC) permission
Transit + no OGA
Transit + MOCCAE permission
The data were taken from the Customs clearance and ATLP and mapped against 23 key time points in cargo processing, from the time at which the vessel is fully docked, or best estimate thereof, to the time at which the last truck for this shipment leaves the port gate (not just the terminal), in alignment with the WCO TRS methodology.
The exercise brought valuable insights to participants, and 25 observations and recommendations were drafted. They addressed particularly OGA/Customs coordination, highlighting the need to establish a coordinated border management framework which would provide for joint inspections and enable Customs officers to act on behalf of certain OGAs. There are also proposals for working hours adjustments, the setting up of additional laboratories and specific training for Customs on procedures and controls handled by OGAs.
Live streaming of the inspection process in Khalifa Port
Abu Dhabi Customs has tested the use of live video streaming in Khalifa Port, so that the clearing agent in charge of completing all port and Customs formalities on behalf of a consignee can attend inspections remotely. Customs officers wear smart glasses with a micro-camera and can connect to Wi-Fi during the inspection. The video footage can be watched by the clearing agent from his or her desk or on a mobile device. This eliminates the need for the agent to travel to the inspection location and to complete the required formalities to attend the inspection.
In Abu Dhabi, trucks cannot leave a port with a shipment without presenting a pass at one of the port gates. The pass is issued by the Port Authority once it has been notified by Customs that the shipment can leave the port. This notification is currently made electronically, and the pass is verified by a port agent at the gate.
To speed up the process, AD Customs and AD Ports Group are working on a system for automating gate operation at Khalifa Port. Controls at the gate would be conducted using a radio frequency identification (RFID) reader identifying vehicles and container IDs, and opening the barriers if the departure has been authorized.
Abu Dhabi Customs has recently introduced a new procedure called "virtual corridors" to facilitate the movement of goods from Khalifa Port to the various Free Zones and bonded warehouses in Abu Dhabi (KIZAD) using a specific itinerary. To ensure that the trucks keep to the itinerary, an electronic seal is fixed on the container, and the GPS location and other data generated by the seal are transferred to a control room.
With the same objective but on a broader scale, AD Ports Group and AD Customs have launched an initiative to establish a virtual trade corridor between the ports of Abu Dhabi and those of Kuwait. Abu Dhabi Customs currently offers pre-clearance services for cargo at Khalifa Port, but there is very limited exchange of information between Customs authorities in Abu Dhabi and Kuwait. Under the Virtual Corridors project, in collaboration with their respective Port Authority, the Customs authorities will be able to share information on international cargo movements, as well as intelligence, and respond more effectively to risks, keeping people and goods safe. The MoU between the two parties was signed on 27 March 2022. Abu Dhabi Ports through Maqta Gateway will provide support via the ATLP. By working with Customs, AD Ports will play a key role in making this virtual corridor a success.
More information
k.almarzooqi@adcustoms.gov.ae
brahim.tchina@adcustoms.gov.ae
yousef.alriyami@maqta.ae
[1] AD Ports Group was established in 2021 bringing together all subsidiaries as an integrated business across five clusters – Digital, Economic Cities & Free Zones, Logistics, Maritime and Ports. AD Ports Group was publicly listed on 8 February 2022. ADQ, one of the region's largest holding companies, is the majority shareholder. https://www.adportsgroup.com
[2] The following entities are members of the Committee: Abu Dhabi Customs, Abu Dhabi Ports, Abu Dhabi Police, Department of Transport, Department of Urban Planning and Municipalities, Supreme Corporation for Specialized Economic Zones, the Abu Dhabi Agriculture and Food Safety Authority, Abu Dhabi Economic Development Council, Department of Economic Development, Etihad Airport Services Company and Etihad Rail Company.