Transforming trade: how Dubai Customs is harnessing AI for enhanced trade facilitation and border control
18th October 2023
By
Ahmed Mahboob Musabih, Director General, Dubai Customs
In a world where international trade is the lifeblood of economies, ensuring the smooth flow of goods across borders while maintaining rigorous controls is a challenging balancing act. Dubai, one of the world's busiest trade hubs, is meeting this challenge head-on by investing in advance technology and embracing the power of Artificial Intelligence (AI) to enhance trade facilitation and border control. These efforts are poised not only to bolster Dubai's position as a global trade and tourist hub, but also to set new standards for Customs operations and services worldwide, which has reflected positively on Dubai Customs client happiness index reaching a score of 98% for smart and electronic services. Some of the projects developed using AI are presented below.
As explained in a previous edition of this magazine, the term "AI" refers to several systems and theoretical concepts:
Reactive AI systems, which have the ability neither to form memories, nor to use past experiences to inform current decisions.
Limited memory systems, which are able to use information about the past to improve their responses.
"Theory of mind" AI systems, which not only form representations about the world, but also about other entities. Called "theory of mind" in psychology, this capacity to understand other people by ascribing mental states to them allows humans to have social interactions. This type of AI understands reasoning, motive and intent, and adjusts its behaviour accordingly.
Self-awareness: systems that can form representations about themselves, know about their internal states, and are able to predict the feelings of others.
AI "mainstream" systems which are in use today correspond to reactive and limited memory AI. They can enable Customs to make sense of images and data produced by NII systems, to cross-validate data flows, to analyse extensive sources of data to detect fraud, to search for all types of risk and to find anomalies.
Cross Border E-commerce platform
The Government, guided by its strategic vision to establish Dubai as a global e-commerce hub and reduce the cost associated with e-commerce operations, is committed to achieving a noteworthy 20% reduction in the cost related to e-commerce operations. These encompass declaration costs, Customs duties, storage, warehousing, and more.
Dubai Customs has leveraged on the cutting-edge capabilities of blockchain technology and forged strategic partnerships with leading Free Zones to create an innovative cross border e-commerce facilitation platform. This platform seamlessly integrates with the IT systems of various companies engaged in e-commerce operations. This collaborative network encompasses express courier companies, e-commerce enterprises, logistics service providers, handling authorities and Free Zones. The platform helps build trust and transparency within the e-commerce ecosystem, and results in improved self-compliance.
When an e-commerce order is placed online by a company connected to the e-commerce platform, the order data is instantly transmitted to the platform. When the platform receives invoice and shipment information, it quickly creates a Customs declaration by applying policy benefits. The declaration clearance message is exchanged with the company and the Free Zones, allowing for the quick discharge of products through the Free Zone gates.
The platform enables:
Identification of e-commerce companies, enabling them to be served better;
Automated declaration preparation and immediate clearance;
Provision of duty exemptions and a reduction in service charges;
Automated and instant Customs duty/deposit refunds;
Regulation of goods returns by linking import and export declarations;
Provision of 100% visibility and traceability on e-commerce transactions;
Improved flexibility for companies engaged in 24/7 e-commerce operations; and
Integrated Gate Pass for faster goods movement and delivery.
In essence, this innovative e-commerce ecosystem is not only shaping the future of the industry, but also positioning Dubai as a global leader in the realm of e-commerce facilitation. From January to September 2023, e-commerce declarations worth AED 732 million (CIF value) were processed, with no registration charges. More than 300 companies have registered with Customs as businesses and/or logistics companies handling e-commerce operations.
Designed to facilitate the journey of a growing number of passengers throught Dubai airports (they were more than 66 million in 2022 and 42 million in the first half of 2023 only), the iDeclare app enables passengers arriving in Dubai to securely submit Customs declarations electronically 24/7, thus bypassing the current traditional paper forms. It generates a "barcode" which is scanned by Customs (see article published in October 2018). The application has been upgraded. To pre-declare any goods, personal effects, gifts, currencies, or cash they may have in their possession, passengers can now take a picture of the items. The application then selects the appropriate HS Code, and determines the Customs duties that are payable, if any. Passengers do not have to fill in travel information manually, instead, they can just scan their boarding pass QR code.
The app also features the Passenger Customs Guide (also available at www.dubaiCustoms.gov.ae), which includes information about prohibited items and goods that need to be declared, goods exempt from duty and conditions for exemption, and some restricted items such as medications and plants that require importation permits from relevant authorities.
Another innovative tool launched by Dubai Customs is an app called "Al Munasiq" ("The Harmonizer"), which enables users to look up a Harmonized System (HS) code by either entering an item's description, capturing a photo of the item using their smartphone camera, or uploading an existing photo/picture to the app. Al Munasiq provides users with one or more results, ranking them from a higher to lower probability, as well as with commodity information such as the description of the item, applicable Customs duty rate and any related prohibitions and restrictions (see article published in October 2021).
Developed in collaboration with our strategic partner, Dubai South, the Remote Inspection initiative allows companies with AEO status in Dubai Logistics City to ask Customs to conduct inspections in designated areas within their premises using a robot equipped with a thermal and infrared video camera. The camera is controlled remotely by Customs officers, and footage and related data is sent to the Customs control room in real-time. The remote inspector robot is powered by a long-lasting Li-ion battery with fast-charging capabilities.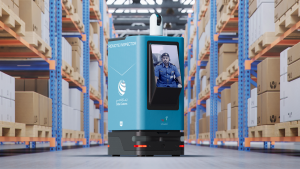 Virtual Reality Customs training programme
Virtual Reality (VR) solutions are creating new ways to learn and become more embedded in the private and public sectors. Dubai Customs deploys a VR training programme to train their inspectors for fieldwork. The training is designed to improve inspectors' efficiency in identifying prohibited items, enabling them to gain practical know-how while enjoying the experience. Managed by the Customs Training Centre, the VR programme teaches inspectors how to start their day before every inspection – for example, all safety tools should be ready before they go to the ports – as well as how to inspect cargo. During the training, inspectors have to find hidden and prohibited items, such as drugs and weapons, among others, and every time they do so, they are awarded points, which allow them to move to the next training level (see article published in February 2019).
Robotic Process Automation (RPA) uses intelligent automation technologies to perform repetitive office tasks of human workers, such as extracting data, filling in forms or moving files. Dubai Customs uses RPA and IA to automate claim and refund processes. Our tech development teams have rolled out a Smart Refund System which matches and validates line item details with supporting electronic/scanned documents, without any human intervention. By implementing Smart Refund System, there are key benefits for both businesses and governments in terms of promoting trade, reducing cost, and improving transparency in international trade transactions.
Robotic Process Automation and AI have also been used to transform and enhance another important aspect of Customs work, which is Post Clearance Audit. The move consists of automating some processes to audit high-value import declarations. Five software applications or "bots" are to be trained to automate repetitive processes, for example, data matching. AI has been integrated into their core functionality, and the bots apply machine learning algorithms and natural language processing to interpret data and identify patterns. In addition to significant cost savings due to eliminating the manual verification process, the audit automation is expected to impact revenue collection generated through audits. It will enable Customs to gradually increase audit coverage of high-value import declarations from currently 19% per year (approximately 380,000 declarations) to 100% (2 million) in the next five years.
There are many more areas where Customs can use AI to potentially transform trade processes and bolster security:
Automated Threat Detection algorithms to find specific patterns in X-ray scans of all sorts,
Predictive analytics (automated historical trend analysis to derive predictive models),
Automated document verification systems,
Chatbots and Virtual Assistants,
Blockchain-based records of transactions and cargo movements,
Anomaly detection tools,
AI-enabled drones,
Analytics platforms to mine and analyse Customs data,
Machine vision systems, designed to use information extracted from digital images to automatically inspect containers for damage, tampering, or concealed compartments.
Customs authorities worldwide should recognize the importance of compliance with privacy and data protection regulations, as well as the need to foster trust among traders and travellers. Additionally, ongoing investment in employee training and infrastructure remains crucial for the successful integration of AI into Customs operations. Customs authorities should consider also sustainability by promoting eco-friendly practices to facilitate the movement of goods and passengers whilst ensuring environmental, social and economic interests of future generations.
Dubai Customs' visionary approach to harnessing AI is poised to set new standards for Customs operations worldwide, demonstrating how technology can be aligned with our business to serve the twin goals of facilitating trade and enhancing security. As the global trade landscape continues to evolve, Dubai stands ready to lead the way, and remain adaptable and open to evolving trade dynamics and technological advancements, showcasing the transformative power of Artificial Intelligence in Customs and border control.
More information
Communication.Department@dubaicustoms.ae