Dubai Customs introduces a Virtual Reality Customs training programme
By
Dubai Customs
As Virtual Reality (VR) solutions are creating new ways to learn and become more embedded in the private and public sectors, Dubai Customs recently deployed a one-of-a-kind VR training programme to train their inspectors for fieldwork. The training is designed to improve inspectors' efficiency in identifying prohibited items, enabling them to gain practical know-how while enjoying the experience.
The training is managed by the Customs Training Centre and currently covers maritime related inspections, but will be further developed to include aspects related to the air and land sectors. It teaches inspectors how to start their day before every inspection – for example, all safety tools should be ready before they go to the ports – as well as how to inspect cargo. During the training, inspectors have to find hidden and prohibited items such as drugs and weapons among others, and every time they do so, they are awarded points, which allow them to move to the next training level.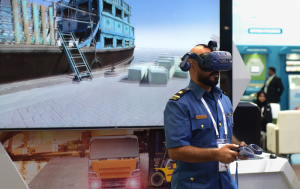 Embracing VR is both an exciting and challenging undertaking for Dubai Customs. Given the sophistication of the tool, a private firm was hired to help with software development, graphic design, and making the experience user-friendly.
Dubai Customs is still monitoring the pros and cons of the tool and gathering feedback for improvement purposes. After testing, if the VR training proves successful, it will be provided to all Customs recruits. It is not only the learning impact that is being tested, but also the health impact, as, for example, VR devices can disorientate users who may feel slightly nauseous and experience eye strain after using such devices.
Dubai Customs is committed to improving all its service delivery systems to raise the level of trust in the public service. The VR training programme is just one example of efforts undertaken to transform Customs business processes through the adoption of innovative technologies. Last year, the Robotic Process Automation-Smart Refund System was launched – a modern information technology solution that automates Dubai Customs' claim and refund service using Artificial Intelligence (AI). The System matches and validates line item details with supporting electronic/scanned documents without any human intervention.
Although the development of the VR training software is still in its infancy, it is expected to evolve further in order to deliver the highest levels of realism and performance, and to be used to train officers in more areas, thus improving all services offered by Dubai Customs.
Dubai Customs would be willing to collaborate on training development with other Customs administrations in the region and around the world.
More information
external.relations@dubaicustoms.ae
www.dubaicustoms.gov.ae