Election highs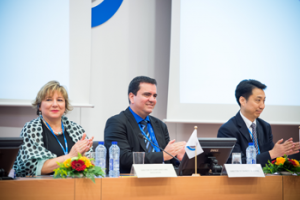 Several elections took place during the Sessions with the following results:
Zouhair Chorfi of Morocco was re-elected as Chairperson of the Council.
Ana Hinojosa of the United States was elected as Director of Compliance and Facilitation.

From top to bottom and left to right: Ana Hinojosa, Ernani Checcucci, Ping Liu and Zouhair Chorfi.
© WCO

Ernani Checcucci of Brazil was elected as Director of Capacity Building.
Ping Liu of China was elected as Director of Tariff and Trade Affairs.
The new Directors will take office on 1 January 2016.