Tribute to Professor Hironori Asakura
29th October 2015
2 July 2015 marked a sad day on the WCO calendar when the international Customs community learned of the passing of Professor Hironori Asakura, one of the founding fathers of the WCO's Harmonized System (HS), at the age of 87.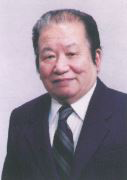 His relationship with the WCO dates back to 1968. Professor Asakura held several positions within what was then the Nomenclature Directorate, which became the Nomenclature and Classification Directorate in 1984: he was a Technical Officer from 1968 to 1972, a Deputy Director from 1975 to 1980, and finally the Director for almost 10 years, from 1984 to 1993, during the formative years of the worldwide implementation of the HS.
After he left the WCO in 1993, Hironori Asakura was appointed Professor at Tokyo International University's School of Economics, a post he held until March 2002. In 2003, he published a book entitled 'World History of the Customs and Tariff" in cooperation with the WCO; a publication which is still regarded as the definitive reference on this topic.
Professor Asakura was always very fair-minded and will be remembered for his many outstanding contributions, in particular the compilation of working procedures and methods for the HS Committee and the HS Review Sub-Committee, and his tireless efforts to ensure the worldwide application of the HS.
Holm Kappler, who worked under Mr. Asakura, and who went on to become the Director of the Nomenclature and Classification Directorate's successor, the wider Directorate of Tariff and Trade Affairs, said: "Professor Asakura did a masterful job in his role as nursemaid to the Harmonized System when it was still an infant system. His passion for the HS and tariffs in general was made abundantly clear with the publication of his masterpiece 'World History of the Customs and Tariffs'…"
Although gone, Hironori Asakura will not be forgotten. May he rest in peace with the knowledge that the HS Convention is the WCO's most successful international instrument, with 153 Contracting Parties to date.