Compliance and Enforcement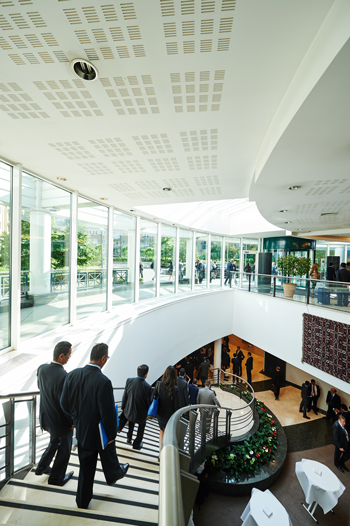 Security Programme
Programme Global Shield (PGS)
Activities under PGS, an initiative launched in 2010 to monitor the trade in 14 chemicals in order to identify those that could be diverted for the illegal manufacture of improvized explosive devices (IEDs), include training, intelligence support, and awareness-raising directed at key partners and private stakeholders. PGS participating countries currently number 94.
Since July 2014, three 5-day intermediate training events and five 10-day train-the-trainer events have been conducted, matching the national language and culture of the trainers to the trainees in order to ensure that all the training material is fully understood. Moreover, PGS training curricula have been integrated into the programmes of six National Training Academies – Abu Dhabi, Afghanistan, India, Kyrgyzstan, Tajikistan and Sri Lanka – that have undertaken to deliver training on the initiative to new recruits and senior personnel.
The PGS team also participated in training events and workshops organized by partner organizations:
Twenty-three law enforcement officers from Indonesia, Malaysia and the Philippines following a Crime Scene Investigation Course – delivered as part of INTERPOL's Chemical Anti-Smuggling Enforcement (CHASE) Programme – received a presentation on the PGS initiative and the dual-use chemicals targeted by the INTERPOL programme;
Twenty-five participants, from the National Police and Ministry of Defence of Brazil, Chile, Colombia, El Salvador, Guatemala, Honduras, Mexico and Peru attending a Counter-IED Workshop – organized by the Organization of American States' (OAS) Inter-American Committee against Terrorism – received a presentation on Customs' role in minimizing the illegal cross-border diversion of explosive precursor chemicals and PGS's contribution to the global fight against terrorism, as well as a demonstration on the chemical detection test kit, that included a hands-on exercise in chemical identification.
PGS members have been requested to carry-out national and regional enforcement operations on a routine basis. In this regard, in September 2014, a regional operational coordination effort was piloted by WCO Members and the Police located in Central Asian countries, together with participants from Afghanistan, India and Pakistan. Core working groups will identify best practices and challenges on a quarterly basis, in order to strengthen such operations. Additionally, in October 2014, a Global Seminar was held in Brussels to further engage all WCO Members in operational activities.
Development of the PGS field test kits for frontline officers has been finalized, enabling these officers to quickly determine if a chemical being examined is one of the 13 identified PGS chemicals. The kits will be made available to countries undertaking enforcement operations, together with an electronic chemical detection device which aims to quickly and accurately identify more than 11,000 chemicals, including chemicals sealed in translucent containers.
PGS continues to work with its public and private stakeholders, and has been able to increase awareness on the dual-use capability of precursor chemicals manufactured, distributed or retailed, as well as provide assistance on the development of reporting mechanisms for suspicious activities. The project team participated in the Chemical Sector Security Summit in July 2014, and in the International Fertilizer Industry Association Global Safety Summit in March 2015.
Strategic Trade Controls Enforcement (STCE) Project
After having focused on awareness-raising, including a curriculum and modules for training purposes, activities undertaken under the STCE Project shifted to organizing a global law enforcement operation. The operation, code-named COSMO, brought together 89 WCO Member Customs administrations. The operational interdiction phase commenced in October 2014, and was followed by a follow-up and investigation phase lasting from 1 November 2014 to 31 March 2015.
Almost 100,000 import and export shipments were targeted by participating WCO Members, and around 55,000 of these shipments were subjected to further scrutiny. Over 8,000 physical inspections were carried out during the interdiction phase, resulting in 82 seizures. Out of the 82 seizures, 44 cases led to a criminal investigation. Most of the cases are still being pursued by the participants.
Besides detecting and preventing illicit trafficking of strategic goods in international supply chains, the operation revealed critical information on the Customs community's capacity to enforce international strategic goods-related resolutions, such as the United Nations (UN) Security Council Resolution 1540 in relation to weapons of mass destruction. Forty-three Operation COSMO participants returned a national self-assessment on their standard operating procedures and work practices in this area, which will allow the WCO Secretariat to tailor its future capacity building and technical assistance activities to address the outlined gaps.
The WCO is currently exploring the possibility of setting up a medium to long-term technical assistance and capacity building programme on the enforcement of strategic trade controls – the WCO STCE Programme. It would focus on training, international cooperation, industry outreach, and the facilitation of the collection and sharing of information and intelligence.
The WCO has identified some areas which fall outside existing WCO initiatives but which need to be covered. These relate to small arms and light weapons, passenger controls (the utilization of advance passenger information (API) and passenger name record (PNR) information), and the prevention of terrorist financing:
Small Arms and Light Weapons (SALW) Project – Initiated in March 2015 through the adoption of a specific WCO SALW Strategy and Action Plan, activities will be implemented from 2015 to 2018 in accordance with guidance received from the WCO Enforcement Committee.
Passenger controls/foreign terrorist fighters (FTFs) – The dossier will focus on the utilization of API and PNR information in the passenger risk assessment process to assist WCO Members in deploying measures to implement, among other things, the UN counter-terrorism resolution on passenger controls and terrorist financing (UNSCR 2178). A virtual working group within the context of the current WCO API/PNR Contact Group has been established, enabling the Members to exchange experiences and lessons learned in relation to the use of the aforementioned information. The WCO is also examining the possibility of organizing regional workshops in order to raise awareness on the use of API/PNR information.
Terrorist financing – Efforts in this regard will focus on the smuggling of financial instruments by extremist organizations, as well as preventing other types of illicit trafficking that can be traced to links with terrorist financing. The WCO is currently conducting an analysis of potential future activities, and will present an implementation plan to the WCO Enforcement Committee at its next session in early 2016.
WCO Border Security Initiative
The Border Security Initiative (BSI) is a cross-cutting technical assistance programme, whose primary objective is to assist Customs administrations in building or enhancing their border security capacity. WCO Members, following a specific WCO or UN border security-related assessment mission, can request technical assistance from the BSI to facilitate the deployment of Customs-related instruments and tools.
Based on received requests, the WCO will work with requesting countries and the donor community to develop tangible plans to support the implementation of agreed measures. As part of this work, the WCO would, subject to its available resources and funding, make its security-related and other tools – the WCO Cargo Targeting System (CTS), nCEN, etc. – available to the requesting countries.
Post-Clearance Audit (PCA)
Following the revision in 2012 of the WCO Guidelines for Post-Clearance Audit, the WCO has received a significant number of training requests. To give effect to these requests, the WCO has taken several steps accordingly, which include:
publishing a Diagnostic Tool on PCA and the infrastructure;
developing a comprehensive PCA e-learning module, and a fully-fledged curriculum based on its Guidelines;
accrediting experts from WCO Member Customs administrations for the delivery of training, and organizing national and regional training sessions;
organizing the first meeting of the Experts Group on Post-Clearance Audit, with participants being tasked to plan and develop new tools in the area of PCA.
Operation Gryphon and future tobacco-related operational activities
In October 2013, Operation GRYPHON – the first global Customs-centric operation designed to tackle the illicit trade in tobacco – was launched, running for a period of six months and involving 93 WCO Member administrations. Beyond the remarkable seizures resulting from the operation, more than 100 criminals were arrested, and 35 investigations were launched in a vital effort to disrupt criminals and dismantle the networks behind this trade.
Given the wish by an overwhelming number of participating countries to continue carrying out this type of operational activity, the WCO, in close cooperation with the WCO Regional Intelligence Liaison Offices (RILO) Network, has decided to repeat the experience by launching Operation GRYPHON II in the near future.
Drug Enforcement Programme
Launched in 2010 to build drug enforcement capacities at international airports, Project AIRCOP now counts 10 Joint Airport Interdiction Task Forces (JAITFs) set up in Benin, Cape Verde, Côte d'Ivoire, Gambia, Ghana, Mali, Nigeria, Senegal, Togo and the Dominican Republic. Panama and Cameroun are expected to join the project soon.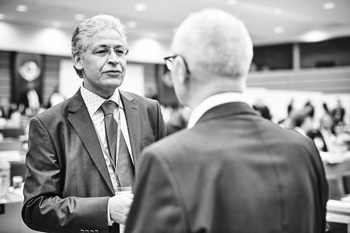 Since 2013, 12 European countries are now associated with the project. The enforcement teams working at major international airports have been given access to the communication tool – a customized version of the WCO CENcomm application – developed specifically for the JAITFs. It enables information to be exchanged easily and securely. New enforcement teams located in Kenya, Morocco and South Africa will join the project soon.
The CENcomm application, developed specifically for the JAITFs and the associated airport teams, has been significantly improved to enable restricted communication between two teams or specific officers among those teams in order to meet confidentiality concerns or to deal with sensitive cases.
The 10-day global operation targeting the illicit trafficking in methamphetamine by air passengers was carried out in March 2015 with 105 participating countries. Coordinated by the WCO in close cooperation with Japan Customs, the operation covered over 170 airports, resulting in seizures in excess of 3.6 metric tonnes of narcotics, and the arrest of 88 suspected traffickers.
UNODC-WCO Container Control Programme (CCP)
Port Control Units (PCUs) established under the CCP are, at present, fully operational in 28 countries, and funding for the integration of another 25 WCO Members into the CCP is now available.
The ContainerComm port communication platform is accessible on request to all officers working in a port, even though their countries may not be CCP participants. Currently, more than 90 countries can share information on containerized sea cargo through this WCO communication platform.
Given the success of the CCP, the launch of a separate joint programme on air cargo control and the establishment of specialized units to target suspicious shipments in this transport segment is in development, with a pilot scheduled to be conducted in late 2015 in Karachi, Pakistan.
Third Global Canine Forum
The Third Global Canine Forum was organized by the WCO from 24 to 26       June 2015 in Buenos Aires with the support of Argentina's Federal Administration of Public Revenue (AFIP). Over 90 experts from 28 countries participated and exchanged knowledge on detector dog and handler training programmes.
IPR, Health and Safety Programme
Extensive capacity building activities in this area have been conducted, such as regional or national seminars and diagnostics, as well as large-scale operations coordinated by the WCO. Operation CHANNEL GATE took place in East Africa in December 2014, focusing on pharmaceutical products, and Operation BALKAN GATE took place in the Balkan region in March 2015, focusing on all goods that pose a threat to health and safety.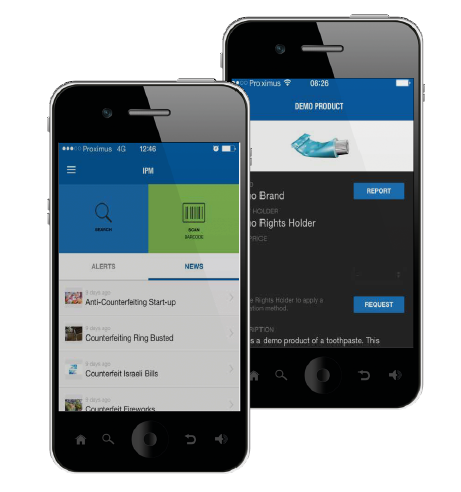 Interface Public-Members (IPM)
IPM is the WCO online database that enables rights holders to provide Customs officers in the field with real-time data and information on their products. Latest developments related to the tool consist of the following:
The complete redesign of both its mobile and web application translated into a more ergonomic and attractive interface, with new features and functionalities;
The mobile version enables officers to obtain information from the IPM system simply by scanning bar codes. The new mobile version is now available to all IPM users;
The addition of new security solution providers to the list of companies who have joined the IPM Connected This service enables Customs officers to scan security features provided by these companies, such as QR codes, to verify the authenticity of protected products.
The WCO is continuing to support efforts to combat environmental crime by raising awareness of the issue among frontline Customs officers, organizing training to improve their targeting and identification capabilities, leading international enforcement operations focused on smuggling, and developing practical guidance in the form of various training resources.
Three environment-focused enforcement operations were supported and coordinated by the WCO: COBRA III in May 2015, which targeted wildlife crime, involved 37 countries; SESHA in March 2015, targeting red sanders and other endangered plant species, involved 11 countries in the WCO Asia Pacific region; and FLYAWAY in June 2015, which targeted wildlife smuggling originating in South America, involved 14 countries in the WCO Americas and Europe regions.
The WCO organized a Joint Risk Management Workshop with the UN Environment Programme (UNEP) on countering the illegal trade in environmentally regulated goods in Malaysia, from 6 to 10 April 2015. It was attended by 42 participants from 26 WCO Members, as well as by representatives from UNEP, the Secretariat of the Convention on International Trade in Endangered Species of Wild fauna and Flora (CITES), TRAFFIC, and the RILO and Regional Office for capacity Building (ROCB) in the WCO Asia/Pacific region.
In January 2015, the WCO and TRAFFIC – a wildlife trade monitoring network – organized a consultative workshop in Thailand. It was attended by representatives from across the transportation and logistics sector, together with Customs officials, supply chain experts and wildlife professionals, in order to find actionable solutions to deter wildlife smuggling activities while strengthening supply chains and corporate policies.
This WCO project, undertaken in conjunction with the WCO Secretariat's Capacity Building Directorate, was launched as a follow-up to Project GAPIN. It aims to strengthen the enforcement capacity of targeted Customs administrations in Sub-Saharan Africa, while focusing on the illegal trade in wildlife, particularly endangered species listed in the CITES Convention. Project INAMA is expected to run for a five-year period as a multi-donor funded project.
In the framework of this project, the following events have been conducted:
A Workshop on Controlled Deliveries of Illegally Traded Wildlife Products, funded by the CITES Secretariat, was held in Thailand in January 2015, attended by 30 delegates from Customs administrations and other relevant authorities, such as wildlife authorities, the police, etc., representing 8 Asian and African countries;
A 5-day training course on Basic Intelligence Analysis on CITES was held in Mozambique in May 2015 for Member States of the Southern African Development Community (SADC).
Discussions have also been held with TRAFFIC and the UN Environment Programme's World Conservation Monitoring Centre (UNEP-WCMC) to explore possible synergies and areas of cooperation.
During its last meeting, the WCO Electronic Crime Expert Group (ECEG) examined the DarkNet (an overlay network that can only be accessed with specific software, configurations, or authorization, often using non-standard communications protocols and ports), virtual currencies/bitcoins, mobile phone surveillance technology, new technology for data-mining and visualization, and software and hardware for computer forensics.
The new ECEG work plan will intensify the Group's activities on DarkNet investigations and virtual payment systems/Bitcrime, in addition to providing advice on training for undercover online investigations. Meeting reports and presentations on the activities of ECEG may be perused by WCO Members on the WCO website.
The Customs Enforcement Network (CEN) application was developed as a central global depository for enforcement-related information, enabling the Customs community to produce valuable analyses and intelligence on the basis of the available data. Compared to 2013, the number of cases reported by WCO Members to the CEN decreased in 2014. The WCO therefore calls on those of its Members not reporting data to the CEN to do so as soon as possible and on a regular basis. It also urges its Members to do their utmost to ensure that every seizure related to illicit trade is inputted into the CEN, keeping in mind that the quality of the provided information is crucial for identifying pertinent trends, preparing risk indicators, and formulating appropriate strategies.
The CEN communication platform (CENcomm), an operational tool enabling the exchange and diffusion of information in a secure environment, remains the most popular application in the CEN suite. In 2014, CENcomm was used in 71 operations and projects, constituting an increase of 20% from the previous year. In the first two quarters of 2015, this number had already reached 68, indicating a continuing upward trend.
The nCEN application gives Customs administrations the ability to collect, store, analyse, and disseminate law enforcement data effectively at the national level, with the additional possibility to exchange this information at the regional and/or international level. In the course of 2014, nCEN was successfully implemented in Angola, Botswana, Georgia, Malawi, the Maldives, Mali, Mauritius, Namibia, the Seychelles, Swaziland, Tanzania, Uganda and Zimbabwe, bringing the total number of countries where it has been deployed thus far to 13. In addition, two workshops for nCEN project leaders and nCEN IT experts, aimed at promoting regional cooperation and cohesion amongst countries that are using the nCEN application, were conducted in 2015.
WCO Cargo Targeting System (CTS)
The CTS enables user countries to capture advance electronic cargo manifest information, and to perform risk assessment, profiling and targeting. To date, the CTS has been deployed in five countries, namely the Bahamas, Jamaica, the Maldives, Panama and Sri Lanka. Further deployments are planned in the coming months. In addition, preparations for the development of the CTS' air cargo capabilities are well underway.
Work related to cooperation with international shipping lines to ensure and increase the availability of pre-arrival cargo information for WCO Members' risk assessment activities through the use of the CTS, although not exclusively, continues. As a result of this dialogue, an increased number of shipping lines are providing pre-arrival cargo information to WCO Members, particularly, but not limited to, those implementing the CTS.
Air Conveyances' Risk Indicators and Manual (ACRIM)
The WCO Customs Risk Management Compendium was released in 2011. Since it is considered a 'living' document, in addition to previously developed documents, a two part document, called ACRIM, has been incorporated into Volume 2 of the WCO Customs Risk Management Compendium. Annex I covers risk indicators for air conveyances, while annex II – the Manual – covers general information on air conveyances and the meaning of each risk indicator, including explanations on the application of risk indicators, as well as examples to illustrate indicators that caused a movement/shipment to appear suspicious.
Compendium of Customs Operational Practices for Enforcement and Seizures (COPES)
The COPES Compendium was published in 2012. In 2014, the WCO secured funding for training on the important content of the Compendium, and subsequently recruited a Project Manager in March 2015 for the implementation of these training activities.
As a first step, two experts devised courses to be tested at two seminars, in Sri Lanka and Albania respectively. In keeping with the project's objectives, and in partnership with the UN Office on Drugs and Crime (UNODC), these seminars aimed to provide information and raise awareness on the assessment/analysis of risks, and of good seizure practices and procedures, in line with relevant national legislation. The two seminars essentially led to the modification of some modules by simplifying their content, and making adjustments in the event of interpreters being used.
As a second step, and to achieve the delivery of the courses, a one-week workshop bringing together the COPES team led to the delivery of the new COPES training modules. The training covers the following topics: consigning, storage and deposition of seized goods; sharing of information and use of/access to intelligence sources; coordination with other agencies; recording and documentation of information; definition and types of evidence; forensic integrity and chain of evidence; interviewing techniques; and the role of the Prosecutor. Over the next few months, the modules will be delivered through regional seminars.
More information
enforcement@wcoomd.org