New global HS standard enters into force
The new edition of the WCO Harmonized System (HS) Nomenclature entered into force on 1 January 2017. The changes in HS 2017 encompass 242 sets of amendments relating to a wide range of products and product groups, including:
fish and fishery products;
forestry products;
antimalarial products;
substances controlled under the Chemical Weapons Convention;
hazardous chemicals controlled under the Rotterdam Convention;
persistent organic pollutants controlled under the Stockholm Convention;
ceramic tiles;
light-emitting diode lamps;
monopods, bipods, and tripods;
hybrid, plug-in hybrid, and all-electric vehicles.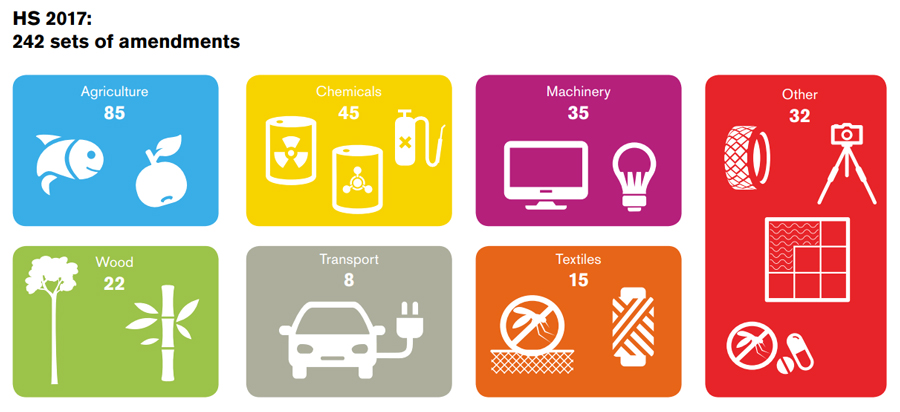 The several tools available to WCO Members and to the public to assist with the classification of commodities in the HS Nomenclature have been updated, and are available for purchase via the WCO Bookshop:
The Explanatory Notes which constitute the official interpretation of the HS at the international level;
The Compendium of Classification Opinions which includes a list of the most significant/difficult classification decisions taken by the WCO HS Committee;
The Alphabetical Index which facilitates the location of references in the HS Nomenclature or in the Explanatory Notes to any of the products or articles mentioned therein.
Information about progress on the implementation of HS 2017 and the acceptance of various HS-related recommendations relating to each of the Contracting Parties is published on the WCO website in the form of a matrix.
More information
hs@wcoomd.org
http://wcoomdpublications.org