Trade digitization on a global scale: how far are we?
By
Hannah Nguyen, Deputy Director, ICC Digital Standards Initiative (DSI)
One positive outcome from the COVID-19 pandemic was the boost in the digitization of interactions and operations in many sectors of society. Digitization is a relatively easy concept to understand. It is the process of converting information into a digital format, in other words, bits and bytes. A digital version of an object, image, sound, document or signal (usually an analog signal) is generated through a series of ones and zeroes and can be exchanged automatically machine-to-machine without manual intervention.
Digitization is foundational and a prerequisite to digitalization, which in turn creates the favourable conditions for "Digital Transformation", a catch-all term for describing the implementation of new technologies and processes to improve business operations.
One area of the economy, however, seems to be immune to the phenomenon, even after two years of the pandemic: cross-border trade in goods. In most countries, trade and supply chain data that is exchanged among private sector participants (for instance, between shipper and financing bank) and between private sector and public sector (for instance, between consignee and Customs) still continues to come in paper format. This data must be manually extracted, validated and entered multiple times into various IT systems before it can be consumed. The process is prone to errors, discrepancies and even fraud, generating risks and inefficiencies which show up as economic costs, as well as environmental costs.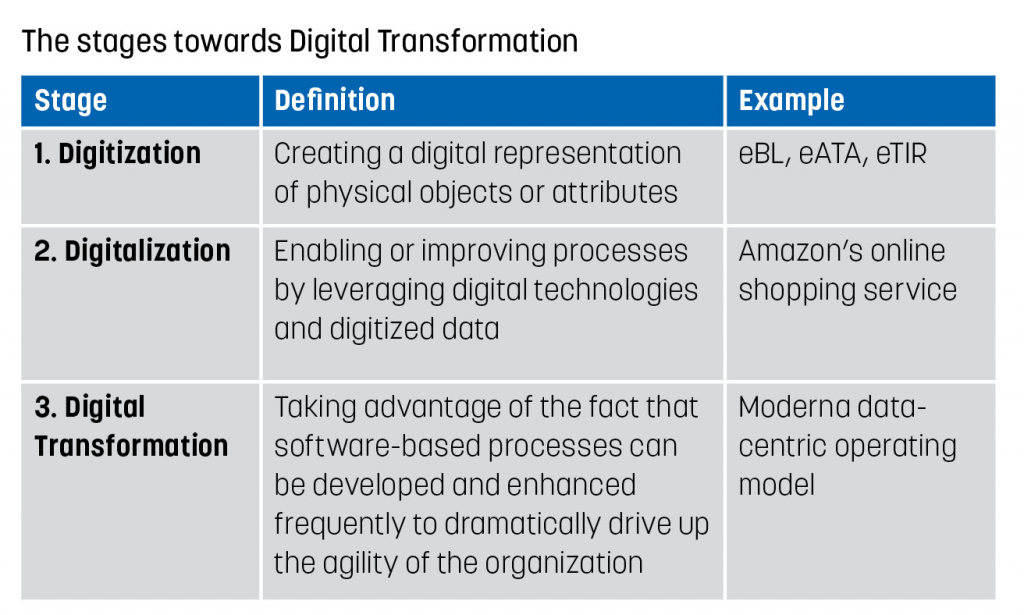 The challenges behind limited adoption
There are several reasons behind the current situation:
The lack of coordination of digitization efforts has resulted in multiple "digital islands", each with its own set of standards and rules regarding how to digitize the data and exchange it. In this fragmented ecosystem, it is possible to connect one-to-one, but too costly and complex to connect one-to-many.
There is no single view of available standards to facilitate such interconnection, including the common language to be used and elements of a trusted technology environment needed for seamless and trusted data exchange to occur.
Not all countries have the appropriate legislative framework, including for Electronic Transferable Records (ETRs) to provide legal certainty to electronic negotiable instruments and recognize them as valid title documents.
A well-known example is the global business community's attempt for the past 20 years to introduce the electronic Bill of Lading (eBL), whose adoption stood at a dismal record of 0.01% as of the end of 2019. All of the above-mentioned challenges have contributed to low level of adoption. Specifically:
The oldest eBL system started in 1998, and as of now, there are more than a dozen eBL platforms and systems which are operating independently from one another. All parties in the same transaction need to sign up to the same platform. This means that, in theory, one company may need to sign up to many different platforms if its transactions do not occur with the same parties all the time. Such an arrangement would be too costly and complex for most companies to implement at an operational level.
Until recently, there was no single industry-wide standard for eBLs, with each eBL platform free to define and specify what data the eBL should contain and how to technically exchange that data within their own system.
Electronic BLs are not legally recognized in all jurisdictions, save for Bahrain, Belize, Kiribati, Paraguay, Singapore and the Abu Dhabi Global Market, which have enacted the Model Law on Electronic Transferable Records of the United Nations Commission on International Trade Law (UNCITRAL). This means that even when the parties may opt to use digital solutions to exchange BLs, they often have to convert the electronic documents back to hard copies when they reach jurisdictions where such ETRs are not yet legally recognized.
The impetus behind the Digital Standards Initiative
Ideally, international trade would be underpinned by a common set of standards adopted globally and in a legally conducive environment, enabling supply chain participants to exchange data across sectors and borders efficiently.
With this in mind, ICC established in 2020 the Digital Standards Initiative (DSI) as a collaborative cross-industry effort to advance the digitization of trade globally. DSI operates under the guidance of a Governance Board consisting of policy makers from governments and international organizations, including the government of Singapore, the Asian Development Bank, the World Trade Organization and the WCO. The guidance provided by the latter has been instrumental in ensuring alignment between existing public standards and ongoing private sector efforts to digitize trade and supply chain processes.
As a first important step, a comprehensive knowledge centre was created in July 2021. Housed on the DSI website, it aggregates information and best practices on existing standards for key audiences, namely, company executives, policy makers, and developers. On an ongoing basis, our aim is to constantly improve and expand or update the coverage to ensure the knowledge centre remains relevant and useful for the majority of intended users.
For its initial phase, the DSI encourages international supply chain participants to adopt a set of standards, including foundational standards developed by the International Organization for Standardization (for example, for currency, country codes, messaging, and date or time), company identifiers (including Legal Entity Identifier and Decentralized Identifiers or DIDs), and standards that facilitate the interoperability of electronic trade documents and their exchange between different digital ecosystems.
More recent standards are also included, such as:
TradeTrust, a framework developed under Singapore's Infocomm Media Development Authority. It comprises a set of globally accepted standards to facilitate the digitalization of documents used in international trade and logistics and their interoperability, and also a set of software components that connect to a blockchain backbone IT infrastructure.
Digital Negotiable Instruments (DNIs), a framework developed by the International Trade and Forfaiting Association (ITFA).
The Model Law on Electronic Transferable Records (MLETR) of the United Nations Commission on International Trade Law (UNCITRAL), a legal framework with which countries can harmonize their legislation and which enables the recognition of electronic equivalents of paper-based transferable documents. A step-by-step guide is available on the DSI website to disseminate lessons learned by first-mover jurisdictions in reforming electronic transaction laws.
The Electronic Bill of Lading, an open-source standard developed by the Digital Container Shipping Association (DCSA).
The Electronic Multimodal Transport Bill of Lading (eFBL) developed by the International Federation of Freight Forwarders Associations (FIATA).
An ecosystem approach to solve problems spanning sectors and borders
To accelerate digitization of trade and supply chains at scale, the DSI recognizes the importance of harmonizing all like-minded efforts which may be on parallel tracks towards the same goal. The following five principles underlie all the work: (1) reuse rather than re-create, (2) engage standard-setting bodies, (3) consider all available approaches and technologies, (4) prioritize accessibility to all trade participants, and (5) ensure appropriate capabilities within relevant industries are leveraged to overcome challenges. These principles create a safe and conducive space where convergence and harmonization can happen, as opposed to divergence and fragmentation.
In the last half of 2021, there was a series of developments in this direction. In August 2021, 30 industry leaders from a broad range of industry verticals and geographical regions were invited to join the DSI Industry Advisory Board (IAB). They represent professional industry associations (the International Port Community Systems Association – IPCSA, the International Federation of Freight Forwarders Associations – FIATA, the Baltic and International Maritime Council – BIMCO), not-for-profit standard organizations (GS1, the Digital Container Shipping Association – DCSA, the Global Legal Entity Identifier Foundation – GLEIF), service providers (Society for Worldwide Interbank Financial Telecommunication – SWIFT), freight and logistics companies, banks, retailers and commodity companies. By fostering a strong nexus with industry, the DSI's focus and implementation plans continue to be refreshed annually to match the needs of international business everywhere.
Moreover, in mid-December 2021, a Legal Reform Advisory Board (LRAB) was formed to drive legislative reform efforts needed to make digitalized trade a reality and provide more support to low-income countries where more capacity building is needed. LRAB Members include representatives of the Asian Development Bank, the Bankers Association for Finance and Trade, the Commonwealth, ICC France, ICC Germany, ICC Mexico, the International Trade and Forfaiting Association and the United Nations Commission on International Trade Law.
If the past 24 months have taught us anything, one of the most important lessons is the value of collaboration and alignment. For instance, the business community, through the ICC Global Customs & Trade Facilitation Commission, has flagged the need for more harmonization in the implementation and application of WCO guidelines, regulations, and standards between Customs offices within and between countries, as more and more Customs processes go paperless. Another important alignment to achieve is how to reuse the standardized data, processes and technology increasingly common in the private sector to feed into border agencies' requirements without creating fragmentation or additional duplication for businesses, especially MSMEs.
The future looks promising as more and more countries look to align their domestic legislations in 2022 with the UNCITRAL Model Law on Electronic Transferable Records, notably the G7 countries[1] which publicly agreed to a Framework for G7 Collaboration on Electronic Transferable Records in April 2021, which was also endorsed by the Republic of Korea and Australia. As the legal environment becomes more conducive, the adoption of key trade documents in digitized form, such as the electronic Bills of Lading, is set to rise against the decline of their paper-based counterparts. How fast we can move on that journey, however, depends very much on the harmonized effort of the various stakeholders or rowers, as we are all paddling in the same boat.
More information
hannah.nguyen@iccwbo.org
[1]  The G7 is an informal grouping of seven economies: Canada, France, Germany, Italy, Japan, the United Kingdom, the United States and the European Union.