TradeTrust: accelerating the digitalization of international trade
By
Infocomm Media Development Authority of Singapore and Singapore Customs
Singapore is spearheading the implementation of TradeTrust, which is a framework comprised of a set of globally accepted standards to facilitate the digitalization of documents used in international trade and logistics and their interoperability, and also a set of software components that connect to a blockchain backbone IT infrastructure. Economic operators and public and private institutions using TradeTrust will create a global network of trusted partners for the exchange and verification of digital trade documentation across borders. The ultimate objective is to enable a more seamless flow of goods between trading nations and reduce the inefficiencies and complexities generated by the use of paper-based documentation, making cross-border trade simpler and safer.
Measures taken to combat the COVID-19 pandemic have caused disruption to businesses on an unprecedented scale. This global health crisis has demonstrated that digitalization is no longer just an option – it is a critical necessity for businesses to operate and survive. Although much progress has been made by Customs and trade operators in terms of digitalizing processes, the truth is that paper documents are still widely used between different border administrations, buyers, sellers and other actors involved in the international supply chain.
For example, the Bill of Lading (BL)[1] is still provided in hardcopy in many countries, creating inefficiencies. It requires time and money to courier the BL document to destination ports of discharge, plus there are risks of the BL getting lost in transit, which may cause the trader to incur demurrage costs.
The reason why paper documents are still in use is that in many cases there are many standards for the electronic format of these documents, and no easy way to verify the provenance and authenticity of electronic documents that are presented to the authorities.
The dematerialization of transferable documents (which confer the right to possession of an asset) such as electronic BLs (eBLs), has proven to be particularly difficult. If eBLs are still not widely used in the international trade ecosystem, it is largely because of the lack of consistency with regard to legal recognition in different jurisdictions. This makes it difficult to recreate electronically their function as documents of title, passing rights and obligations along a trade chain. Even when the parties use digital solutions to exchange BLs, they often have to convert the electronic documents back to hardcopies when they reach different jurisdictions.
To address these challenges, Singapore's Infocomm Media Development Authority (IMDA) came up with the idea of creating a set of governance and legal frameworks, document standards and a set of software components, all of which facilitate the interoperability of electronic trade documents and their exchange between different digital ecosystems.
This initiative, called TradeTrust, was developed in collaboration with, and through support from, local and global partners. These range from governments to international organizations (such as the International Chamber of Commerce), technology and solution providers, and industry (e.g. shipping carriers, shippers and financial institutions).
The foundation on which TradeTrust rests is the ability to trace the provenance of digitally-issued documents and verify their integrity. This "notarization" foundation is provided by the OpenAttestation framework, which offers a method for documents issued to be considered cryptographically trustworthy and can be verified independently. Once a file has been created, the fingerprint of the signed TradeTrust file is then committed to a Document Store smart contract, which serves as an immutable ledger. This signed TradeTrust file is then distributed to recipients, who will be able to verify the file on https://tradetrust.io simply by dragging and dropping it into the Web interface.
TradeTrust consists of four components which work in concert to give the network's participants trust and legal certainty with regard to the digital documents that are exchanged
1- Legal harmonization to ensure the legal validity of digital trade documents across various countries and jurisdictions
The adoption of a legislative framework for Electronic Transferable Records in all countries participating in TradeTrust is necessary to enable a shift towards a paperless trade environment. Singapore is currently amending its Electronic Transactions Act (ETA) to provide legal certainty to electronic negotiable instruments like the eBL and recognize them as valid title documents. The ETA will adopt the Model Law on Electronic Transferable Records (MLETR) of the United Nations Commission on International Trade Law (UNCITRAL) – a legal framework that countries can harmonize their legislation to, that enables the recognition of electronic equivalents of paper-based transferable documents. The amendment of the ETA was recently passed in the Singapore Parliament and is targeted to take effect in the first half of 2021.
2- Development of international standards to facilitate the interoperability of digital documents exchanged across different solutions and ecosystems
TradeTrust standards for the creation of documents are aligned to international standards developed for digital trade documents e.g. United Nations Centre for Trade Facilitation and Electronic Business (UN/CEFACT) and the International Organization for Standardization (ISO).
3- Accreditation structure to provide a set of internationally accepted rules and policies to certify solutions to meet the requirements of the law
The ETA sets out provisions for IT implementations (including those that make use of TradeTrust standards) dealing with transferable records. Hence, an accreditation framework and structure will be explored to accredit technical solutions that deal with electronic negotiable documents such as eBLs to ensure that they meet the legal requirements.
4- Open-source software that can easily integrate backend solutions to the TradeTrust network
TradeTrust currently connects to a public and permissionless blockchain which can be consulted via a web interface. Software has been developed, and is available under open-source licensing terms on GitHub (www.github.com/TradeTrust). The industry will be able to integrate the software into their platforms or digital solutions to connect to the TradeTrust public blockchain network.
TradeTrust can bring several benefits to the global trade, finance and logistics community. Public and private bodies using the TradeTrust standards via solutions connecting them to a public and permissionless blockchain backend will be able to interoperate with the other network members and achieve:
increased efficiencies: all TradeTrust-standard documents can be verified on TradeTrust-standard web interfaces, removing the need for repetitive checks by various parties to confirm the legitimacy of documentation when received through indirect channels;
reduced operation costs and time: the digitalization of paper documents reduces the friction, costs and time required for printing and transporting documents between parties.
TradeTrust will also support the emergence of new service offerings. As it works with the existing ecosystem formed by various systems, enabling them to interoperate as well as to ensure the legal validity of the electronic instruments that they exchange, TradeTrust can:
support the convergence of physical, financial and document chains, making the automation of key processes possible, such as automating payments or releasing of funds through the use of smart contracts; and
enable operators to leverage the transparency and integrity of the transport chain. For example, insurance providers could apply dynamic pricing when risk is known.
Examples of use cases and applications
Singapore's Infocomm Media Development Authority (IMDA) is working with local and international partners in applying TradeTrust to facilitate existing cross-border processes and enable digital trade transactions. Some examples of practical implementation are described below.
Verifying the authenticity and provenance of government-issued trade administration documents
A trial was launched in November 2020 by the Australian Border Force and IMDA in order to test the exchange of TradeTrust standard electronic certificates of origin where
electronic certificates were generated in accordance with TradeTrust standards via the ABF-developed Intergovernmental Ledger (IGL) system
the electronic certificates were sent to Singapore businesses participating in the trial as well as Singapore Customs for their feedback on the multiple verification methods afforded by the TradeTrust framework ranging from QR code scanning to dragging and dropping of the electronic certificates into both the IGL or TradeTrust Web interfaces.
These various verification methods allowed Singapore businesses as well as Singapore Customs to be assured of the authenticity and provenance of the files, without all using a common platform.
Performing Title Transfers on eBLs
IMDA and the Maritime and Port Authority of Singapore (MPA) are currently leading the effort to conduct trials on eBLs with the support of Singapore Customs and industry partners. Two trials are of particular interest.
The first one is related to CamelONE Trade Finance, Singapore's one-stop multi-bank portal which enables businesses to submit a single, standard application to various banks offering trade services. The CamelONE portal is available via the Networked Trade Platform (NTP), Singapore's one-stop trade and logistics ecosystem. It is connected to NTP's secure repository, where all trade-related documents can be safely stored, including BLs. This connection enables data reusability and optimizes the ease and speed of filling in multiple applications.
As explained, the challenge around eBLs is to digitally recreate their function as documents of title, passing rights and obligations along a trade chain. The aim of the trial is to use the TradeTrust blockchain to facilitate the verification of the chain of endorsements and title transfer functionalities for the banks and the clients.
Transferable documents carry with them the title pertaining to the physical assets; it is therefore imperative that the transfer of title from one party to another in the physical world is similarly achieved in the digital world. To do this, the BL is tokenized as a non-fungible token on the blockchain and the change of title ownership correctly reflected. For transfers of title, participating parties are required to create a cryptographic wallet to transfer, receive and hold non-fungible tokens. The transfer of title is effected through the transfer of the non-fungible token to the wallet of the receiving party. The non-fungible token would ultimately be destroyed after the final recipient has taken possession of the physical assets represented by the non-fungible token and there is no longer any use for it. The TradeTrust framework is developed to be flexible enough to support a variety of transferable documents used in various banking arrangements in Trade ranging from Letters of Credit to Documentary Collections.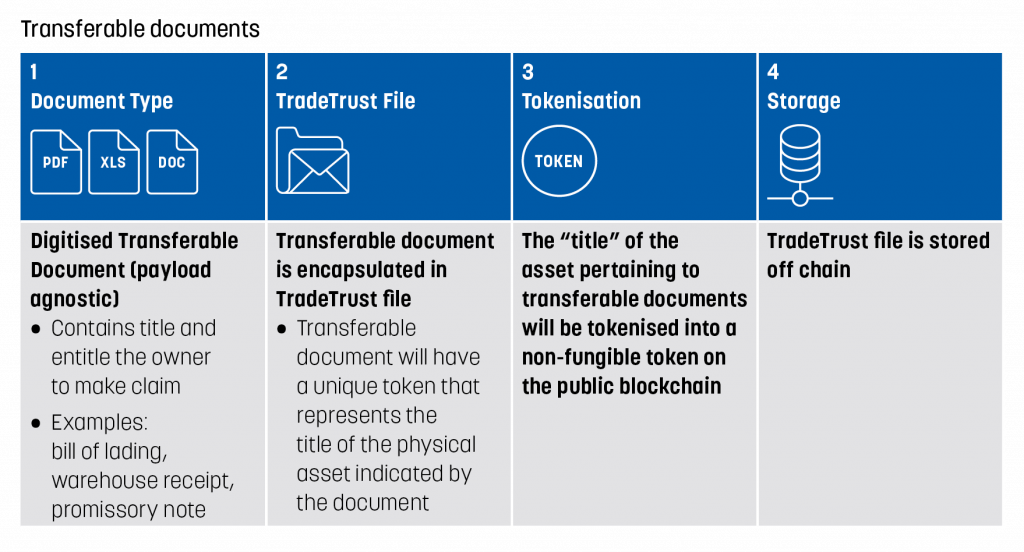 The second trial was one conducted between the IMDA, MPA and the Port of Rotterdam Authority, which jointly organized a workshop in April 2019 to explore potential use cases for eBLs and discuss implementation challenges. More than 20 organizations, including government agencies, shipping lines, technology players, banks and members of the Singapore Shipping Association, were represented at this workshop. They decided to undertake a Proof of Concept (PoC) to simulate the transfer of title for eBLs from a shipper to a consignee between Rotterdam and Singapore. This simulated transaction was carried out in March 2020. As a next step, the trial will demonstrate the practical use of eBLs by shadowing a live shipment along the Singapore to Rotterdam trade lane. Change management is easier since the transmission or exchange of electronic trade documents or digital data do not take place primarily through the blockchain but rather via traditional methods such as through their internal system, e-mail, file transfer, or central storage.
The TradeTrust source code is distributed under an open source licence. Users may download and use it freely under the open source licensing terms. The current TradeTrust reference implementation uses the Ethereum blockchain and there will be a fee incurred when the fingerprint of the signed TradeTrust file is recorded at the Ethereum network, e.g. when the carrier issues an eBL. Parties performing document verification, i.e. reading from the blockchain will not be charged. In the future, as TradeTrust develops, blockchain networks other than Ethereum may be used.
Join the TradeTrust network and incorporate the TradeTrust source code into your applications or systems (available at www.github.com/TradeTrust). Contact us at tradetrust@imda.gov.sg  to co-create solutions and new use cases with us using TradeTrust.
More information
https://tradetrust.io/
[1] Document issued by a carrier to acknowledge receipt of cargo for shipment. A paper Bill of Lading has three functions: it serves as a receipt, it contains or constitutes evidence of the contract of carriage and it serves as a document of title.