Customs in the face of COVID-19: the case of Uganda
By
Kateshumbwa Dicksons, former Commissioner of Uganda Customs and Chairperson of the WCO Council
After 14 years of service, Kateshumbwa Dicksons left the Uganda Revenue Authority a few weeks ago. In this article, he shares the experience of Uganda Customs in dealing with the COVID-19 pandemic.
Since the year 2000, Uganda has experienced repeated outbreaks of viral hemorrhagic fevers (VHF): five Ebola VHF outbreaks, and three Marburg VHF outbreaks. Each of these outbreaks is said to have case fatality rates between 25 to 90%. None of them, however, slipped into such a crisis as we have witnessed with COVID-19!
Towards the end of 2019, the first cases of what came to be known later as the coronavirus (COVID-19) were detected in China, and in less than three months, it had grown into a pandemic covering almost the entire globe, greatly affecting all sectors of our economies! In the words of the Managing Director of the International Monetary Fund (IMF), "Never in the history of the IMF have we witnessed the world economy coming to a standstill. It is way worse than the global financial crisis."
In light of this unprecedented reality, governments took to adopting various policies and measures to curb the spread of this highly infectious disease, with a number of them implementing a lockdown of their population. After most neighbouring countries had confirmed COVID-19 cases, the government of Uganda started taking deliberate measures to reduce gatherings, starting with the closure of academic institutions at all levels, and the banning of all political, cultural, social, and religious gatherings of more than 10 people.
When the first case was reported on 22 March 2020 the measures were tightened further to include the restriction and later banning of all international and local passenger travel, and the imposition of a night curfew. Business operations were also restricted to what was deemed "essential services," and only critical staff were allowed to go out to perform their duties. This is the first time that such extreme measures were taken while facing a disease outbreak.
With Customs being deemed essential, we managed to operate amidst the challenges. We set out to ensure that staff are well protected and that there was supply chain and business continuity, while at the same time putting extra caution to prevent the spread of the virus. Using our own experience and the experience of other WCO member countries, Uganda was managed to take the following measures:
It has been said that if leaders fail to serve their people first, both clients and the organization will suffer. In line with the guidance from the health authorities, we depopulated the offices to ensure social distancing by enabling some officers to operate from home. For staff not confined to working from home, we provided adequate personal protective equipment, hand sanitizers, hand washing facilities, infra-red thermometer guns, and face masks. We also had to ensure that information relating to COVID-19 was relayed to staff through all available channels of communication including social media.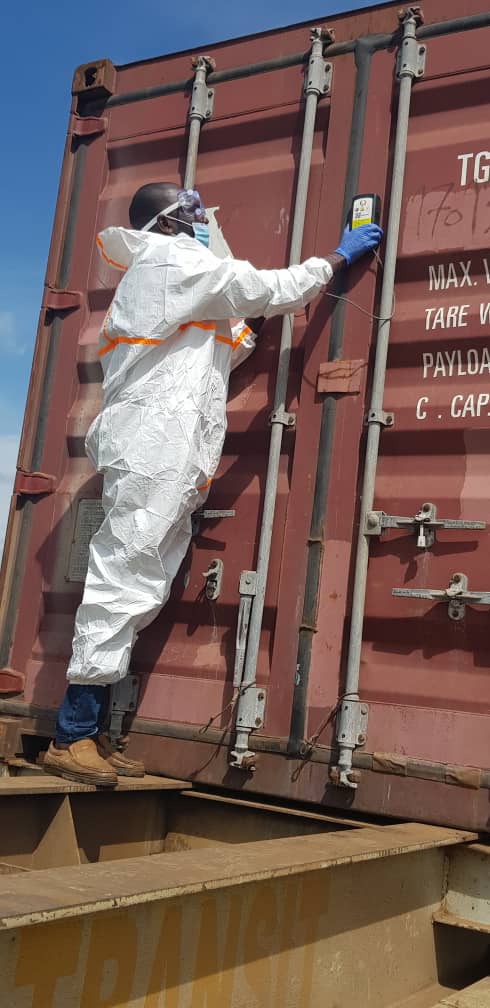 Border management and cargo movement
The borders and airport remained closed to passenger traffic; only allowing cargo movement which was also conducted under specific conductions. The operators were subjected to COVID-19 tests and the trucks were monitored under the Regional Electronic Cargo Tracking System (RECTS); a collaborative arrangement between the Customs authorities of Kenya, Rwanda, Democratic Republic of Congo and Uganda to effectively monitor trucks in transit. This was to ensure that the allowed operators do not mix with the population.
Uganda introduced tax relief measures with an extension of tax exemption to sixteen COVID-19 related medical supplies. We also provided for an extension of payment period for duties, suspended the auction of overstayed goods and waived penalties resulting from COVD-19 related delays in transit, overstay by carnet holders and temporary importation of motor vehicles.
From 22 March 2020 when the first case was reported up to 20 May 2020, Uganda had recorded 145 cases with 65 recoveries and no deaths. This can be compared to 2,455 cases in the East African Community and 5,112,010[1] cases globally at the same time. Drawing from Uganda's experience in the face of epidemics, and especially in the light of the ravaging COVID-19 disease, below are a few lessons learned by Uganda:
There is nothing of greater importance than the preservation of life. The role of Customs as a frontline agency at borders and airports exposes officers to infections, and many other occupational accidents that call for a routine assessment of the health status of Customs officers who face the risks. There is need to invest in the safety of staff at the workplace.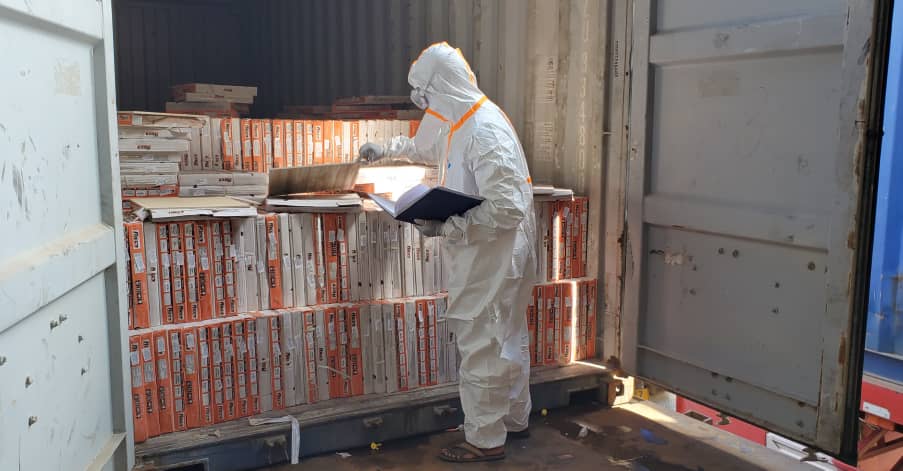 Collaborative management
Effective leadership calls for synergetic collaboration given our different specialties. The COVID-19 has continued to underscore the need for building strategic partnerships and collaboration with other government agencies, business players and other Customs authorities. In Uganda, after banning all passenger travel in and out of the country, the biggest source of cases became interstate truck drivers. The efforts of Uganda to quell transitions through this channel were highly aided by the Regional Electronic Cargo Tracking System (RECTS). This helped to monitor contact of drivers with the communities.
"Stay at Home" was the resounding plea to citizens in many countries by their governments in an effort to manage the spread of COVID-19. Uganda Customs, however, had to retain a small presence of staff to facilitate the movement of goods including the supplies being used in the struggle to fight the disease.
By using online platforms to manage client queries and enquiries in addition to the internet-based Customs management systems, Uganda Customs ensured that some form of normalcy was maintained, and staff well utilized from home. To compensate for the shortage of officers allowed to work in the field, Uganda relied on the increased use of non-intrusive inspection (NII) equipment, and on the RECTS to fill the gap.
Adversity has shown the need to invest even more resources in technology. The new normal even after COVID-19 may involve less physical presence as interactions.
The COVID-19 pandemic has validated our connectedness as a global village as well as our collective vulnerability in the face of such catastrophes. It is not far-fetched to reason that what we are fighting may not be the last of its kind. Therefore, I would strongly encourage Customs administrations to use lessons learned from others even as we fight on. For we have the hope from experience that, however long the devastation of COVID-19 may linger, "better days will return."
More information
info@ura.go.ug
www.ura.go.ug
[1] https://www.ubos.org/wp-content/uploads/publications/05_2020UBOS-BULLETIN-22-n.pdf