Air cargo – the lifeline of recovery: health, trade, and society's wellbeing
By
Vladimir D. Zubkov, Secretary General, The International Air Cargo Association (TIACA)
In every discussion I have about aviation, people ask me when they will be able to fly again. Still remains to be seen when the recovery from COVID-19 firmly starts, but from all assessments, it may take several years for the industry to come back to its pre-crisis level, especially when it comes to intercontinental leisure passenger traffic.
The economic impact of the current pandemic on average citizens is huge, and discretionary expenses like travel will be the first thing to be eliminated. Vacations as well as visiting friends and relatives will most likely be domestic, not international, if they occur at all.
As the Secretary General of a business association dealing with air cargo, why did I start this article by talking about passenger traffic? You may not know it, but around 60% of international cargo is carried on passenger planes, under the passenger deck!
With the grounding of most passenger planes, the air cargo industry suddenly lost between 80-90% of its existing belly capacity, which severely disrupted air cargo flows. However, the sector was able to quickly adjust to this sudden change with innovative measures such as increased utilization of freighters, specialized charters, and passenger planes converted into cargo-only planes. All these measures enabled demand for the transport of medical supplies and equipment, food, and other necessities to be fully met. So, international trade, whatever is left of it, can still continue to rely on the air cargo market, which in value terms used to account for around a third of all goods being traded internationally.
What COVID-19 has done to our industry is in certain ways unprecedented, and many airlines and airports still struggle to adjust to it. Before I go any further and start looking into the challenges, let me remind you that TIACA is an international not-for-profit association, representing all parts of the air cargo industry: shippers, forwarders, airports, airlines, ground handling companies, manufacturers, IT solution providers, and educational institutions. The aircraft operations are only the forefront, the most noticeable element of the whole air cargo supply chain, but for the system to function in harmony, there must be a balance between the interests of all those who make the movement of air cargo possible from "door to door."
Coping with the challenges
What characterizes operations today is diminished belly capacity (only 20% of belly cargo is still flying), dominance by a few all-cargo freighter operators, with the remaining capacity shifting more than ever to serving e-commerce companies. Excessive financial losses for most of the participants in the air cargo supply chain become pretty common.
Airports, who play a very significant role in the entire mechanism enabling air cargo, are feeling the impact as well. Even when closed to passenger traffic, a substantial share of airport and airside infrastructure remains open. The overall cost base for operations remains almost the same, as most airports' costs are fixed.
Shippers also face growing challenges with the loss of capacity, and transport rates that are now often 2-3 times higher than the normal rates. They are often kept in the dark, no longer able to rely on regular cargo networks, while having to also deal with opportunistic airlines operating ad hoc flights. Now more than ever, shippers need transparency on what flights to what destinations are being served, and they also need access to slot allocation overview at airports for planning their shipments.
Airlines and the whole cargo supply chain have been trying to keep up with the demand for critical shipping of all medical and urgent goods related to this crisis. Air bridges have been made to fly masks, protective gear, and ventilators, and, as I already said, airlines are looking at ways to convert passenger planes to a cargo-carrying configuration. Charter flight operators, i.e. companies that offer unscheduled flights and which do not follow regular airline routings, are now also moving cargo. Last but not least, ensuring last-mile delivery services has been very challenging with diminishing, and often restricted by new conditions, ground transport.
Regulatory issues came up front, because the new conditions required non-standard solutions. For example:
Commercial rights on international routes governed by bilateral and multilateral agreements impose restrictions on changes in air routes. These restrictions had to be waived as airlines needed to be able to quickly change the geography of flights, depending on the urgency in deliveries.
Permits granting such rights had to be issued quickly.
The huge diversity of rules related to ground handling and cargo safety as well as different flying restrictions made compliance difficult, and there was a need for coordination and uniformity.
Rules governing the use of airport slots had been suspended in many countries. A slot is the scheduled time of arrival or departure allocated to an aircraft on a specific date. The rules for slot allocation mean that airlines must operate at least 80% of their flights within their allocated slots under normal circumstances, and could only reallocate a certain number of unused slots. With these rules suspended, airlines were able to offer up their unused allocation so that they could be allocated to newly planned cargo operations, avoiding any need to run empty services in order to maintain slots.
If time had always been a major constraint for the air cargo industry, it had to deal with increased pressure in this respect while also dealing with less capacity. Moreover, safety risks increased with mislabelling and wrongful declarations, reported as being on the rise in many parts of Asia. Unscrupulous shippers are exploiting the situation, and inexperienced ones are further complicating processes, both creating unnecessary problems and hazards.
Facilitate the restart of aviation operations
There is a wide-spread belief that the air cargo side of aviation, unlike the passenger side, is prospering and doesn't need any restart or rebuild plan. True: some airlines, freight forwarders, and others are temporarily benefitting from the fact that demand exceeds capacity.
However, when things start getting back to normal, the air cargo supply chain will have to readjust, and be ready to implement new safety, security, and administrative requirements, and procedures. To handle such requirements and support logistics staff on the ground at the airport, supply chain managers will need to set up cross-functional teams.
Airports should look at the critical routes that need to be open for both commercial and strategic viability. Airports and airlines will also have to create air cargo "data and logistics corridors" to increase the efficiency of cargo movement.
The slot allocation regime will still be a problem, and the need to be able to release slots for cargo operations will remain. This is the area where the participation of Customs authorities is absolutely necessary. Close collaboration with airport-located services in responding to fluctuating capacity demands, alignment of data transfer protocols, and the introduction of a paperless environment and cloud-based communities – these are just a few important areas for joint activities.
More than ever, airports and their airline partners must cooperate, and should not overlook ground handling services and other players in the supply chain. They are often called "unsung heroes" these days because they have to physically put their shoulders to cargo loads, often not being able to observe social distancing, and yet, they are not that visible, but it is them that secure shipment movements to and from planes.
Turning to administrative issues, senior managers in airlines and airports must realize that cargo has become a core business, which should lead them to invest in a cargo management tool, and hire or train staff. Recovery plans should also be reviewed accordingly.
Airlines and all other businesses in the air cargo logistics chain are fragile financially: leases on expensive aircraft, salaries, electricity, and providers of services and materials, among others – all need to be paid, requiring financial resources that are not always covered by reduced and irregular operations. States and local authorities must understand the fundamental role that the air cargo industry plays, and that it is critical to maintain its subsistence and vitality. Many governments have already announced packages to support air carriers and other aviation-related businesses through different arrangements, starting from financial injections to favourable credit terms.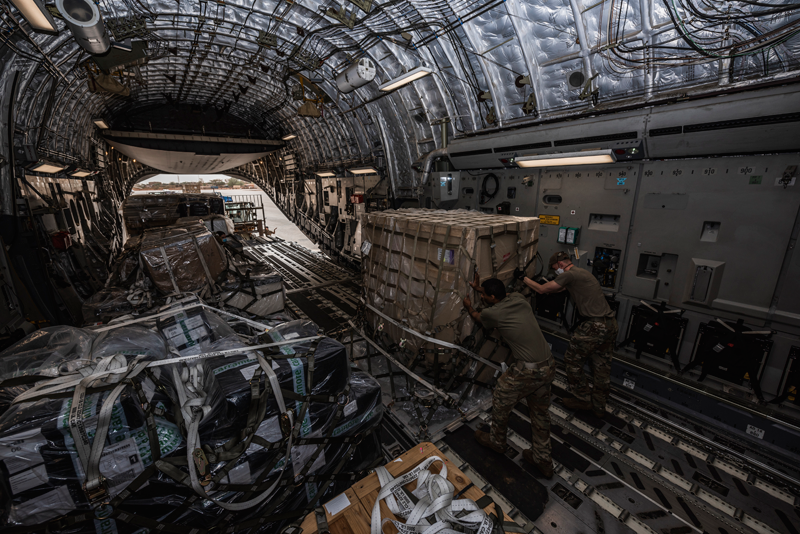 Build a more resilient aviation system in the longer term
The actions suggested above will form a foundation for building a resilient air cargo system in the longer term. But more is needed to get rid of delays as well as useless and irrational route diversions, two phenomenon that are recurrent within the air cargo environment.
Some existing regulations should be changed or relaxed to enable a better response to disasters, pandemics, or any other disruptions that may occur. With this in mind, key actions should include:
Allowing quick changes in air routes by reviewing some of the provisions of commercial rights within bilateral and multilateral agreements to lift restrictions on airlines' ability to quickly change their geographical operations, depending on the urgency of deliveries.
Exempting cargo flight crew from quarantine measures.
Improving slot availability for cargo flights by ensuring that airports release slots for urgent cargo operations.
Additionally, regulation bodies, at the national, regional, or international level, need to appreciate that aircraft operations are only the forefront, the most noticeable element of the whole air cargo supply chain. We should always remember that for the system to function in harmony, a balance must be found between the interests of air cargo operators, airports, freight forwarders, handling companies, and other stakeholders at large.
In fact, the crisis made governments realize that having access to air cargo services is a strategic national imperative to ensure the health, security, and wellbeing of their citizens and countries. Not only is the air cargo industry a significant contributor to the global economy and international trade, it is also an entire ecosystem that has to be efficient so that airlines can sustain vibrant and critical services at all times, and not just during a crisis.
Beyond the change in regulations, there are lessons to be learned from what we are currently experiencing, and we need new procedures within our industry in order to prepare ourselves for potential crises in the future, in particular, procedures involving employees and their health and safety. While the relaxation of processes and restrictions on air cargo movements must continue, we should always bear in mind that there can be no letdown on safety and security issues.
Indeed, preparedness is key, and the various companies that make up our sector – like other industries – must develop emergency plans to anticipate, and build scenarios to be able to respond to the unpredictable. This will involve analysing the new knowledge obtained during COVID-19, getting some experience of managing risks, training employees, and establishing procedures for a quick response such as stocking and supplying protective equipment, monitoring staff wellbeing, setting up internal arrangements with emergency teams, managing IT systems to manage schedules and enable data transfers, enabling optimized remote working, and protecting personal data.
Air cargo is an integrated industry; hence the need for consistent actions and consistent messaging across the industry at all times.
Is it possible to have a global response in concert with Customs?
What is true for the air industry, applies to many other industries and government services too, including Customs administrations with whom it shares many issues and challenges. In response to the challenges brought about by COVID-19, all stakeholders joined together under the banner of ICAO. They included the WCO, TIACA, the WHO, IATA, ACI (Airport Council International), GEA (Global Express Association), ICCAIA (International Coordinating Council of Aerospace Industries Associations), and CANSO (Civil Air Navigation Services Organisation).
TIACA sees its role as assisting ICAO in reaching out to governments with the aim of coming up with better regulations and a better working environment, again for the benefit of all. Air cargo volumes have grown in recent years and will continue to do so faster than anticipated, driven by e-commerce. Hence, there is a need to gain efficiency and transparency.
It is of the utmost importance to ease restrictions and liberalize traffic movement in order to facilitate access to the destinations where cargo flights operate. In practice, facilitation would also require enhanced cooperation with enforcement services, including more effective exchange of information. This flexibility must come with transparency and interconnectivity.
We need to leverage this crisis and work together to find ways to facilitate air cargo movement even more energetically, and to implement effective and efficient controls. Good practices are available at many airports. For example, in some instances, services dealing with air cargo have formed dedicated "cargo communities" who rely on and are assisted by the unimpeded and reliable flow of information through a cloud or any other functioning database. This is just one example of a good practice that deserves careful consideration.
More information
vzubkov@tiaca.org
www.tiaca.org