The invisible and secure border of the future
By
James Canham and Alexander de Voet, Accenture
Never more than now has the need for a secure and contactless border experience been more important.
Border agencies face many challenges and are today operating in an era of unprecedented change. An increasingly volatile global travel and trade environment combined with new security and public health threats, make for a challenging and evolving operating environment that requires close observation, and coordinated and far-reaching responses.
To be successful in this era of instability and rapid change, border agencies need to evolve their processes, people, and technology while ensuring that border experiences and processes are fully digitalized, and made as seamless and contactless as possible for legitimate travellers and traders.
A future that's very different from today
The future border will be an invisible one for the majority of citizens and traders. Administered by Customs and other border agencies that base their decisions and actions around real-time data, and which foster collaboration between humans and machines when making critical decisions that affect the movement of people and trade across borders.
"Until recently, the role of Customs consisted primarily of collecting Customs duties and indirect taxes at import. Numerous developments, including EU enlargement, the development of e-commerce, the threat of terrorist attacks, and the internationalization of organized crime, have altered the environment in which Customs operate."
Encouragingly, the beginnings of this transformation are already evident, as forward-thinking agencies invest in new technologies to transform their operations and border management processes. Examples of innovation such as the Finnish Immigration Service's use of an online digital services platform for immigrants seeking to enter Finland (EnterFinland), which includes a cross-government and multi-lingual virtual agent network across Immigration, Tax, and Patent & Registration agencies. Another example of such innovation is the Dubai World Logistics Passport initiative to incentivize the sharing of logistics facilities and services to further transform Dubai into an international logistics hub.
To change the way core border agency tasks and services are delivered in a faster, safer, and more user-friendly way, we believe the border agency of the future will be characterized by three core features.
By using digital technologies that remove the need to present documentation or interact with an officer at the border, agencies can get rid of most existing routine processes in favour of a more proactive approach triggered directly by trade supply chain events. This change is based on recognizing people and physical objects digitally (for example, through touchless biometrics or sensor technology), enabling border officers to focus on those people and goods of which the identity, status or authenticity is unclear or that can be matched to a risk profile, and to operate more remotely when needed for health or security reasons.
By embracing adaptable, self-learning approaches, and tapping into systems and data across their ecosystems, border agencies will be well placed to quickly and easily adapt to changing demand, technology or policy. This adaptability is underpinned by a data-driven approach, using high volume, high-quality travel and freight data to enhance and accelerate decision making. The adaptable approach also flows through to an agency's workforce, making use of technologies such as artificial intelligence (AI), cloud computing, and augmented and virtual reality technologies to enhance the capabilities of both humans and machines, and establish a more flexible and responsive workforce. Machine learning will be a particular feature, with systems and processes being equipped to self-adapt and self-learn, and border officers continuously training their AI-enabled systems to help make better decisions.
The future border agency will not do it all alone. Rather, the agency will be supported by a rich ecosystem of both public and private partners, working in a collaborative and coordinated fashion. Agencies and other entities operating at the border will digitally share high-quality and trusted data across borders and jurisdictions to speed up and improve processing at and beyond the border. Agencies will also tap into specialist skills and capabilities, from data scientists to contact centres, on an "as needed" basis to supplement and support border agency officials to maximize service and output for citizens, traders, and travellers alike. These ecosystem and partnership focused approaches are already emerging, and – while new and somewhat challenging – are necessary in this era of unprecedented change. The US Customs and Border Protection agency is one organization currently partnering with e-commerce supply chain companies such as Amazon, DHL, and eBay to secure vital e-commerce supply chains and protect consumers.
The notion of the "invisible, adaptable and radically connected" border sounds somewhat futuristic, but it is closer than we think as our rate of technology capability and usage increases year on year. Accenture's recent "Technology Vision" research found that border agency leaders and the public are already receptive to change, and support the greater use of digital technologies by Customs and other border agencies.
Turning vision into reality
We have set out our vision of the future border agency; the next question is how to embark on the journey to get there. In our view, it involves focusing on three priority areas.
Most border agency leaders – and indeed public service leaders – acknowledge the need to digitize and modernize. However, in all too many cases the go-to solution is a move to e-forms, and data banks in an attempt to digitize their operations. The reality is that these efforts provide little more than digital versions of traditional paper trails and fail to reap the full value of the data that already exists across the ecosystem.
Instead, the most important action area to get on the path to the future border agency is to analyse and modernize core business processes and operations, with a view to becoming invisible, adaptable, and radically connected. This means identifying the main events that typically occur along an end-to-end cargo or traveller journey, and determining where data is generated and by whom. Tapping into that data will enable border agencies to obtain a clear and real-time view of goods and passenger journeys, to an extent that requesting information at the border can become the exception rather than the rule. In a trade context, typical events to focus on could include those such as applying for trade finance or booking container space.
In the long run, once the data has proven to be sufficient and reliable, data pipelines will fully replace documents such as Customs declarations. While tapping into this data will by no means be an easy task, and will require extensive collaboration across jurisdictions, moves to support the creation and adoption of data pipelines are already underway.
Connect digital and physical realities
To deliver on the capabilities we have described, border agencies must be bold in embracing new technologies that will help achieve the pivot to more predictive and virtual processing of people and goods. This ultimately means breaking down the trust barrier between digital and physical reality to make the border become truly invisible.
Looking across the landscape of emerging technologies, the foundational technologies that we believe border agencies should be proactively looking to embrace right now include touchless biometrics, AI, blockchain, and the Internet of Things (IoT). Forward-thinking agencies are already venturing into these areas, with initiatives including the installation of a tunnel at Dubai International Airport equipped with 80 facial recognition and iris scanning cameras, and Sydney International Airport also trialling facial recognition technology for some passengers. Such initiatives herald a future in which agencies will be able to create a "biometric border" that conducts a 3D scan of each traveller's face and checks it against a digital passport, enabling the traveller to walk freely through the immigration hall. Establishing government attested digital identities for travellers and traders is paramount to the success of such initiatives.
Today, the World Economic Forum (WEF) and Accenture are working with the Canadian and Dutch governments as well as national airlines among other partners, to explore the potential of a decentralized digital identity system called Known Traveller Digital Identity (KTDI) that uses biometrics and blockchain technology to create unique, verifiable, and secure digital passports for travellers.
At the same time, blockchain technology will help agencies to manage the data pipeline and event-based processes in an efficient and secure way, while both the physical (goods, people) and digital (data on the blockchain or elsewhere) elements will be connected digitally, using sensors connected via the IoT. Ports are already leveraging these technologies to develop "digital twins," creating a virtual representation of the port ecosystem, using real-time data to monitor or simulate processes. Leading examples include the Port of Rotterdam, where a digital twin is helping to reduce waiting times and costs. At the same time, the port and Dutch Customs are investigating how they can apply AI to support x-ray scan image analysis to assess whether a container's contents match the corresponding Customs declaration.
While humans are unrivalled at connecting the dots between the digital (data) and the physical (what they see) while assessing the context and nuance, they are unable to focus on multiple things at once, which is something machines can do. So, there are great opportunities for humans and machines to augment one another at the border by connecting the digital and physical realities. To do this, agencies will need to develop user interfaces that do away with the need to look at multiple screens and that can overlay a landscape view with relevant information in real time, using technologies such as mobile, AR/VR, and eye-tracking. Dubai Customs has already developed "smart glasses" that display a container's Customs declaration, risk assessment, and x-ray images for inspectors.
Just as agencies must shift their mindset from individual transactions to events along an integrated digital and physical value chain, they will need to expand their focus from the subject – the individual person or goods item – to that same subject's end-to-end journey and wider network of contacts and activities. This will require agencies to tap into data from across the ecosystem, such as the geolocation of ships and other modes of transport, companies' ownership structures and financial reports, and passengers' social network history.
As well as enabling agencies to share data and improve processes, this ecosystem will also enable agencies to act in predictive and pre-emptive ways for various tasks, such as stopping goods or people from loading or boarding at the port of departure, based on risks identified by the destination country. The ecosystem will also let agencies tap into specialist skills as needed (for example, accessing data scientists or forensic professionals on-demand, rather than carrying the costs for specialist skills 100% of the time).
To help them gain access to the wider information ecosystem that will open up these opportunities, border agencies should move to identify collaboration and data sharing opportunities across their ecosystem, while always being careful to stay within the constraints of privacy regulations. These efforts could be helped by making experience, data, infrastructure, and platforms available for other entities to leverage, and vice versa, for mutual benefit.
One example of this approach is sharing physical inspection space between agencies.
The Joint Inspection Centre at Schiphol Airport, Netherlands
The JIC makes freight handling safer and more efficient by enabling different enforcement and inspection authorities to carry out checks on airfreight together. The JIC is part of the Schiphol SmartGate cargo initiative, a joint public-private cooperative venture between the Dutch Customs administration, Schiphol Airport, KLM Cargo, and Air Cargo Netherlands. The building houses a dispatch floor, a scanning hall, storage and examination spaces, a quarantine room for small animals, garages for scanning vehicles, and a training centre.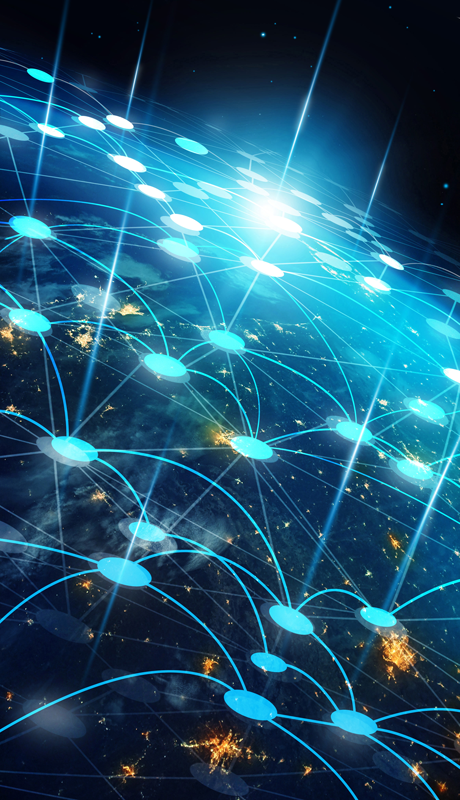 The border agency of the future will be invisible, adaptable and radically connected. Through these three characteristics, agencies will enable all their stakeholders to enter a new era of faster, safer, and more efficient travel and trade flows, while maximizing the value of their country's border as a national asset. The technologies, capabilities, and business case to effect this transformation are all available today to those willing to embrace change. All that's needed is the commitment, leadership, and investment to bring it about.
More information
James Canham
Managing Director, Global Border Services
james.canham@accenture.com
www.linkedin.com/in/jamescanham
Twitter: @JimCanham
Alexander de Voet
Consulting Lead, Global Border Services
alexander.de.voet@accenture.com
www.linkedin.com/in/alexanderdevoet
Twitter: @alexanderdevoet