Illicit trade in waste: it is time to raise the alarm and mobilize
6th June 2019
By
Col. John M. Simon, Port Collector, Mindanao International Container Terminal, Bureau of Customs, Philippines
According to the United Nations Environment Programme, the continent of Asia is the world's largest dumping ground for illegally traded waste. The region also grapples with the enormous amount of plastic waste it generates on its own, which has already wreaked havoc on local ecosystems. In fact, a 2017 Ocean Conservancy Report[1] noted that China, Indonesia, the Philippines, Thailand and Vietnam have been dumping more plastic into the oceans than the rest of the world combined.
The situation in the region has worsened somewhat, following China's decision last year to ban imports of any plastic scrap that was not 99.5% pure, with many exporters now diverting their waste to Southeast Asian countries where they have found new buyers.
Some countries reacted by taking drastic measures. In May 2018, Vietnam temporarily banned plastic waste imports after a surge in trash shipments, caused by China's ban, congested several of their ports. Two months later, Malaysia permanently stopped the issuance of import permits for plastic waste.
Despite and in contravention of international and national regulations, large amounts of waste continue to be unlawfully exported, as recent events in the Philippines show.
A growing number of waste shipments reach the Philippines each year. Some contain legitimate waste that can be recycled, but others are made up of garbage and general household trash fit only for incineration or landfill sites.
The Bureau of Customs is extremely concerned about this trade and how it can be stopped. To give one an idea of the scale of the issue in the country, five instances of the illegal importation of garbage and general household waste are cited below:
From June to August 2013, 103 containers arrived from Canada in six batches at the Manila International Container Terminal. The cargo weighed 2,500 metric tonnes and was declared as recycled plastic scrap, but actually consisted of plastic bottles, plastic bags, newspapers, adult diapers, and other household garbage. The cargo remains unclaimed up to this day, and was finally re-exported back to Canada on 31 May 2018, almost six years after its arrival.
In January 2017, cargo originating in South Korea declared as wood chips (1,700 metric tonnes) and recycled synthetic resin (2,500 metric tonnes) with a total weight of 4,200 metric tonnes arrived at the port of Cebu. The cargo was in fact found to be different kinds of plastic such as plastic bags, low density polyethylene and solid plastics like toothbrush handles and food wrappers. Part of the cargo, which had not yet been unloaded from the vessel (2,500 metric tonnes), was returned to South Korea.
In July 2018, cargo arrived from South Korea at a private port in the Municipality of Villanueva. It was declared as plastic synthetic flakes, but was actually heterogeneous household waste. A re-exportation order was issued in December, but the garbage is still languishing in the importer's premises.
In October 2018, cargo arrived from South Korea at the Mindanao International Container Terminal. It consisted of 51 containers weighing 1,500 metric tonnes declared as plastic synthetic flakes, but actually consisted of heterogeneous household waste such as paper scraps, rubber, bottles, cellophane, aluminium tins, electrical wires and rubber shoes. The shipment was apprehended by Customs in the docking area, and was not able to leave the terminal until its re-exportation in January 2019.
In February 2019, a container arrived from Hong Kong-China at the Mindanao International Container Terminal. It was declared as assorted electronic accessories, but actually comprised heterogeneous household waste. The shipment was apprehended at the docking area, and was not permitted to leave the terminal until it had been re-exported. A seizure and detention warrant was issued on 5 March 2019, and the container was re-exported on 3 June.
None of the importing companies involved in the cases mentioned above had an import permit allowing them to import household garbage into the Philippines, and all of them misdeclared their shipments.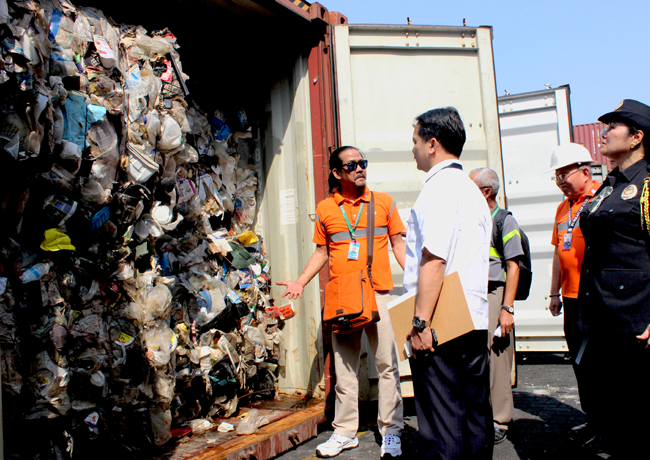 Canada, Hong Kong-China, the Philippines and South Korea are all Contracting Parties to the Basel Convention on the Control of Transboundary Movements of Hazardous Waste and their Disposal. The Convention defines what must be considered as "hazardous" waste and allows its 186 Parties to complete their own respective list of wastes considered hazardous under their national legislation. It also recognizes the right of Parties to set their own requirements concerning transboundary movement procedures applicable to such waste (Art. 3.1).
Additionally, the Parties are forbidden from exporting waste classified as hazardous to another country without prior consent, and have the right to refuse imports of waste classified as hazardous (Art. 4.1). The Country from which the waste originated is responsible for returning the waste to its port of origin "within 30 days from the time the State of export has been informed about the illegal traffic." The Convention also states that the obligation for such waste to be managed in an environmentally sound manner "may not under any circumstances be transferred to the States of import or transit."
Philippine Customs has bilateral cooperation agreements in place with each of the cited exporting countries, with each party having committed to provide support and prevent the entry of illegal goods. However, authorities at export do not play their part, as can be seen from the five examples of illegal entry mentioned earlier in this article. These illegal importations were detected, thanks to local intelligence networks and not from strengthened collaboration between Customs administrations.
The authorities of both exporting and importing States should work in unison to detect illicit operations and prosecute the companies and individuals involved in this trade. Intelligence should be collected and risk indicators identified on both sides. One could even imagine countries undertaking joint risk analysis, interdictions, investigations, operational activities, and controlled deliveries. Such cooperation would certainly improve efforts to combat this illegal trade.
As the WCO pointed out in an article published in the February 2019 edition of this magazine, "There is still not enough data available to get a clear picture of illicit international waste flows. In order to identify trafficking trends as accurately as possible and enhance risk management, countries must register their seizures in their national enforcement database, as well as in the WCO Customs Enforcement Network (CEN) database. Such data will enable the targeting of Customs and law enforcement operations to be refined, whilst providing qualitative intelligence."
Fighting transboundary crime is something new in Philippine Customs. Consequently, the administration does not have a national enforcement database for collecting, analysing and sharing information on offences and offenders, and has not built risk profiles of companies likely to get involved in illicit trade. However, seizures made at the Mindanao International Container Terminal were reported to the WCO Regional Intelligence Liaison Office for the Asia/Pacific region so that this information could, in turn, be reported to the WCO and its Members.
When it comes to national interagency cooperation, representatives of Philippine Customs and the Department of Environment and Natural Resources regularly meet to address illegal waste importations. However, to gather intelligence for targeting purposes, coordination between Customs and environmental agencies at the national, regional and international level must be vastly improved. Ideally, the people charged with coordination at the various levels should be empowered to expeditiously decide who should be appointed in each country. Such coordination should include enhanced communication and cooperation, as well as the mandatory sharing of data and intelligence.
The continuing illicit entry of garbage and hazardous waste is proof that more needs to be done to fight this trade. One possible solution could be the establishment of an international commission or regional commissions, even binational commissions, tasked with fighting transboundary environmental crime.
Given the scale of the illicit trade emanating from South Korea, a Philippines-Korean Anti Waste Commission could, for example, be established to ensure that enforcement services at Philippine ports are properly trained and equipped to detect illicit importations of waste, enabling such waste to be swiftly repatriated to the country of export.
Such commissions should be composed of dedicated representatives from both the public and private sectors and, besides enforcement, should also carry out public education programmes and, more importantly, work on how to improve global waste management on both sides of the equation.
Opinions expressed in this article are those of the author and do not necessarily reflect the official views of the Government of the Philippines or its Bureau of Customs.
More information
www.basel.int
www.unenvironment.org/explore-topics/chemicals-waste
[1] https://oceanconservancy.org/wp-content/uploads/2017/04/full-report-stemming-the.pdf