Customs partners with express carriers to fight illicit trade in Hong Kong
By
Hong Kong Customs
Hong Kong Customs' enforcement strategy is multi-pronged. The administration attaches equal importance to developing efficient enforcement tactics, educating the public and engaging with it, maintaining close collaboration with its overseas enforcement counterparts, and fostering Customs-business partnerships. Partnering with the private sector is a domain in which Hong Kong Customs has been particularly proactive, in order to strengthen its enforcement capacities. This article looks at the cooperation established with express courier companies to detect illicit shipments.
With the continuing growth of globalization and the prevailing trend of e-commerce, including online retailing, there has been a sharp increase in the number of shipments transported by express couriers or the postal service from across the border to consumers around the world. The goods shipped through such channels are small in size, but the sheer volume of the shipments and the fact that they must be delivered in a tight time frame poses challenges to enforcement authorities.
As the gate guard of Hong Kong responsible for the suppression of smuggling activities, both at import, export and transhipment, Hong Kong Customs is looking at how to effectively manage this time-sensitive flow of goods without straining control operations as well as the capacity of logistics service providers.
Fully aware that the development of online selling and related logistics solutions bring enormous benefits to legitimate traders, Hong Kong Customs decided to partner with the stakeholders involved in the cross-border e-commerce chain, in particular express courier companies, to detect shipments containing illicit goods.
Memoranda of Understanding
After some discussions, in March 2015, Hong Kong Customs signed Memoranda of Understanding (MOUs) with five major express courier operators, namely DHL Express (Hong Kong) Limited, Federal Express (Hong Kong) Limited, S.F. Express (Hong Kong) Limited, TNT Express Worldwide (HK) Ltd, and UPS Parcel Delivery Service Limited. This endeavour is in line with Standard 11 on Public-Private Partnerships contained in the WCO Framework of Standards on Cross-Border E-Commerce.
Upon entering into the MOUs, the five operators pledged to strengthen their partnership with Hong Kong Customs in combating smuggling activities, while Hong Kong Customs committed to train the operators' employees on the latest modus operandi used by smugglers, on the type of information in the shipment documentation and other indications that could raise suspicions, and on how specific items appear on X-ray images.
This training paid off. Having received relevant knowledge and being more alert, the staff of the express courier companies regularly spot suspicious parcels and refer them to Hong Kong Customs for follow-up actions. The number of shipments identified by courier staff and which were subsequently seized by Hong Kong Customs has increased significantly over the years as shown in the table below.
Table 1 – Number of shipments identified by courier staff and which were subsequently seized by Customs
| | | | | | |
| --- | --- | --- | --- | --- | --- |
| Year | 2014 | 2015 | 2016 | 2017 | 2018 |
| Number of illicit shipments | 494 | 775 | 780 | 960 | 1079 |
These shipments contained various illicit items such as counterfeit goods, dangerous drugs, endangered species, dutiable goods, firearms and weapons, and pharmaceutical products.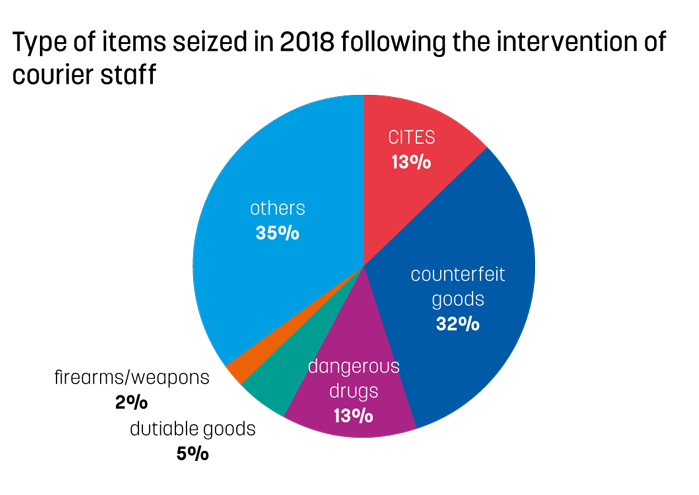 Among the seizures made in 2018, about one third were related to the infringement of intellectual property rights (IPR). Before the MOUs were signed, in 2014, Hong Kong Customs seized about 70,000 pieces of IPR infringing goods being transported by express couriers. Over the succeeding years, after the signing of the MOUs, up until 2017, both the quantity and value of IPR infringing goods seized had increased (see Graphics 1 & 2). Although there was a decrease in 2018, this could probably be attributed to the deterrent effect accrued over the preceding years. The focus of the controls is not only on imports, but also on exports and transhipments. In 2018, 43% of the shipments were seized at export or in transhipment.
Compared with 2014, the quantity of seizures in 2018 increased by more than twofold; and the seizure value has increased by fourfold. These statistics clearly show the merit of Hong Kong Customs' decision to join hands with supply chain stakeholders.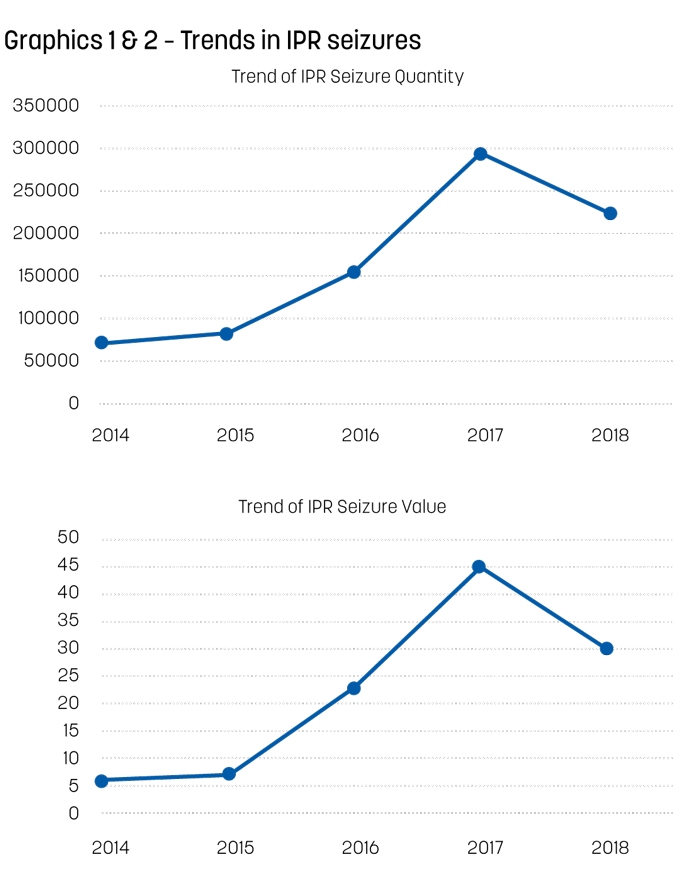 Partnership with express couriers
Express carriers are data driven companies and all their customers have a footprint in their IT system. They can, therefore, once a shipment has been identified as illicit, reconcile information and find other shipments originating from the same shipper. Upon request, the results of this analysis can then be shared with Hong Kong Customs, which can then take appropriate measures. Courier companies may also ban non-compliant shippers from their customer list.
Collaborating with the express courier industry is a very effective measure to curb smuggling. The partnership that Hong Kong Customs has built with these couriers can be considered a best practice that other Customs administrations may wish to adopt. With growing e-commerce transactions across the globe, all Customs agencies are facing, at different degrees, the same harsh challenges. Hong Kong Customs will continue to monitor the effectiveness of the mechanism that it has in place and may extend similar schemes to other stakeholders along the supply chain in the future, including to Hong Kong Post.
More information
www.customs.gov.hk