Maqta Gateway: Digitizing and transforming trade
By
Abu Dhabi Ports
Abu Dhabi is leading the region's digital transformation drive with a view to moving all of the emirate's trade online during 2021
Although the maritime transport industry handles 90%[1] of global trade, the sector's administrative procedures are complex and time-consuming. Out of the USD 9 trillion[2] worth of goods shipped annually, the World Economic Forum estimates that a whopping 15%-20%[3] of the cost of shipping these goods is spent on administration alone.
What really does raise eyebrows, however, is that, up until the announcement by the International Maritime Organization (IMO) of its 2025 digitization directives in 2016,[4] paperwork remained de rigueur among maritime authorities and other stakeholders involved in international shipping.
Since then, the industry has worked hard to catch up. Many ports – both large and small – have taken steps to harmonize reporting and standardize electronic information flows by creating and investing in single entry point digital systems that are interoperative and fully compliant with the IMO FAL Convention.[5]
Five years on, and after spending so long behind the technology curve, many of the world's leading maritime players are now embracing a bold new era of digital innovation, and none more so than in the Arabian Peninsula, in the capital of the UAE, Abu Dhabi.
Back in 2014, its Government tapped Abu Dhabi Ports – the master developer, operator and manager of commercial and community ports within the Emirate of Abu Dhabi – to build what was to become the UAE's first dedicated Single Window Port Community System: Maqta PCS (M‑PCS). The name is inspired by the Arabic word for crossing, Maqta, and is also the name of the first bridge built in the Emirate more than 50 years ago across the waterway that separated Abu Dhabi from the mainland. The objective was for M-PCS to act as the crossing point between all entities integrated in the process. Soon after the successful launch of the system, Abu Dhabi Ports created a subsidiary in 2016 called Maqta Gateway that is mandated to facilitate trade using advance digital solutions, including the M-PCS.
Since that time, Maqta Gateway has successfully completed more than 30 million online transactions, with 10% of that number having been reached during the current pandemic.
A Single Window serving every need
The introduction of the platform has had a tremendous impact on port and seaside operations. The digitization of core documentation and the integration of the multiple systems used by each participant in a transaction under a Single Window has helped dramatically reduce traditionally very paper-heavy, manual and frequently inaccurate processes governing the movement of vessels and cargo in ports, as well as the payment of port services.
Where once organizations had to invest significantly and employ an entire team to compile, exchange and track documentation accurately, the entire process is now digitized on a platform that can be accessed and managed by a single user. This, in turn, has freed up where these organizations allocate their resources and enabled them to focus solely on their core business.
Additionally, as part of the process in digitizing port services, Maqta Gateway spent considerable time re‑engineering trade processes. Working closely with all stakeholders involved to identify the various challenge points, the company was able to streamline the delivery of each service, eliminating much of the red tape that had hampered processes in the past.
Initially offering shippers and port users an ultra-modern digital Single Window interface, Maqta Gateway received, in May 2020, a new government mandate to develop the M-PCS into a fully integrated trade, Customs and logistics portal for those engaged in all trade by sea, land and air, facilitating electronic data flow between all the emirate's economic stakeholders, port authorities, Customs, and traders, terminals and industrial zones.
A few years from now, a new critical phase, aimed not only to promote paperless trade but also to entirely digitize trade and logistics processes across all areas of Abu Dhabi's future economic activity, will be completed: the launch of the Advanced Trade and Logistics Platform (ATLP).
Advanced Trade and Logistics Platform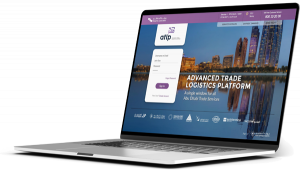 Envisioned as a platform for unifying payments, permits, approvals and applications and helping stakeholders better manage resources, ATLP is being developed under the supervision of the Abu Dhabi Department of Economic Development and will serve as Abu Dhabi's Single Window trade platform for all economic operators via sea, land, air, industrial and free zones, in addition to enhancing the customer experience within the trade and logistics sectors.
Featuring electronic forms, machine learning, single sign-on and a host of value-added services that include trade finance and insurance, combined with the use of international Electronic Data Interchange (EDI) standards via modern Application Programming Interfaces[6] and Robot Process Automation,[7] Maqta Gateway's ATLP solution is truly a next-generation tool for global trade facilitation.
For instance, an end user managing a large-scale manufacturing operation can utilize the platform to track and trace a shipment of raw materials in real time. This means that that they can have their teams ready on the factory floor to begin work at the precise moment of final delivery.
The solution would also provide the same user with the tools they need to plan more effectively and optimize their global supply chain – providing transparency and identifying bottlenecks – while also saving precious time and reducing costs.
But that is only the tip of the iceberg. As ATLP integrates, automates and harmonizes with all actors involved across a supply chain including Customs clearance, economic zone operators and government authorities, both service providers and service consumers will find themselves in a unique ecosystem that encapsulates all of their logistical needs through a Single Window interface.
In addition, the involvement of so many actors at each link in the chain has also accelerated the amount of raw data collected along the way. Beyond monitoring progress in real time and optimizing processes, this collated data can also be utilized to identify trends and generate market forecasts, enabling users to make informed strategic decisions on their respective activities. It is hoped that, in time, as the platform matures, data reports can be generated and shared for the benefit of the whole community. The platform will provide dashboards for all stakeholders showing proper KPIs and data collected. The data will also be available to stakeholders at API level.
First steps towards global trade facilitation
Last June, in the midst of the COVID-19 pandemic, and a full year out from its official introduction, workshops and in-parallel planning and requirement-gathering sessions, involving more than 40 key public and private sector stakeholders, were held remotely to streamline the platform's performance and to ensure its successful launch.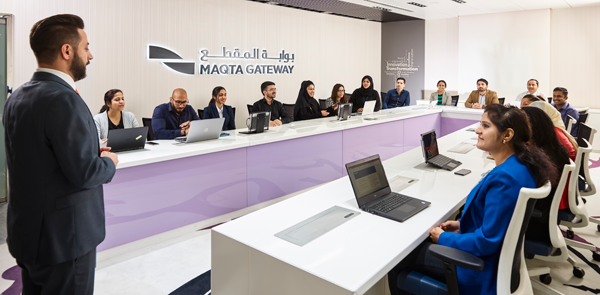 Abu Dhabi's leadership is confident that, by locally advancing the construction of robust, innovative and leading-edge digital assets that enhance transparency, increase commercial activity and reduce costs, ALTP will set a benchmark within the region.
Nowadays, global trade demands digital connectivity and optimized ecosystems that combine physical assets with world-class information management. And thanks to the holistic view of Single Window digital trade and logistics platforms, such as Abu Dhabi Ports' Maqta PCS, the depth and complexity of the world's supply chain is becoming less opaque and more manageable for all its stakeholders.
The diffusion of single entry data portals for business-to-government and business-to-business messages is crucial to boosting efficiency by providing digital, real-time information to all players within the infrastructure of global commerce.
In the Middle East, the decision by Abu Dhabi's Government to set up Maqta Gateway will benefit all local and international players engaged with the emirate's trade and logistics value chain, helping to drive inward direct foreign investment while supporting Abu Dhabi's transformation into a highly competitive global economic hub.
There is much work to be done in preparing new users to take on the full capabilities promised by the platform. As each organization will undoubtedly have its own set of systems, processes and policies to contend with, it will be necessary to work closely with each newcomer to ensure smooth adoption of the solution and guide them on their journey as he joins ATLP's logistics ecosystem.
In the years ahead, few doubt that today's nascent technologies such as blockchain, machine learning and the Internet of Things (IoT) will take PCS platforms like Maqta Gateway ATLP a giant step further. And, although the dream of fully paperless trade is not yet a reality, ongoing digital transformation will ensure its inevitability.
More information
http://www.maqta.ae
MGService.Desk@maqta.ae
[1] https://business.un.org/en/entities/13
[2] http://www3.weforum.org/docs/GETR/2012/GETR_Chapter1.8.pdf
[3] https://www.iotevolutionworld.com/smart-transport/articles/442702-how-industrial-iot-will-disrupt-shipping-industry.htm
[4] http://www.imo.org/en/KnowledgeCentre/IndexofIMOResolutions/Facilitation-(FAL)/Documents/FAL.12(40).pdf
[5] The Convention on Facilitation of International Maritime Traffic (FAL) consists of 16 articles and one annex. The annex contains the "Standards" and "Recommended Practices" on formalities, documentary requirements and procedures which should be applied on arrival, during their stay and on departure to the ships, their crews, passengers, baggage and cargo.
[6] An API is a tool that specifies ways software can interact with an application such that the data from the latter is available in the former. APIs interact with the target application exclusively through the back end.
[7] Robotic Process Automation (RPA) is a technology used to mimic human actions which aims to perform a specific task in an automated manner by following a sequence of steps to complete that task.