Training in the time of COVID-19: Ukraine's experience
By
Andrii Voitseshchuk, Acting Director, Department for Specialized Training and Canine Services, State Customs Service of Ukraine
Ukraine declared itself an independent country on 24 August 1991 and, shortly afterwards, established its own Customs Service. As it is the case for any new organization, the challenge was to find highly qualified specialists and focus was consequently placed on the training of newly recruited officers. A law was also adopted requiring Customs officers to improve their level of professional competence on a continuous basis.
The Department for Specialized Training and Canine Services (hereafter "the Department") was created to provide distance and face-to-face training using the latest tools and methodologies. It relies on experienced trainers to do so. Of the Department's 69 employees, six are Candidates of Science[1], one is a Doctor of Science[2], twelve are experienced Customs officers, ten are language specialists, eight are expert trainers certified by an international organization, one is a WCO Recognized Expert[3], and three are accredited WCO Experts.
Training sessions focus on implementation of modern working techniques and WCO standards in the following areas: valuation, origin, classification, promotion and protection of IPR, revenue fraud, transit control, implementation of technology related to inspections, and combating illicit trade and smuggling.
The Department also selects and trains dogs and dog handler teams, manages the logistics and infrastructure of the Dog Training Centre (kennels, vehicles and training tools used), ensures participation by Ukrainian dog handler teams in special events, and cooperates with other agencies at international and national level to share knowledge and practices and well as to support enforcement operations.
The Department is also in charge of organizing activities under the flagship of the WCO as a WCO Regional Training Centre and a Regional Dog Training Centre.
The schedule for training sessions is drawn up annually together with the Human Resources Management Department as part of the Annual Plan for Professional Competence Development. A number of methods are used to determine training needs:
– the results of the exit survey undertaken after each training activity are analysed. Among other things, participants must list areas of work where they need to enhance their knowledge;
– the Department's strategy is also examined, especially new priorities, objectives, and organizational changes;
– the various divisions of the State Customs Service are consulted.
A list of topics and draft curricula are then developed and submitted for approval. Participants in the planned training sessions are subsequently selected based on the needs they have expressed and their performance assessment. There is some flexibility in the process, and the list of planned training sessions may be adjusted during the year according to the prevailing circumstances.
The COVID-19 pandemic has transformed training delivery methods, with all training activities now being delivered exclusively through distance learning. This change has been challenging for all educational institutions, given that it is not easy to design quality training using digital technologies. In addition, trainers have to work hard to inspire and motivate employees and solve technical problems encountered by participants.
The Department was able to adapt quickly to the current situation, due to the fact that it owns a distance learning platform, to the professionalism and energy of its team of trainers as well as to the experience it had already amassed in online training. After all, almost 80% of training was already being conducted through a blended form of online and face-to-face training, mixing both asynchronous courses (where designers create courses that participants can complete on their own with little or no help from an instructor) and synchronous courses (instructor-led training, requiring the instructor and students to be present at scheduled times, either in person or online, for tuition, discussions, and activities). All the courses devised comprise practical exercises based on case materials developed by trainers, as considerable attention has been paid to practical components enabling participants to consolidate the knowledge gained during theoretical studies.
When the pandemic struck, the main task was to organize the educational process in such a way that the quality offered by new forms of training would be similar to, if not better than, traditional ones.
Today, asynchronous teaching is still being used in the same way: trainers provide trainees with links to video recordings of lectures and to various materials and the trainees complete the training on their own. As for synchronous teaching, it is now exclusively delivered using a free web conferencing software system called BigBlueButton. The system allows for real-time sharing of presentations and screens between participants who can also collaborate and develop content though whiteboards, shared notes, drawing tools and polling.
This new online blended training has already been used in many fields, including training dog and handler teams to search for narcotics, weapons and ammunition, tobacco products, currency, amber and CITES goods.
The courses in this particular domain were split into three stages:
Stage I – the participants worked individually using recorded theoretical courses and other instructional material, including tests.
Stage ІІ – the Department trainers delivered online courses covering topics such as regulations on narcotic drugs, psychotropic substances and precursors and enforcement procedures, joint use of scanning systems and canine teams to identify prohibited goods, and the composition of the veterinary service that looks after detector dogs. Dog handler teams then conducted practical search exercises involving various items and substances, based on scenarios occurring at different facilities and premises. This process was filmed and the video files sent to the Department.
Stage ІІІ – the trainers corrected the tests, watched the video files and assessed the participants' performance based on predefined criteria.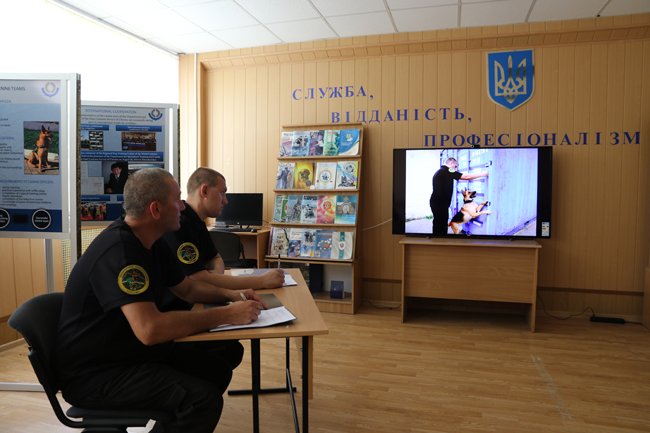 Special focus has also been placed on training operators of small scanning systems. For the first time, the Department has delivered an online train-the-trainer course on X-ray image analysis using Simfox, an X-Ray simulator. Simfox uses real images and includes an on-screen replica of an X-ray machine's dashboard, offering the same image enhancements and zoom functions that machine operators will use during operations.
During the pandemic, the Department also continued promoting the WСO CLiKC! e-learning platform. Some 392 Ukrainian Customs officers have been using the platform since the beginning of 2020, in comparison with 106 the year before.
Video lectures have been developed on a range of new topics, including:
adapting IPR national legislation to EU standards;
storage of goods and vehicles under Customs control and temporary storage depots;
human rights;
conflict resolution skills;
psychodiagnostic assessment of individuals predisposed to commit Customs offences;
team management.
So far a total of 1,385 officers have been trained.
Challenges and lessons learned
According to feedback provided by participants after each online training course, 90% of them consider the educational process to be interesting, useful, informative, highly innovative and relevant to their daily work.
However, they have also highlighted some negative aspects often attributed to distance learning, such as difficulties in or limitations on interacting with the trainer and other participants. Trainers themselves have found difficult to convert workshops and lectures into online formats for topics such as cultural objects, protection of intellectual property rights, and the use of psychology to understand and predict behaviour.
Although distance learning is not a new phenomenon (indeed, correspondence courses have been around since the 1700s), the emergence of cooperative tools, the development of online pedagogy and the possibilities offered by technology to tailor learning to individual needs and explore how people learn are transforming the training process. The key task currently facing all training institutions is to harness new distance learning solutions and methodologies, and we encourage those who would like to find out more about our experience to get in touch and pay us a visit when conditions allow.
More information
ds.post@customs.gov.ua
https://www.facebook.com/dspkz.dmsu
[1] A Candidate of Sciences degree normally requires at least three years of postgraduate study at a university-level higher education institution.
[2] A Doctor of Sciences degree can be earned after a period of further study following the awarding of a Candidate of Sciences degree.
[3] A Recognized Expert (RE) may not have received formal WCO accreditation but should have proven experience and expertise in a particular field.