Working together: Australia and Korea fostering collaboration through officer placement
21st October 2020
By
the Australian Border Force
Cooperation between Customs agencies is crucial in order to address some of the collective risks and challenges faced at the border. The Australian Border Force regularly collaborates with foreign Customs and enforcement authorities in various ways, for example by setting up joint initiatives or organizing joint events. This article looks at another form of collaboration established with the Korea Customs Service: officer placement.
In July 2019, Seunghwan Jeong, a senior executive officer from the Korea Customs Service (KCS), arrived in Australia. During the 12 months that followed, he worked with the support of colleagues from the Australian Border Force (ABF) to build an understanding of the latest developments in the respective agencies and examine the technological initiatives being considered by Customs agencies in the field of ITCs.
His assignment is the latest display of the close collaboration established between the two agencies that spans border security, trade enforcement and trade facilitation – a collaboration that stretches back to the signing of a Memorandum of Understanding on mutual assistance in 1988. The agencies cooperate regularly in order to investigate and disrupt the flow of illicit goods, to facilitate legal trade flows and the application of the Australia-Korea free trade agreement, and to implement the Mutual Recognition Agreement (MRA) that was established in June 2018, enabling companies certified under the Korean Authorized Economic Operator (AEO) scheme and the Australian Trusted Trader programme to have their certification recognized and to enjoy certain benefits.
As a result of Mr. Jeong's assignment to Australia, the ABF and the KCS now have a greater understanding of each other's plans in applying emerging technologies to Customs and border processes that will open new avenues for collaboration. By harnessing technology and enabling data sharing, it will be possible to provide legitimate travellers and traders with a border experience that is seamless, while focusing regulatory attention and intervention efforts on those who represent a risk.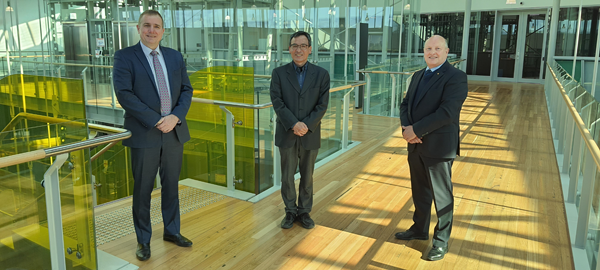 During his time in Australia, Mr. Jeong was based in Canberra at the Centre for Customs and Excise Studies (CCES) at Charles Sturt University where, in addition to liaising with the ABF, he took the opportunity to complete his Master of Customs Administration (MCA) degree. The MCA, which is formally recognized by the WCO as meeting its Professional Standards, requires the submission of a research project of relevance to the regulation of cross-border trade, and, not surprisingly, Mr. Jeong took the opportunity to focus his research on technological initiatives in the cross-border environment.
His Master's dissertation addressed the challenge of achieving appropriate levels of facilitation and effective control through the use of emerging technologies, including artificial intelligence, and the practical application of the WCO Cross-Border E-Commerce Framework of Standards. On the final day of his assignment, Mr. Jeong presented his findings to the Australian Border Force Commissioner, Michael Outram, and senior officials of the ABF, who commended his efforts and discussed the common issues being experienced by their respective administrations.
Co-locating officers at an educational institution such as CCES provides them with a unique opportunity to work alongside other researchers in the field of Customs and trade. The practice is growing and has become a model for other agencies to cooperate. The benefits of such arrangements also flow back to the CCES faculty, through the opportunity to discuss specific aspects of its visitors' policies, strategies and operational practices, and to incorporate such insights and case studies into its education and teaching materials.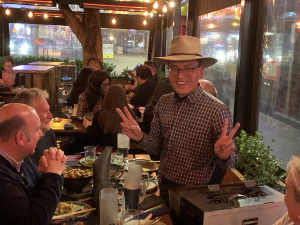 Despite Mr. Jeong's busy work schedule, his Australian hosts made sure that he found time to enjoy the social side of his assignment, which provided them with an opportunity to showcase Australian culture and life. This included celebrating an Australian Christmas, visiting sites of historical significance, enjoying the picturesque countryside, and engaging in uniquely Australian experiences such as a swim at Bondi Beach and a typical Aussie barbeque.
However, no one could have anticipated the other unique experiences that were to be encountered, including bushfires, hailstorms and a pandemic! While such events required constant changes to schedules, Mr. Jeong showed remarkable resilience, once again demonstrating the valuable benefits that can be gained from programmes of this kind.
We are living in the technological age, which is continually changing the way in which goods are traded and the way in which such trade should be regulated. Further advances bring with them new opportunities, and the ABF looks forward to collaborating further with our Korean colleagues and other international partners to realize those opportunities in the years to come.
More information
International.Engagement@abf.gov.au