EIA launches Global Environmental Crime Tracker
By
the Environmental Investigation Agency
The Environmental Investigation Agency (EIA), a non-governmental organization dedicated to combating environmental crime, has developed the first public-domain online platform collating data on seizures, arrests and prosecution records which contextualize the dynamics of the illegal wildlife trade.
The tool uses data collected from publicly available information, including government reports, enforcement agency press releases and non-governmental and academic papers. News media coverage in several languages as well as information provided by partner NGOs is also used to paint a picture of criminal activities in Asia, Africa and Europe.
Given the nature of criminal markets, differences in reporting and limitations in public access to law enforcement information across the world, the tool does not provide an exhaustive dataset and likely represents only a fraction of actual enforcement and illegal trade activity globally.
This platform, or Tracker, consists of dashboards and maps that illustrate the trafficking hotspots and transportation routes, and charts the links between the criminal networks and key individuals involved.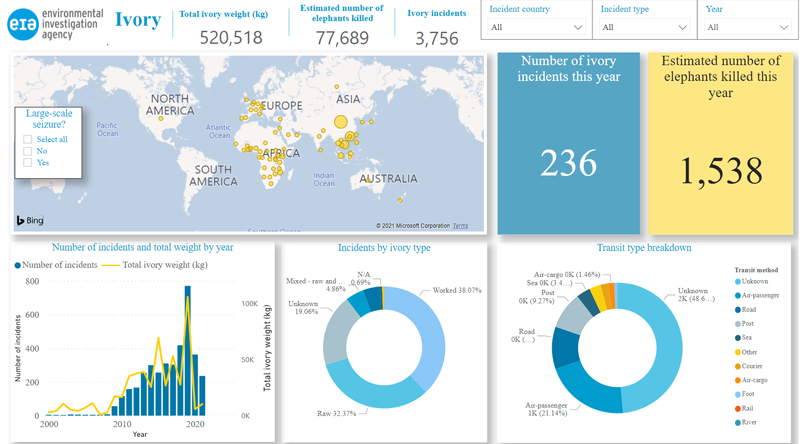 The online Tracker is open-access and is a useful tool, particularly for Customs authorities as well as the transport industry. EIA has developed a demo video which explains how to use the Tracker, and bespoke training on the use of this tool is available upon request to EIA.
More information
Rachel Mackenna
rachelmackenna@eia-international.org
https://eia-international.org/global-environmental-crime-tracker