Discover the WCO Trade Tools
HS 2022 and the last four editions of the HS (2002, 2007, 2012 and 2017)
Advanced search engine
Legal Notes, Explanatory Notes* and Classification Opinions*
A history tool tracking the evolution of HS codes at subheading level across different editions*
Option to add comments, tags, save searches and create folders which are accessible through the homepage and in the user's personal area*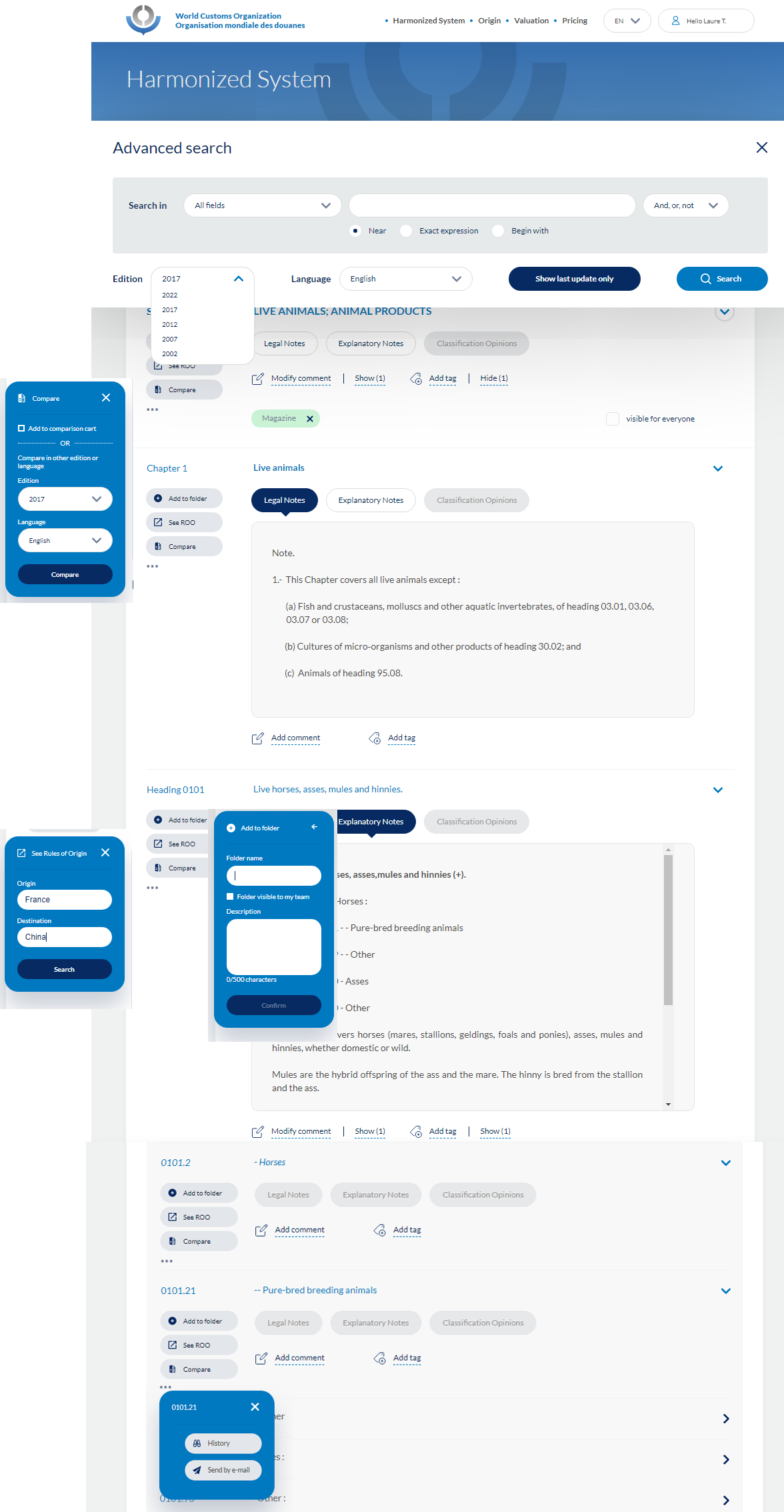 Direct view of the most recent HS updates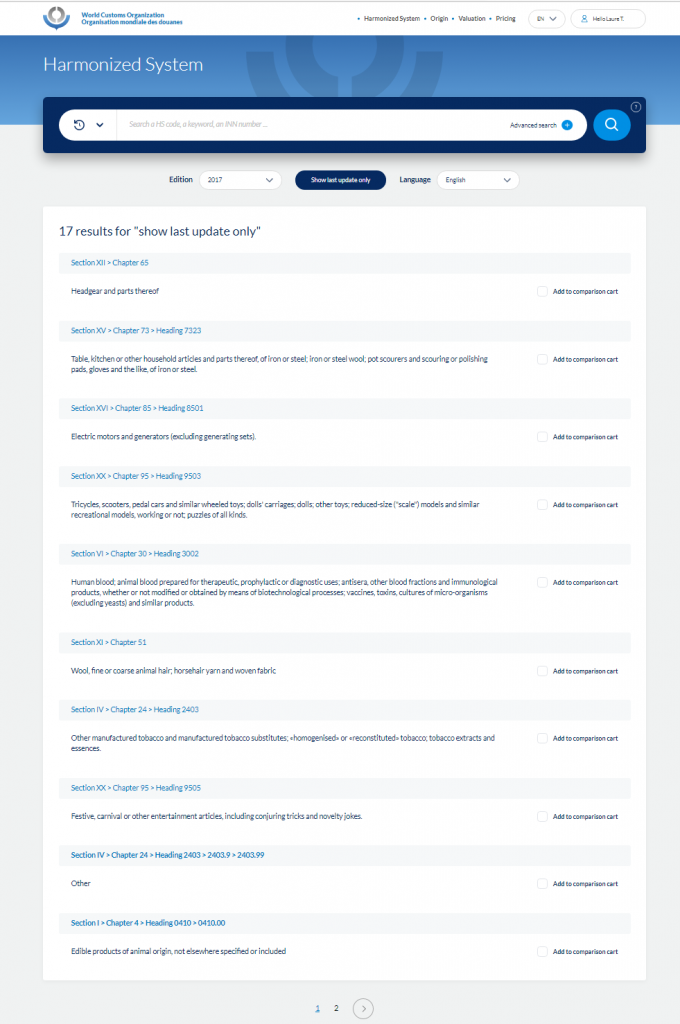 A comparison tool* enabling the user to view, side by side on the same page, two different editions and/or two different language versions of an HS code and its corresponding Legal Notes, Explanatory Notes or Classification Opinions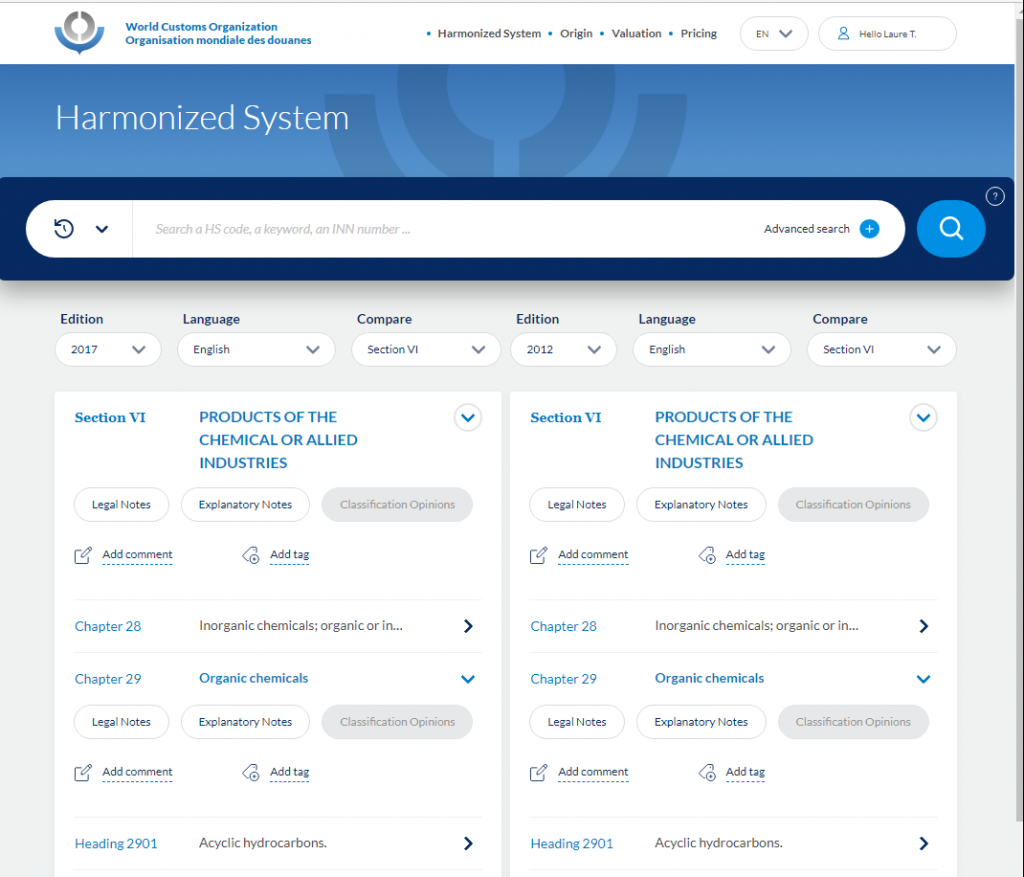 Preferential Rules of Origin
The legal texts of over 350 FTAs are available, together with their annexes and samples of corresponding certificates of origin*
Possibility to search if a product is covered by an FTA by entering related HS code or keyword as well as an origin and a destination*
A search tool by HS code or product description to look for Product Specific Rules*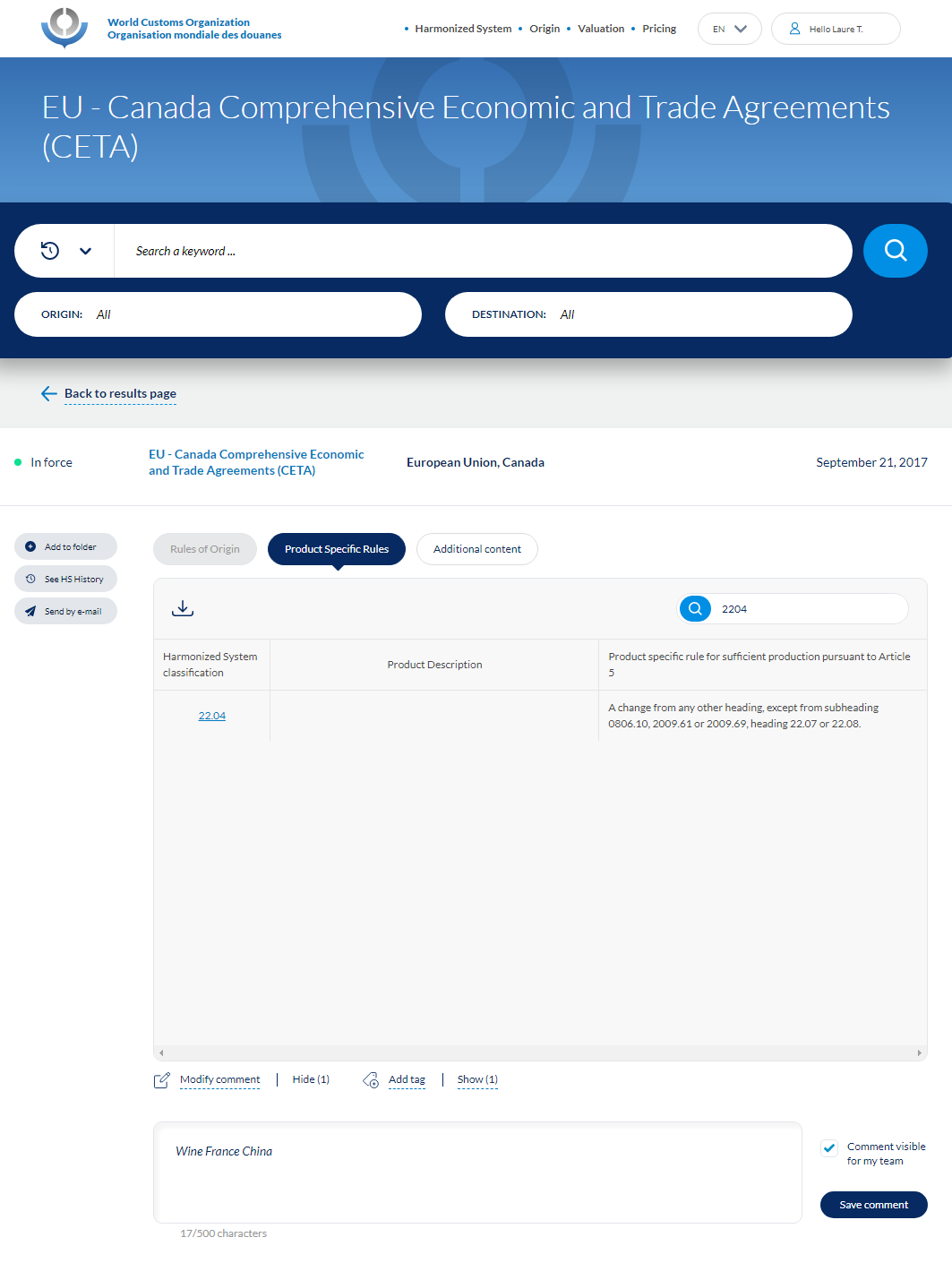 Comparison tool enabling the user to view, side by side on the same page, two different FTAs including Product Specific Rules of Origin*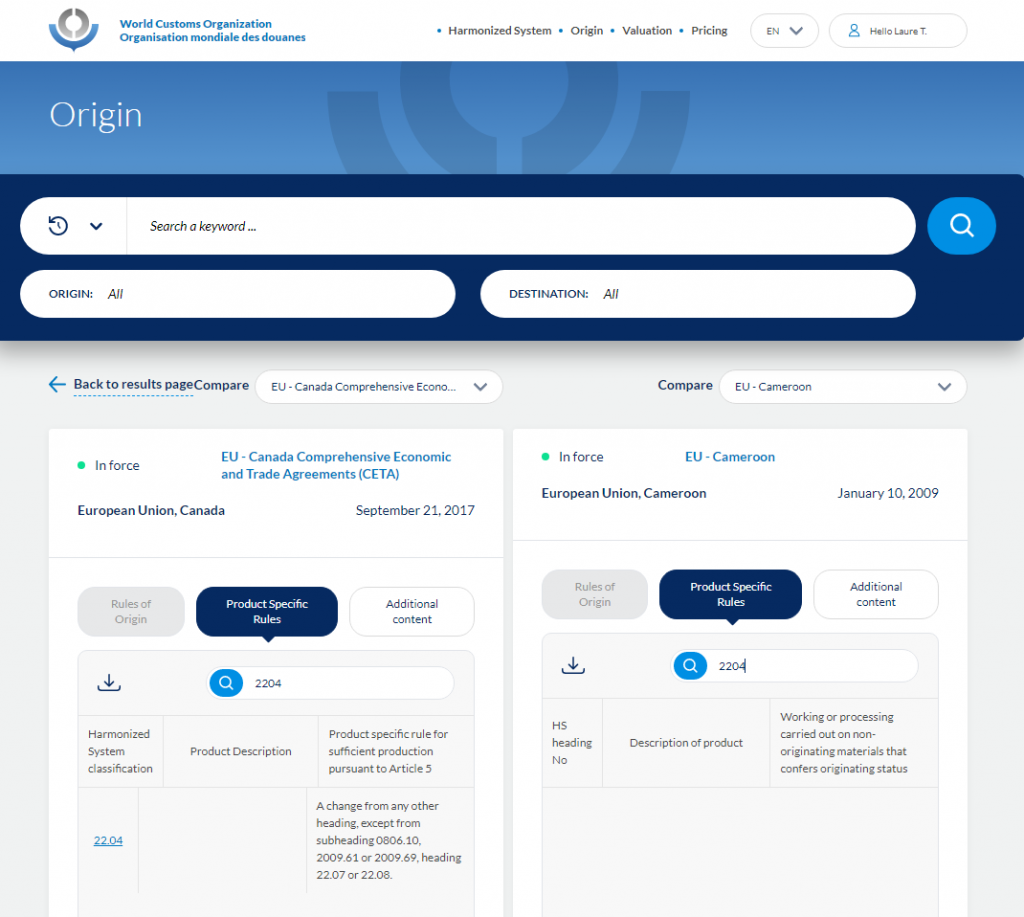 Texts of the WTO Valuation Agreement
Decisions taken by the WTO Committee on Customs Valuation*
Instruments prepared by the WCO Technical Committee on Customs Valuation*
Search tool*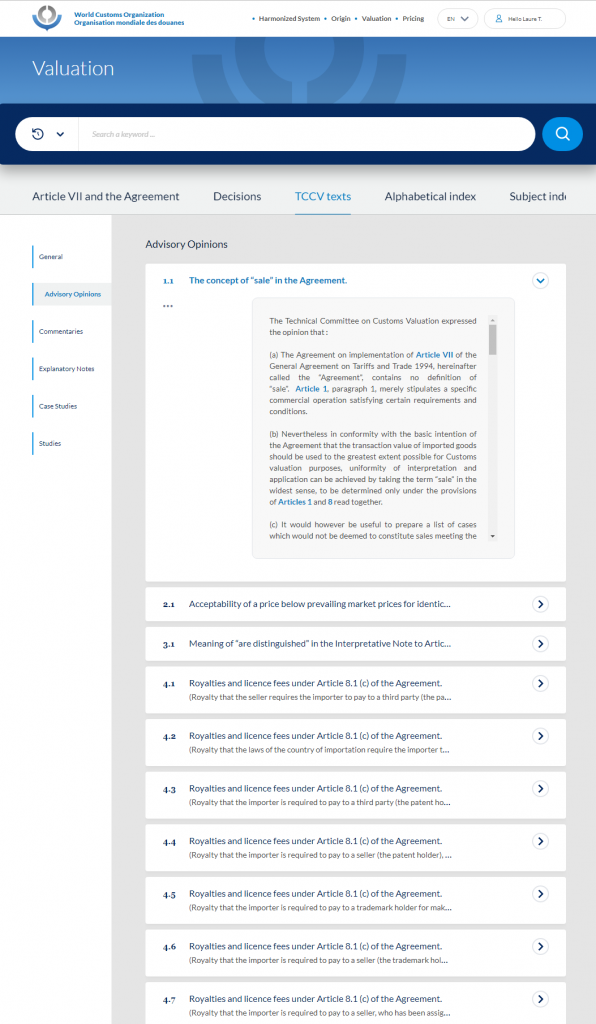 Alphabetical and subject indexes*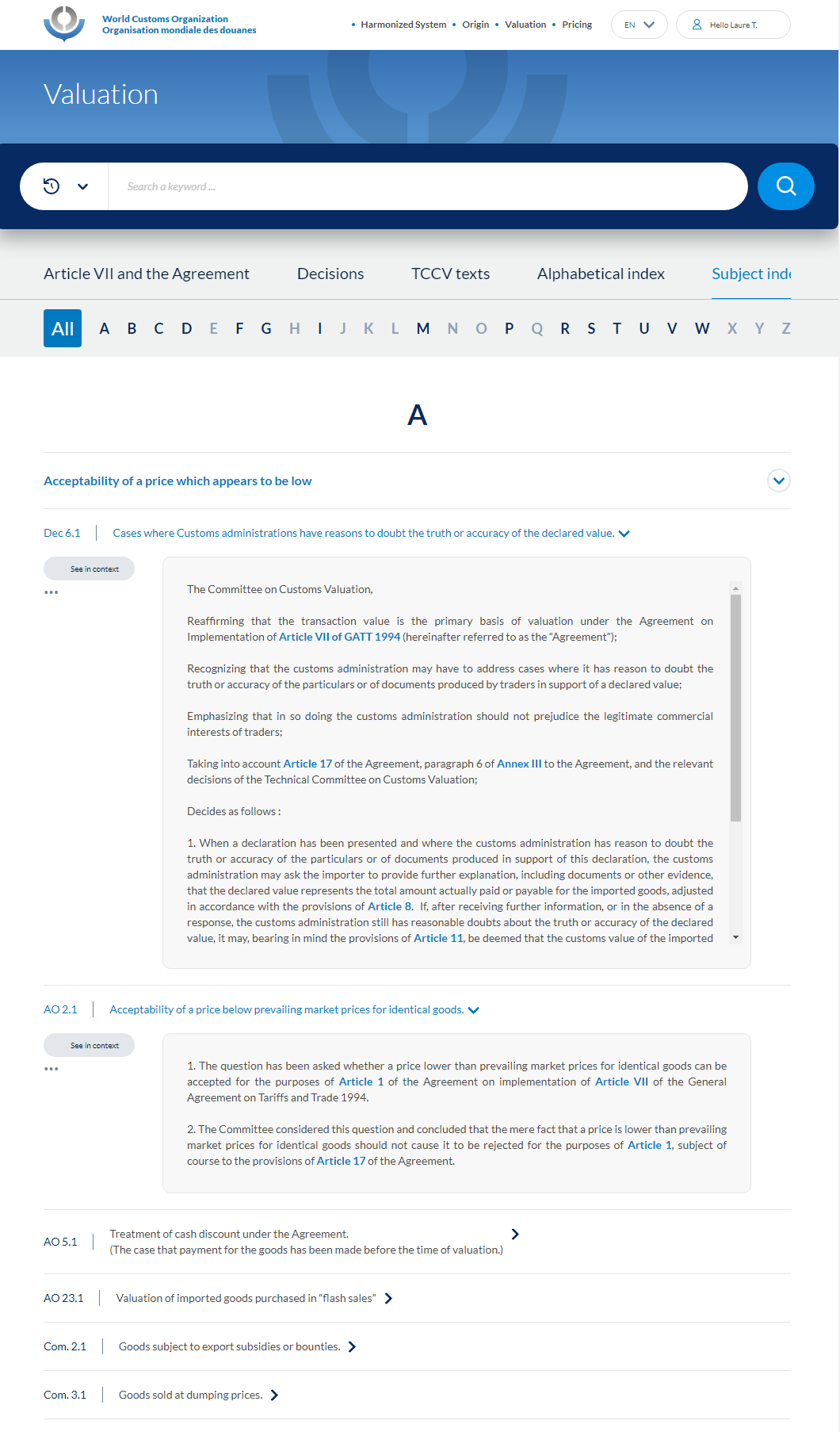 Features followed by an asterisk* are available to subscribers only. When choosing your subscription, you can opt for a multi-user account which enables several users to access the platform at the same time, chat, and share comments, tags and folders.
Sign-up for the newsletter to keep informed of the new features to be added to the platform. We will shortly be publishing the Explanatory Notes and Classification Opinions for the HS 2022. We will also be presenting other WCO standards, such as the Revised Kyoto Convention, in a user-friendly way.
Licences and application programming interface (API) solution
Organizations and companies wishing to incorporate the features offered by WCO Trade Tools into their applications and online services can do so thanks to our API solution or our licence options. You may, for example, already have an application to calculate Customs duties and wish to offer your customers a search engine to find their way around the HS (API solution) or to give them access to HS Legal Notes, Explanatory Notes or Classification Opinions (API and Licence options). By connecting with our platform, you simplify the work required to do so.