Brand new facility for the training of Customs officials in Morocco
By
Khadija Arfaoui, Head of Division, Customs Training Institute, Customs and Indirect Taxation Administration, Morocco
Knowing that strengthening human capital is one of the key factors that determine performance, Moroccan Customs made this one of the five objectives of its 2017-2021 Strategic Plan. In September 2019, as part of this Plan, a Customs Training Institute came into being. In this article, the Administration explains how it is planning to use the new training infrastructures and methods offered by the Institute to fulfil its ambitions to build Customs capacities.
In September 2019, a new Customs Training Institute (Institut de Formation Douanière, IFD) was set up in Benslimane, a small town equidistant from Casablanca and Rabat. The Institute has taken over from the Customs Training Centre (Centre de Formation Douanière, CFD), established in 1975 with the aim of easing the way of new recruits into their new working environment and allowing serving officials to gain skills and adapt themselves to their new assignments. Since 1999, the Centre had also been training French-speaking Customs officials from Africa and Haiti as part of the South-South Cooperation effort implemented by the Administration.
Basic and continuing vocational training
Before we set out the reasons for the establishment of a new structure for training in greater detail, it is important to outline the policy in this area. In Morocco, training is provided for new recruits who have passed the entrance examination for Customs and for serving personnel.
The initial programme for new recruits is centred on three phases:
military training, giving them the opportunity to learn the theoretical, technical and practical fundamentals and to develop, among other things, a sense of honour, duty and discipline;
Customs training, which varies according to whether the new recruits have passed the competitive examination for Customs inspectors or Customs guards;
gradual induction into the position, which takes place during the last few months of training and takes the form of combined work and training.
Once they have taken up their positions, Moroccan Customs officials are still eligible to receive training. The training programme is developed on the basis of an analysis of needs in relation to current and future operational priorities. This analysis is conducted by the Institute and the regional training units each year. It is based on the annual results produced by the teams responsible for the system of forward planning of jobs and competencies, with the support of the various operational managers.
Training is also offered for what are known as support positions within the Administration, such as human resource management and budget management. In addition to this, there is specific training known as "succession training", which is intended for a pool of Customs officials selected for their potential to occupy positions of responsibility.
Lastly, training in supervisory skills is designed to instil a genuine managerial culture within the Administration. This training is currently available to senior operational managers, but Moroccan Customs has the aim of making it more widely available to the whole of its management team in the medium term.
There is a detailed catalogue setting out all the details of the available training courses in terms of target population, objectives, content and learning progress. These may be short-term activities (one to two days) or longer programmes (one to two weeks).
The training provided is systematically evaluated on the spot: on the one hand, so that it can be assessed in terms of its usefulness in improving work performance and, on the other hand, to identify gaps and make the necessary adjustments.
The evaluation is carried out by means of online forms tailored to each training course in accordance with its specifications. The responses and comments are analysed by all those involved, both operationally and as stakeholders (the Institute's trainers and trainees).
Moroccan Customs have more than 100 accredited in-house trainers, around 20 of whom work at the Institute all the time, continuously upgrading their skills and updating their knowledge by taking part in workshops, train-the-trainers programmes and periodical work experience within the Administration's operational units. The Administration also uses the services of professionals working for various public and private institutions.
International cooperation
Since 1999, basic training programmes have been laid on each year for foreign Customs officials, with the assistance of the Moroccan International Cooperation Agency (Agence Marocaine de Coopération Internationale, AMCI). These have already been attended by 1,011 foreign officers from 22 African countries and Haiti. Given in French, this training is increasingly in demand, and Moroccan Customs is planning to increase the number of beneficiaries from 60 places in the 2021-2022 cycle to about 100 in the medium term.
Although the Customs Training Institute follows in the footsteps of its predecessor, the CFD, its foundation marks a significant turning point as regards both infrastructure and working methods. The change of name was needed to reflect Moroccan Customs' ambition to build competencies and know-how and to convey its commitment to excellence in training.
The training model is based on an even more balanced combination of theory and practice. This lays emphasis on simulations and role playing, on-the-job training and case studies, supplemented by field trips and practical training within the operational units. A series of short videos lasting between 30 seconds and five minutes, known in Arabic as "fil maydane" (in the field), has also been developed. Presented at workshops, the videos help the trainees to see themselves more clearly in their future working environment.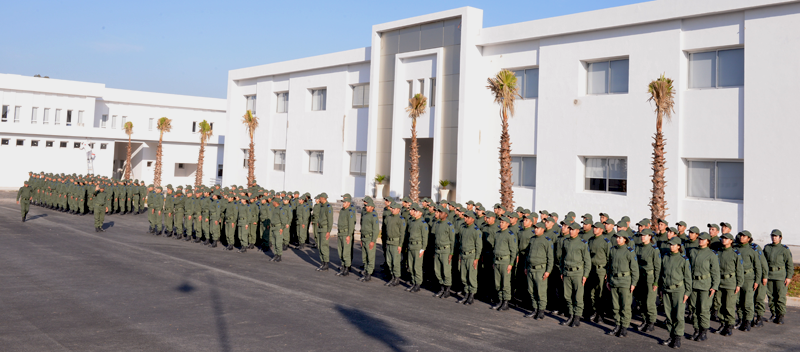 The Institute's new infrastructure was to accommodate this multiplicity of approaches to teaching, with training activities no longer confined to conventional practices. The Institute's teaching and living spaces have therefore been designed so that it is possible to:
learn from experience: several spaces have been fitted out to recreate circumstances out in the field, to offer trainees the opportunity to practise in conditions that are as realistic as possible;
facilitate switching between different, complementary teaching modes (classes, presentations, problem solving);
foster contacts and exchanges and encourage sociability;
make it easy to consult works of reference – 3,000 of these are accessible in the Institute's library, and hundreds of others can be borrowed through the Administration's intranet site;
respect the learning rates of the trainees, who can alternate between training periods and leisure time while remaining on the Institute's premises. In addition to the student residences, the premises offer common living areas, including a restaurant and a cafeteria, a gym and a sports ground;
provide campus-wide access to the Wi‑Fi network, so that people can work anywhere, on their own or in a group.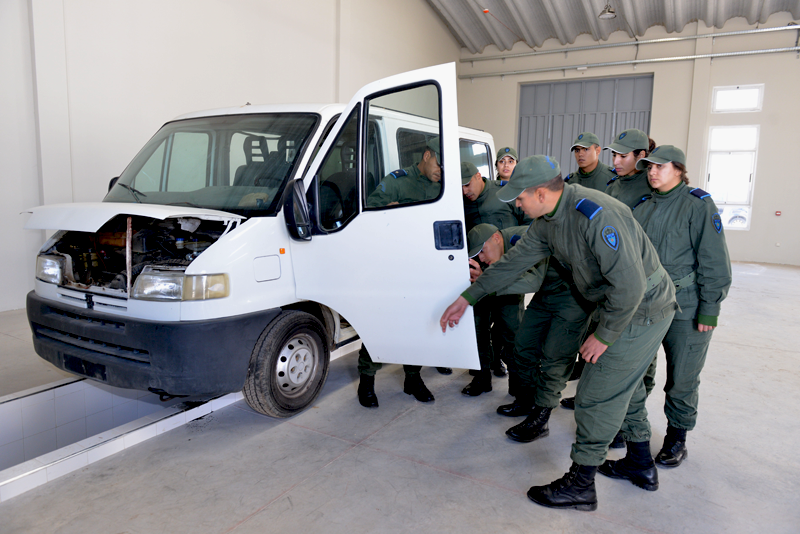 © Moroccan Customs
Although Moroccan Customs was already holding training for the benefit of some of its institutional and private partners, with the new Institute it has made arrangements to flesh out its offer to meet the needs of a broader audience. This initiative forms part of the deployment of the Administration's new strategy in the run-up to 2023, which, among other things, aims to consolidate the Customs/private-sector partnership and to build trust between the two parties. The training programme is currently being developed with the new partners concerned.
Moroccan Customs has also made provision to provide training in English to meet the increasing demand from its English-speaking partners. Among the one- to two-week programmes that will soon become available, the following will be held in both English and French:
human resource management;
targeting, Customs valuation and clearance procedures;
risk assessment and selectivity;
Customs audit procedure.
The trainers and facilitators on these programmes are Customs officials who are experts in their fields, chosen for their mastery of the English language.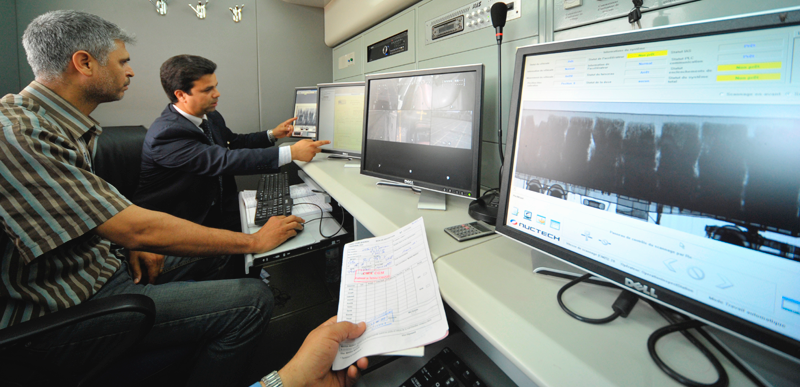 The new technologies have also been put to good use, both to allow computerized management of the Institute and to diversify the ways in which training is provided.
In its day-to-day running and in its interactions with trainees, the Institute uses a system that allows end-to-end management of training, from the enrolment of students to the issuing of certificates and diplomas, via the management of training programmes and courses and support for the logistical aspects relating to accommodation and catering.
Each student has a personal account which, on a yearly basis, records the number of days spent in training. Currently, to ensure fairness in access to training, each Customs official is entitled to five days of continuing vocational training a year.
An e‑learning platform called "Takouine" provides access to some 50 online training modules, some of which supplement classroom-based courses. The platform also makes various teaching materials available to the trainees, including exercises and case studies. Support for distance learning is provided by tutors, in order to back up the trainees' learning efforts and keep up their motivation.
To align the training as closely as possible with the operational procedures, which are computer-based, a tool providing a faithful simulation of the Automated Customs Network Database (Base Automatisée des Douanes en Réseau, BADR), the Moroccan computer system for Customs clearance operations, has been put in place. An exact replica of the BADR and its applications, it allows the trainers to use the actual data architecture and to create fictional data during practical exercises.
Before the health crisis brought about by COVID-19, e‑learning and online courses were much used, but as a supplement to classroom-based learning. They have now taken the lead in ensuring the continuity of training. Some 20 distance learning courses had to be developed in short order for various profiles, along with tests and quizzes so that the students' progress could be assessed on an ongoing basis. The technical staff had to scale up the platform so that it could accommodate a large number of simultaneous users. This challenge was met with success, with 2,130 participants benefiting from online training in 2020, compared with 1,424 in 2019 – an increase of nearly 50%.
More information
k.arfaoui@douane.gov.ma