SARS partners with the WCO to strengthen leadership and management skills
16th June 2023
By
Edward Chr Kieswetter, Commissioner, South African Revenue Service (SARS)
In 2019, after being weakened to a point which compromised its efficiency, the South African Revenue Service (SARS) started rebuilding itself. Developing leadership skills was seen as integral to this process. This article explains how SARS has prioritized leadership and worked with the WCO Secretariat to equip staff with the skills and mindsets to make things happen and move forward.
From state capture to a smart modern SARS
In South Africa, "state capture" has become a buzzword, shorthand for the many scandals that plagued the Jacob Zuma administration and eventually brought it down. State capture describes a form of corruption in which businesses and politicians conspire to influence a country's decision-making process to advance their own interests.
SARS is one of many state institutions said to have been "captured" in this fashion. In addition, a special commission established to investigate internal governance at the agency found massive failures of governance. "SARS was systemically and deliberately weakened, chiefly through the restructuring of its institutional capacity, strategic appointments and dismissals of key individuals, and a pervasive culture of fear and bullying. It is a clear example of state capture", can be read in the report by the commission set up in 2018 to investigate corruption allegations during Zuma's time in office.
In 2019, after my appointment as Commissioner, the rebuilding of SARS commenced in earnest, focusing on restoring governance and integrity, as well as the capability to effectively collect revenue, improve compliance and facilitate legitimate trade. SARS' latest Strategic Plan[1] set the ambition to build "a smart modern SARS, with unquestionable integrity, trusted and admired". Leadership development was a fundamental priority in this regard.
SARS Leadership Model and WCO partnership
I was appointed Commissioner of SARS on 1 May 2019 and it was clear for my team and me that developing leadership skills among staff was to be integral to the work of rebuilding SARS. At the core of every successful administration are executives who are adaptable, innovative and open to growth and change. A team was therefore established to develop a customized SARS Leadership Model which sets out the competencies and attributes that staff should exemplify. Each of the required attributes is described in the Model, along with behaviours that would enable, as well as those that would derail, leadership competence.
Under the Model, the executive team has the explicit accountability to serve as role models and instil leadership attributes in middle and operations managers. Together, they are the conduits of positive employee engagement which is central to any organization. Engaged employees are net promoters of their organizations, as they work harder, stay longer and motivate others to do the same. This ultimately yields service excellence for taxpayers and trade operators.
When I looked into the WCO Leadership and Management Development (LMD) Programme, I realized it was closely aligned to the SARS Leadership Model, and that working with the WCO Secretariat would assist SARS in accelerating the development of leadership and management competencies across all levels. Thanks to the partnership with the WCO Accelerate Trade Facilitation Programme, which is funded by the United Kingdom's His Majesty's Revenue & Customs (HMRC), both organizations started working together to identify needs and how best to respond to them as part of a multi-year strategic partnership for effective trade facilitation reforms.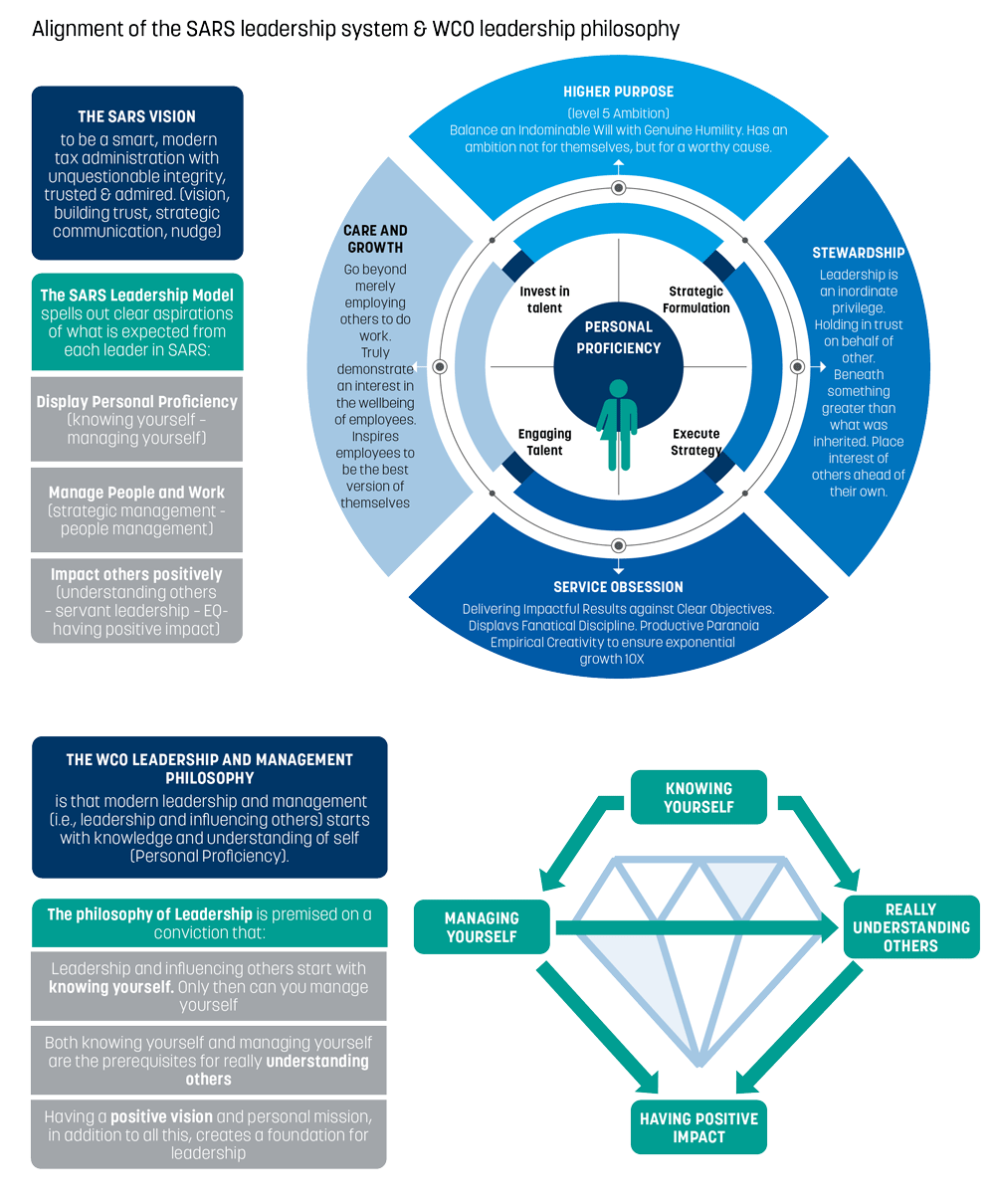 In October 2022, a workshop was organized to strengthen the capacity of the members of the top executive Customs team to lead and drive reform and the modernization agenda. It was followed by an LMD workshop, aimed at providing senior Customs managers with a better understanding of modern management approaches and of their own personal leadership attitudes and behaviours, based on improved self-knowledge and self-awareness.
Impact
On 3 April 2023, SARS announced the results of its work over the past four years. Encouraging positive trends include:
A 7% increase in revenue collection;
Some 12% growth in the number of trade transactions processed;
Improvement from 62.6% to 63.9% in the voluntary compliance index, which measures the overall compliance behaviour of taxpayers across the compliance value chain (registration, filing, declaration and payment);
An increase in public trust from 44% (2018/19) to 66% (2022/23), according to the survey conducted by SARS;
Performance of employees against the service charter has increased from 55% to 80% over two years since 2020/21, according to the survey conducted by SARS;
An increase from 61.6% to 69.4% since 2019 in the employee engagement index, which monitors the extent to which employees feel valued and involved in their everyday work, and is calculated based on the results of a survey conducted by SARS through an independent company.
While progress has been made, we are a long way before we can declare victory. Using the "inches are everywhere" analogy, we know only too well that there are still substantial inches that remain untouched. The results we celebrated were not obtained from doing "one big thing", but from the collective effort of our 12,500 colleagues. We are literally harvesting millions of "inches to win" that are "everywhere".
As part of this endeavour, during their LMD workshop the top executive-level team of Customs discussed how to work towards effective implementation of reforms, support the adoption of the SARS Leadership Model and further instil a new management culture within the organization. They were tasked with integrating what they had learned during the workshop into four priority initiatives, namely:
Creating SMART borders by leveraging data and technology to create a seamless experience for legitimate traders and travellers at ports of entry, while enhancing our detection capabilities to respond to any risks;
Promoting the Accredited Economic Operator (AEO) programme designed to facilitate trade by providing a "green lane" experience to accredited operators;
Implementing a Single Window;
Implementing Advance Import Payment (APN) Notification, part of the APN project that aims to bring together data from SARS, Authorized Dealers, and the South African Reserve Bank to increase regulatory controls relating to advance foreign exchange payments in order to prevent illicit financial flows and combat associated Customs valuation fraud.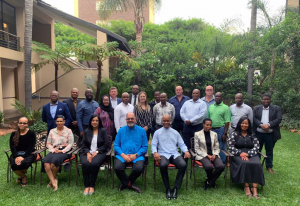 Here I will let some of the top executives and senior officers who participated in the WCO LMD workshops speak for themselves, starting with Beyers Theron, Director of the Customs Department of SARS: "WCO experts created an environment conducive to mature and progressive dialogue. Whilst I think we have a journey through which we still have to grow as a team, there is an increased level of trust among us. There is also a renewed spirit of openness and commonality of the strategic actions to be taken." He also highlighted that, since the workshop, there has been good progress in prioritizing modernization projects and scoping phases: "The workshop has created a sense of urgency. We realized we needed support so we could really serve a higher purpose and demonstrate stewardship, by displaying an obsession with service and applying care and growth."
Memory Ndou declared: "The workshop has re-energized my personal proficiency, which assisted me to approach leadership differently, manage people better and do things differently, resulting in a positive impact on myself and the team. There was a quick mindset change professionally, which I am gradually instilling in my team to enable them to understand our higher purpose and approach things differently."
For Tebogo Ntuli, learning about time management tools, as well as techniques on to how to delegate, motivate teams and drive change, were especially useful: "I have become much more disciplined and continuously try to improve my actions and attitudes. Thanks to the presentations on the SARS and WCO leadership models, I better understand my role as a leader and am passionate about transmitting what I have learned to my team."
Barbara van Dyk said: "Leaders inspire hope when they tell a powerful story of compelling vision and strategic clarity; employees follow when they see themselves in the story as it becomes their story." More than ever, she strives to give her best to those she leads in order to make a difference.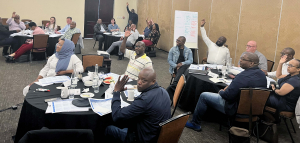 To ensure continuous learning and measurement of leadership effectiveness and pragmatic application, the following has been initiated following the LMD for the Customs top executive team:
Rolling out a 90-day learning project supervised by the Director of Customs, which includes the development of leadership skills across all SARS levels;
Institutionalizing a Cadet programme for Customs officers;
Implementing a competency-based Customs career progression model, and upskilling the existing Customs staff;
Assisting executives in developing personal growth plans aligned to the SARS Leadership Model;
Proposing coaching sessions;
Organizing Coach-the-Coach training to give senior managers the confidence and skills to overcome common coaching challenges;
Conducting a 360-degree leadership assessment, a form of feedback for leaders in which their skills, effectiveness and influence as an executive, leader or manager are evaluated.
Moreover, SARS will continue further embedding its Leadership Model in Customs and Excise and will be rolling out WCO Middle Management Development (MMD) to equip middle managers with a set of fundamental management competencies and skills.
There are many leadership development training programmes proposed by consultancies and universities. While experts might argue that the components of leadership are the same for all, such programmes should be customized and based on the organization's context and culture. By working with the WCO Secretariat, SARS has increased its capacity to identify what matters most to the organization when it comes to leadership development, and to equip staff with the right skills. Let me conclude by thanking the UK's HMRC for its continued support and for enabling the SARS-WCO Accelerate Trade Facilitation partnership.
More information
https://www.sars.gov.za
[1] https://www.sars.gov.za/wp-content/uploads/Enterprise/Strat/SARS-Strat-24-SARS-Strategic-Plan-2020-2021-2024-2025-11-May-2020.pdf
About the WCO Accelerate Trade Facilitation Programme
This Programme, funded by the United Kingdom's His Majesty's Revenue & Customs (HMRC), supports middle income, developing and least developed countries with effective implementation of the WTO Trade Facilitation Agreement for more predictable, quicker and less costly cross-border trade flows. The Programme was initiated in 2015 and is currently in its fourth funding Phase (2022-2025), supporting 10 countries in Africa and Asia.
Activities under the Programme focus on leadership and management development, competency-based human resource management, gender and inclusivity, and integrity as important building blocks for Customs administrations to manage reforms and operations.