An overview of Zimbabwe Customs' journey
16th June 2023
By
Magret Gasa, Training Manager, Human Capital Division, Zimbabwe Revenue Authority
The Zimbabwe Revenue Authority (ZIMRA) Strategy for 2021 to 2025 has people as one of its key pillars, demonstrating the Administration's commitment to investing in staff development. Leadership is one of the topics for which competency building has been sought. In 2022, ZIMRA won the 1st runner-up Award for Distinction in Leadership Development from the Institute of Human Resource Management. This article presents the various activities undertaken by the Administration that led to this recognition.
In 2021, new members were appointed to ZIMRA's upper echelons, including the Commissioner General. While all the new members had occupied management positions in the past, it was deemed necessary to ensure that they were all equipped with the knowledge and skills needed to steer the organization towards the objectives and priorities decided upon by the policy-making bodies.
ZIMRA contracted Africa University (the first private university to be recognized by the government in Zimbabwe) as well as a consultancy firm to train the 16 individuals who constituted its Executive Team. The first step was to identify gaps in leadership and management skills through a written survey and face-to-face interviews. The tailored Executive Development Programme which was developed for the Team as a result focused on the following aspects: servant leadership, personal effectiveness, thought leadership, influence, creativity and innovation, decision-making, planning, solution development, opportunity identification and execution.
In addition to these aspects, during the six-month training period participants also worked on actual projects, in teams of three, to enable them to put into practice the methods and concepts they had learned. On 10 March 2022, a graduation ceremony was organized to recognize their commitment and dedication to continuous improvement and learning.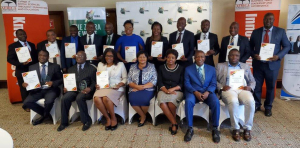 From 2009 to 2014, thanks to funding from the Australian Agency for International Development (Australia AID), all officers who held senior management positions followed a leadership development programme developed by a private company. Those appointed to such positions after 2014 are yet to receive this training. In 2021, two senior managers enrolled in training developed by the Commonwealth Association of Tax Administrators (CATA) Programme, thanks to funding from HM Revenue & Customs.
Two more officers completed this training online in 2022, and another two are currently following it. The next step is to have ZIMRA's 26 senior managers graduate from the Executive Development Programme in the years to come, to ensure that the succession plan (the document which describes key positions in the organization and how they will be passed on to other employees) can be implemented.
ZIMRA has also approached the WCO Secretariat to benefit from a Leadership and Management Development Workshop which is aimed at providing senior and promising middle-level Customs managers with a better understanding of modern management approaches and their own personal leadership attitude and behaviour, based on greater self-knowledge and self-awareness.
Funding from Australia AID also enabled ZIMRA middle managers to follow modules one and two of the leadership development programme, but this ended in 2014. In April 2022, when the WCO Secretariat started looking for administrations to pilot its Middle Management Development (MMD) Training, ZIMRA jumped at the opportunity. It first had to select potential trainers, who would need to participate in a WCO accreditation workshop before they could deliver the WCO training to their peers. Training its own trainers has enabled ZIMRA to stop outsourcing leadership and management training to consultancy firms, and thus save money.
The Administration started rolling out the MMD Training in July 2022. So far, five training sessions have been conducted across the country, and more are planned. The content was divided into two modules lasting one week each. The objective was to equip middle managers with modern management techniques and skills to manage others with the appropriate behaviour and attitudes in all circumstances, as well as enabling them to know themselves better. As a means of evaluation, middle managers were required to work on a specific task or project while applying what they had learned.
"Supervisor" is the name given to officers who act as a link between managers and the workforce. Everyone who reaches this grade must follow a Supervisory Management Development Programme (SMDP) during his or her first year of appointment. The Programme is divided into two modules. The first one includes basic courses which are delivered by ZIMRA officers, while the second one includes more advanced courses and is managed by a consultancy firm.
Customs must prepare future leaders to continue performing effectively. By developing the leadership and management skills of its staff at all levels, ZIMRA intends to identify exceptional and high-potential employees and place them on an accelerated career path, to ensure that managers and leaders who retire or leave the organization can be replaced. As hiring a consultancy firm can be costly and funding for such activities difficult to obtain, the Administration intends to work more closely with the WCO Secretariat in the future.
More information
mgasa@zimra.co.zw