A guide to developing HS skills
14th June 2023
Classifying goods in the Harmonized System (HS) requires specific knowledge and skills, and, in some cases, a thorough understanding of the rules that govern it. While machine learning technology has enabled the development of various classification tools, these "are designed to assist classification and not to perform classification. So, it stands to reason that the results they produce will only be as good as the people who use them[1]".
To guide Customs administrations in their efforts to train their staff, the WCO Secretariat has developed the Strategic Guidance for Competency Development in the area of Tariff Classification of Goods for Customs Administrations. The guidance outlines a four-level competency development plan (see table), including for each level:
the competencies to be acquired,
the training methods to be used,
the relevant WCO tools,
the number of hours required,
capacity building activities conducted by the WCO and development partners that administrations can benefit from.
Not all Customs officers are required to reach level 4. However, those processing Customs declarations on a regular basis as part of their daily tasks should have reached at least level 2 (intermediate) following their induction training and initial placement, and "advanced" (level 3) within three to five years.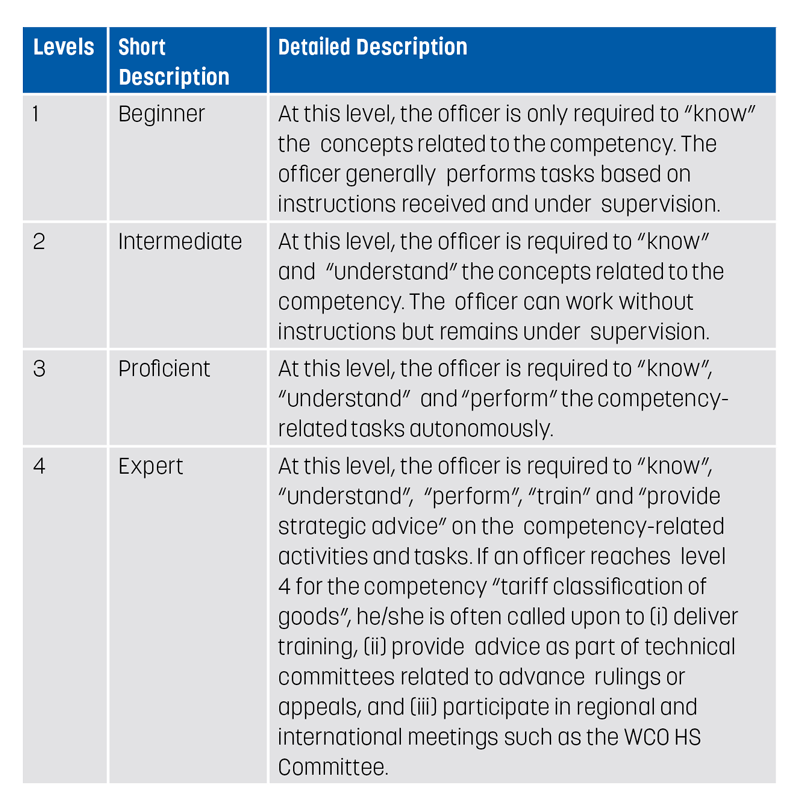 The Guide was developed by the team in charge of the Harmonized System in Africa Programme a programme funded by the European Union and implemented by the WCO Secretariat. It is available on the WCO website.
More information
wcoHSAfrica@wcoomd.org
[1] Randy Rotchin, What impact is technology having on efforts to improve HS classification efficiency and accuracy?, WCO News Edition 1 2022, https://mag.wcoomd.org/magazine/wco-news-97-issue-1-2022/impact-technology-hs-classification-efficiency-and-accuracy