Testimony of a facilitator
15th June 2023
By
Arno Kooij, Director of Enforcement and International Affairs, Netherlands Customs
Sunday morning, Christmas Day 2022. It is around 11 a.m. and my phone beeps. A message from Naomi, wishing me a Merry Christmas, just like every year since 2014. Warm memories come back to my mind as I reply to her with my Christmas wishes for her and her loved ones.
I met Naomi in 2013 at a Leadership and Management (LMD) workshop in Mauritius, organized by the WCO Secretariat. I had just been accredited as an LMD expert and this was the first workshop which I facilitated. Since then, I have been supporting 14 more LMD Programme activities and have been able to experience and witness first-hand their impact on an organization and on the men and women who work for it. The activities carried out under the LMD Programme are transformative.
I have seen how the Top Executive Retreat (TER), an activity offered to Directors General and their top executive teams, can enable senior management to strategically lead organizational change, while managing competing priorities on a daily basis. Participants are guided so that they better understand themselves and grow as people and as managers to better lead their teams or their organizations. Senior managers and the senior management teams look at how to think and act more strategically, learn to listen to one another, and empower their teams by delegating decision-making powers to the extent possible, that is, to the level where the knowledge and know-how lies.
Let's go back to Mauritius and to Naomi. She was quiet in the first few days of the LMD workshop, and she seemed somewhat uncomfortable in the group. She never took the floor on her own initiative. When she was invited to do so, she was gentle and soft-spoken. But her remarks were spot-on. We all discovered that Naomi was a great listener and that she was able to easily take the conversation to a deeper level. We praised her for that and you could see that her confidence was growing. As the days went on, Naomi's colleagues actively started to ask for her opinion. It was impressive to see her grow during the two weeks that the workshop lasted. At the closing ceremony, Naomi spoke about the glass ceiling for the women in the organization and what she would do to change it. We were all deeply touched.
In 2022, I had the opportunity to facilitate a TER for the Philippines Bureau of Customs. The Commissioner, a very strong leader, was about to leave the organization. The WCO Secretariat team and the experts had discussed whether to organize the retreat or not. If the Commissioner was leaving, what was the point? After some deliberation, we realized that it should actually be the other way around : we should go because the Commissioner was leaving, in order to ensure that the team was able to keep up the momentum. Once there, we found a team that was worried that all the progress that the Bureau had made over the years would disappear upon the arrival of a new Commissioner. In response to their worries, we conducted some exercises to enable them to appreciate their own leadership qualities and to realize how strong they could be as a team.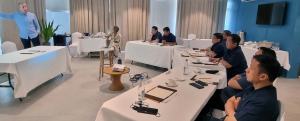 Together, they could keep the ship sailing steady during the transition of power. At the end of the workshop, we even organized a role-play during which they had to brief the new Commissioner, explaining the strategic goals of the organization, their priorities and the position of the various stakeholders involved. We invited them to come up with a plan for the transition of power and to identify possible quick wins to the new Commissioner. It was inspiring to see how they applied what they had learned with us while doing so.
We followed a similar approach recently in Nigeria, where the leadership team is preparing for the departure of its Comptroller-General, who has led the Nigeria Customs Service (NCS) for a long time. The team focused on flagship projects, such as the conduct of a Time Release Study and the launch of a trade facilitation programme called "Fast Track 2.0" (FT 2.0), which aims to enable compliant importers and agents to clear their cargoes within 24 hours.
The senior Customs management team of the South African Revenue Service (SARS) was also facing some challenges and leadership was clearly recognized as a key enabler for effective implementation of SARS' reconstruction. Our objective with the TER was to increase the leadership capacity on an individual level and to strengthen the management team. From early morning till late at night, the team worked hard. Among other things, they shared their views on the challenges in achieving the goals of the organization, discussed the qualities of each team member, and identified priority projects to focus on as a team.
To conclude, let me get back to Naomi once more. She managed to break the glass ceiling in her organization and now occupies a senior management position. She might have been able to do so without participating in the LMD workshop, but, like many other participants, including facilitators, she says it has transformed her.
It is difficult to assess the impact of LMD activities, especially in the long term. We could count the transition documents and action plans created, but how do you capture an increase in leadership capacity and new team dynamics? I believe this is something Customs administrations which have participated in an LMD Programme activity should work on together, under the WCO umbrella.
More information
abw.kooij@douane.nl
About the WCO Leadership and Management Development Programme (LMDP)
Three types of activity
the Top Executive Retreat (TER), which is aimed at strengthening the capacity of Directors General and their top executive teams to lead and drive reform and modernization agendas;
the LMD Workshop, which aims at providing senior and promising middle-level Customs Managers with a better understanding of modern management approaches and their own personal leadership attitude and behaviour, based on improved self-knowledge and self-awareness;
the Middle Management Development (MMD) Training, which aims at equipping middle managers with a set of fundamental management competencies and skills.
E-learning module on the CLiKC! platform
A module on Leadership and Management Development is available in English, French, Spanish, Russian and Arabic.
https://www.wcoomd.org/en/topics/capacity-building/activities-and-programmes/people-development/cb_leadership_management_development.aspx