Customs' role in border management increases in Belarus
By
the Belarus State Customs Committee
The two main agencies managing Belarus' border are the State Customs Committee and the State Border Committee, the latter being responsible for implementing the rules that govern external border checks on people, entry requirements and duration of short stays.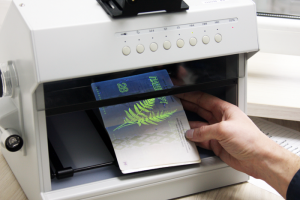 To optimize the use of resources and reduce the time spent by people at checkpoints, the government decided in 2019 that Customs officers could perform some of the duties of border guards. Under the principle of "first and second lines of control", if a Customs officer found grounds for refusing the entry or exit of a person, goods or vehicle but only had delegated competence, or if he or she thought it was necessary to conduct more thorough control that requires special knowledge and skills, he or she had to request the intervention of a border guard on the matter. The person, goods or vehicle subject to further examination had to be moved into a specific area not to hinder the circulation.
This policy was recently reviewed. A new scheme now allows Customs to perform all the functions held by Border Guard at three checkpoints located on the border with Poland, Lithuania and Latvia from 1 January 2019, and at one checkpoint located on the border with Ukraine from March 2021.
The functions include:
controlling the movement of people and vehicles over national borders,
inspecting identification documents and visas,
performing a visual assessment of the health condition of individuals as part of the implementation of sanitary and quarantine control;
monitoring the compliance of foreign citizens and stateless persons with foreigner residence regulations and visa regime;
controlling whether vehicle owners have contracted a civil liability insurance.
To perform the above functions, Customs officers have been legally authorized to prevent individuals from crossing the border, and to enter information in the documents that individuals must present when entering or exiting the country. In addition, those officers located at the border posts mentioned were provided with new tools, such as access to databases and document readers, and received training from the State Border Committee.
The list of border checkpoints where Customs officers will carry out border control will be gradually expanded. The new arrangement will be deployed at additional checkpoints located on the border with Lithuania from September 2021 and on the border with Ukraine in 2022.
The transfer of border control functions to Customs officers made it possible to achieve significant reductions in the time required for control operations at checkpoints, as well as to increase the comfort of carriers. For example, carriers entering Poland through the "Kozlovichi" checkpoint saw a 35% decrease in the average time required in 2019 compared with the 2018 figures.
The State Customs Committee is constantly working to facilitate trade procedures and minimize administrative and procedural barriers to the movement of goods. The transfer of border control functions to Customs officers was another significant step towards making it easier to do business through coordinated border management.