Untapping the potential of human resource management in Customs
18th June 2021
By
Dr. Si Mohamed El Hail, People Development Programme Manager, WCO Secretariat
Customs administrations, due to the nature of their missions and to the fact that they are operating in an environment marked by complex interactions, have to constantly engage in modernization efforts. In other words, they need to regularly update and upgrade their operating models and working methods. While strategies, systems, processes and tools are key in this endeavour, the driving force behind the performance of Customs operations remains Customs' human capital.
As we have been reminded during the current health pandemic, an adaptive workforce is a Customs administration's greatest asset. The Customs officers in operational and support functions are the main contributors to business continuity and organizational resilience.
Human Resource Management and Development (HRMD) professionals in Customs should hence play a vital role in their organization, especially in order to influence the adaptive capabilities of their workforce. In a practical way, HRMD professionals are, more than ever, called to provide innovative responses to emerging trade, security and health challenges by repositioning their contribution and ensuring that their recommendations are aligned to corporate strategic priorities.
Findings from WCO People Development Diagnostics
The WCO has been promoting a vision of Customs as a coherent professional body with unique operating models, and which consists of individuals who share specific and graduated knowledge, skills and attitudes, and who are committed and competent to respond to today's economic and social challenges. In 2016, it endorsed a competency-based approach to HRM as an international best practice.
To enable Customs administrations to assess their level of maturity in this area, the WCO has developed the People Development Diagnostic Tool (PDDT), which is aligned with the norms and guidelines laid down in the Framework of Principles and Practices on Customs Professionalism, as well as with the Professional Standards.
The tool comprises:
a form for entering the reference documents for an HR strategy, aimed at identifying the fundamental components of an HR strategy and, by default, elementary failures;
a diagnostic questionnaire focusing on the existence and efficiency of the main HR practices and processes, and the legal and ethical framework of an HR strategy;
a value creation matrix setting out the perceptions of key HR players regarding shortcomings in implementing best practices in their experience of HR management in their administration.
Although the tool can be used autonomously in its simplified form by teams in charge of HR modernization within their administrations, WCO Members may benefit from a series of accompanying measures to support their HR capabilities, including a WCO mission. These missions are facilitated by HR experts, either from the WCO Secretariat or from a Customs administration with HR expertise recognized by the Secretariat.
Through the delivery of over 90 People Development Diagnostic missions since 2014 across the continents, the WCO Secretariat has identified common challenges, as well as success factors.
There is a clear deficiency in the positioning of HRMD units within their Customs administrations
The missions pointed out that HRMD professionals within Customs are confined to an administrative role where they focus on the processing of human resource transactions. They are usually struggling to effectively manage their workload, and their positioning in terms of all aspects of HRM practice tends to be only reactive. They should instead have the ability to be proactive and transcend the traditional role of administrative management so that they can support the strategic choices of their administrations.
There is a gap in the effective implementation of the WCO's HRMD tools and instruments
Notwithstanding the development of an extensive set of tools and guidance for implementing a competency-based approach to HRM in the Customs environment, the extensive assessments conducted by the Secretariat throughout the world have pointed to a competency gap in HRM teams that leads to a limited performance. This gap is inhibiting Customs administrations from realizing the full benefits of competency-based HRM. Rather than adopting an integrated approach that addresses the full spectrum of HR matters, numerous Customs administrations have resorted to "quick-fix" solutions to HR challenges, largely by hiring international management consulting firms without specialized expertise or knowledge of the Customs profession/environment. These solutions generally focus on one HR "problem", such as performance management, organizational restructuring or training, and use generalist approaches that are not specific or adapted to the Customs environment. As these efforts are led by external stakeholders with less of a vested interest in the organization's health or in individual employees' concerns, such "quick fixes" often fall short of expectations. Meanwhile, the competency of staff in HR units to approach HR matters from anything other than an administrative/procedural perspective remains low.
"Abu Dhabi Customs engaged reputable international partners to achieve the many milestones required for its HR transformation journey, however, it is the WCO Secretariat, with its HRM approach, which showed its effectiveness to respond to our requirements and expectations and therefore remains the most vital partner in our endeavours to implement a world class HRM system."

Dr. Ebrahim Hasan Alkhajeh, Director of HR Division, Abu Dhabi Customs Administration
The role of HR within Customs is not valued by Customs management and Customs staff
An emerging observation from interviews carried out with Customs' HRM teams is that the HR role is often seen in a negative light as one that does not create value for the organization or enable career growth. Many Customs officers therefore dread joining HR services and see it as a career stop. To change the perception both of Customs management and staff, the only solution is to really ensure that the HR department effectively plays the role of a strategic partner and change agent.
Identified success factors
The WCO Secretariat's engagement with Customs administrations on HR issues has demonstrated that the most efficient administrations are those that maintain a keen awareness of the value of their staff and invest in their development. Hence, the department responsible for human resource management and development should adopt a performance-based approach aimed at valuing and adding value to the competencies of Customs staff as a whole.
In order to enable it to fulfil this strategic role and actively contribute to the achievement of priorities and objectives, the WCO recommends that Customs administrations fully integrate human resource considerations into organization-wide strategy planning. This approach supports better functional linkages between the organization's goals and all the human resource processes outlined above.
People at the heart of the WCO Capacity Building Strategy
The WCO's own Capacity Building Strategy embeds a people-centric approach, in which the human element is at the heart of all actions. Capacity building programmes are conducted under the principle that people development and investment in Customs professionalism are among the foundational pillars for successful Customs reform and modernization, including the implementation of the measures in the World Trade Organization Trade Facilitation Agreement. Without investment in people and Customs professionalism, reform and modernization efforts cannot succeed.
From the outset, it should be noted that the role of HRMD leaders in modern-day Customs administrations has changed profoundly to accommodate various developments and needs in the workplace. Figure 1 illustrates the WCO Capacity Building HRM Value Chain. The WCO promotes the adoption of a systematic multi-layered approach to organizational development and people management. It articulates horizontal stakes (such as integrity, performance management and measurement), lifelong learning and a wide range of HR technical challenges (including succession planning, delegation and empowerment of people, reward-based systems, recruitment policies, identification of talents and rotation policies).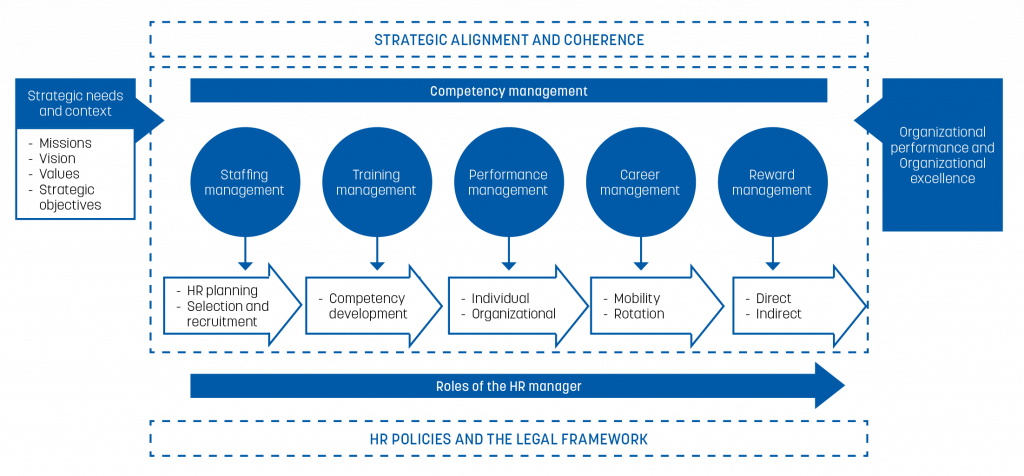 Since a few years now, the WCO Secretariat has been helping the structures in charge of human resource management to prioritize actions which enhance individual and collective competencies, based on a suite of capacity building tools (see table 1). Support was first delivered as part of the West African Customs Administrations Modernization (WACAM) Project. Funded by the Swedish Government, the Project was designed to bolster Customs modernization in West Africa, particularly in the fields of strategic management, human resource management, and stakeholder engagement.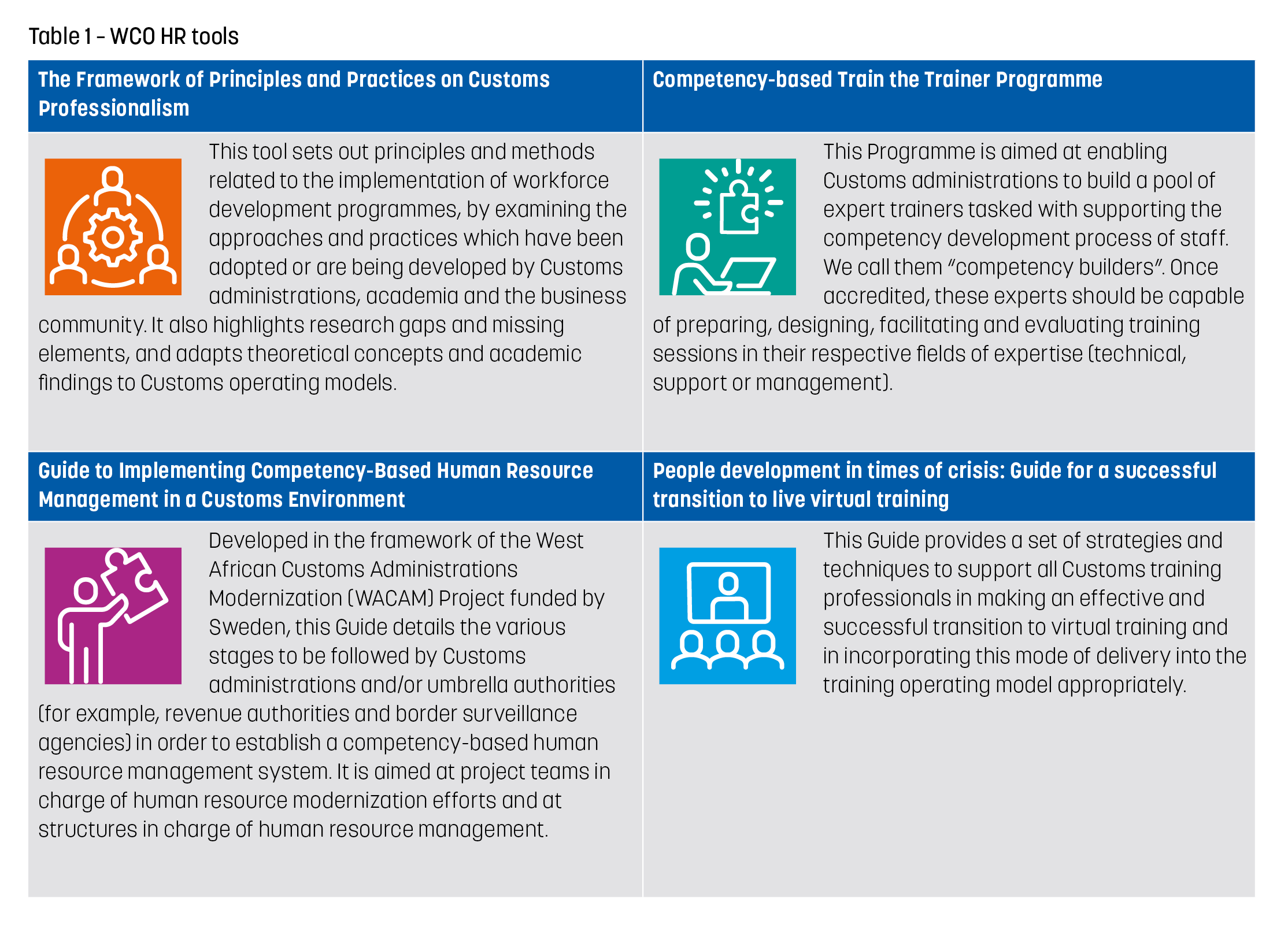 Supplementing the initial training programme for HR officers developed in the framework of the WACAM Project, the WCO recently developed a state-of-the-art programme entitled the "Executive and Professional Competency-Based HRM Programme" (EPCB-HRMP). Designed to follow a tiered approach, it is targeted at those administrations whose senior leadership has embraced the WCO's "competency-based HR management" approach, and aims to equip and empower HR managers with competencies and tools to strategically manage HR. It therefore also attempts to equip and empower HR managers in Customs administrations to become strategic players in HR modernization and organizational performance.
"The WCO through its various capacity development programmes has contributed immensely to the achievement of our domestic resource mobilization. The modernization of our Human Resource Management practices and our transition to a competency-based human resource management with support from the WCO-WACAM project, helped enhance the competencies of our staff, thereby contributing to the increase in revenue generation."

Mr. Thomas Doe Nah, CG, Liberia Revenue Authority
To raise awareness of tools and techniques surrounding HRMD, the WCO organized a conference in January 2021 and two webinars in June 2021. These enabled HR professionals to share best practices and tools, and to highlight the strategic role of HRMD units.
Through such events, the WCO Secretariat wishes to convince Customs administrations that focusing on individual and organizational competencies will facilitate the re-engineering of the roles and responsibilities of staff, and enable them to ensure that officers are carefully selected, deployed and trained to respond to the organization's strategic needs, thereby ultimately guaranteeing organizational performance. Those administrations wishing to benefit from the EPCB-HRMP, or wishing to adopt a competency-based HRM system or enhance their existing one, should contact the Secretariat's Capacity Building Directorate using the contact details below.
More information
Capacity.building@wcoomd.org