Operation STOP: Achievements and future prospects
25th February 2021
By
the WCO Secretariat
In April 2020, the WCO Secretariat drew up a list of medical products which are generally used to diagnose or treat COVID-19, with their respective HS codes. The aim was to help governments to get an overall idea of trade in and stocks of these suddenly much sought-after products and to allow them to monitor and speed up their movement, whether on import or export, or in transit.
The Secretariat was aware that high demand for these products would lead to the appearance on the market of new producers, exporters and importers who were not familiar with the conformity arrangements and standards, leading to an upswing in trade in counterfeit and non-compliant goods. It therefore quickly called for Customs enforcement services to take part in the Operation STOP initiative.
A total of 99 administrations responded to this appeal. Some participating countries already had Port Control Units (PCUs) and Air Cargo Control Units (ACCUs) established under the Container Control Programme (CCP), run jointly by the WCO and the United Nations Office on Drugs and Crime (UNODC). Units located in countries participating in the operation therefore naturally took part.
An indicative list of targeted products and their HS codes was drawn up. These were, in particular, test kits, reagents and diagnostic test instruments, protective clothing, thermometers, medical devices, and drugs and precursors used to treat the illness. Illicit medicines in general were regarded as targeted products.
Checks were carried out on all means of transport ensuring the import, export and transhipment of goods, and on all entry points, i.e. land borders, ports, airports and dry ports, Customs warehouses and other approved premises, free zones and centres run by postal operators and express parcel services.
As for any WCO operation, a preparatory stage preceded the operational stage to enhance Customs officers' knowledge of the targeted products and their supply chains. A dedicated training module entitled "Identifying and combating exploitation during the crisis" was drawn up by the Container Control Programme management team. This provided an overview of current products and the risk management techniques to be applied. Some 20 webinars were organized to train participants.
The pharmaceutical companies involved were Novartis, Servier, Pfizer and Sanofi, as well as UL (Underwriters Laboratories), a company responsible for security certification schemes for products. These firms shared their expertise on how to distinguish medicines, precursors and authentic and certified medical products with over 1,000 Customs staff. Particular stress was placed on checking the packaging of goods during unloading or during checks on warehouses or storage facilities. One of the companies represented also provided the risk indicators developed for certain medicines such as hydroxychloroquine and azithromycin, global demand for which has risen strongly during the pandemic.
At national level, targeted product HS codes were forwarded to the risk management system so that alerts on the arrival of consignments for documentary or physical checks were sent to Customs and health agency personnel. In line with information shared via CENcomm, the analysts of participating administrations were able to develop new risk indicators on the basis of the information provided. The investigation agencies, meanwhile, provided their colleagues on the frontline with administrative, legal and operational support.
Given that product quality and conformity control is the responsibility of organizations other than Customs, particularly health agencies, it was essential to establish close cooperation between the latter and national Customs administrations. Participating administrations upstream of the operation were therefore asked to ensure that mechanisms for exchanging the data and information required for effective cooperation were in place.
The operational stage lasted approximately two months. Thanks to the group created on the WCO CENcomm secure communication platform, participants were able to exchange real-time information on seizures and detentions.
As usual, an Operational Coordination Unit (OCU) monitored the work of the teams on the frontline and drew up fortnightly information bulletins to provide participants with an overview of their daily results. In cases arising out of suspected infringements of intellectual property rights (IPRs), the OCU ensured that the Customs administration and the rights owner were in contact so that the procedure ran smoothly.
Results
A total of 51 administrations carried out 1,683 seizures or detentions, with 12 administrations reporting the broad majority: Qatar, the United Kingdom, Peru, Portugal, China, Togo, the United States, Denmark, Norway, Nigeria, Namibia and Hungary.
The products seized or detained included the following:
over 307 million units of medicine, mainly antibiotics, anti-inflammatories, painkillers, antidiabetics and antimalarials; medicines more specifically used to prevent or treat COVID-19 were also seized or detained, such as hydroxychloroquine, quinine sulphate, azithromycin, dexamethasone and "Lianhua Qingwen Jiaonang", a medicine patented by the National Health Commission of China that has received marketing authorization in over 10 countries and Customs unions;
close to 50 million items of personal protective equipment, including over 40 million masks of all kinds, nearly 7.5 million pairs of gloves, 94,909 thermometers and 58,517 test kits;
almost 3,000,000 litres of sanitizer gel.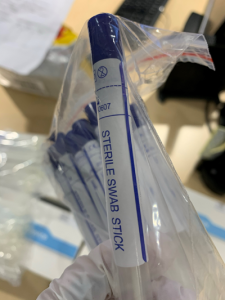 Many targeted products did not meet health authority regulations, a considerable number being detained because they lacked marketing authorization, a declaration of conformity or a licence from the competent health authorities.
Many batches of medicines were also worded in a language foreign to the country of importation, which is not authorized by most public health authorities. Other products did not bear the required information. The Customs service of the Czech Republic, for example, detained 600 infrared thermometers at Prague Airport which did not have a batch number or production date.
In such cases, according to the national legislation, goods could be returned to the dispatcher. Exchange of information is therefore extremely important to ensure that goods rejected in one country is not dispatched to another country that shares the same health standards.
Attempted smuggling and false declarations of goods or quantities were also recorded. Importers sought to gain from tax and duty exemptions on certain products and from the fact that their Customs clearance was expedited. Other false declarations were linked to restrictions imposed on the import and export of certain products. Qatar Customs, for example, discovered that an importer had knowingly declared an erroneous HS code (3401.30 – Organic surface-active products and preparations for washing the skin) to avoid the restrictions on imports of hand sanitizers based on a 70% solution of ethyl alcohol.
In certain countries, only authorized authorities can import goods such as test kits, a limitation avoided by some importers by the use of an erroneous HS code. At Pristina Airport, the Kosovo Customs, for example, intercepted 500 test kits declared merely as "laboratory reagents". Neither the commercial invoice nor the Customs declaration referred to their real commercial description as "SARS-COV-2 IgG/IgM kit". The Kosovo Health Ministry is the only institution authorized to import COVID-19-related reagents, and therefore test kits.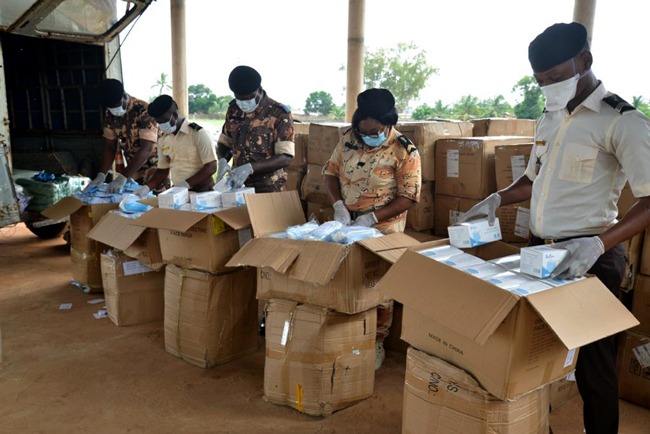 Other interesting cases should also be noted:
75 COVID-19 test kits found in express mail by Customs in Argentina were declared as computer peripherals.
Cocaine concealed between the fabric layers of face masks was discovered by Her Majesty's Revenue and Customs (HMRC) in the United Kingdom in a package handled by a postal operator.
19,800 tablets of medicines used to treat COVID-19 were seized by Portuguese Customs in the port of Leixões in a shipment that was declared as LED lamps.
Dietary supplements declared as masks were seized at the airport by Namibian Customs.
1,574 thermometers concealed in a car were seized by Customs in Peru during a check at a border crossing point.
Various medicines were discovered at Heathrow Airport in the United Kingdom, including controlled drugs (28 kg of amoxicillin, 7 kg of paracetamol, 3 kg of omeprazole, 2 kg of hydrocortisone and 2 kg of gentamicin) that were packed in bottles of Gaviscon and other medical solutions, the export of which is not subject to prior authorization. The dispatcher was a London company, while the addressee was a pharmaceutical company in Somalia. The goods were concealed in a batch of 11 items weighing over 150 kg and declared as containing shampoo, hair vitamins and Regaxidil (an anti-alopecia, which is not on the list of medicines).
Bottles of COVID-CURE medicine, developed by Archbishop Samuel Kleda but which lack official approval, were seized during export by Cameroon Customs.
Six types of medicines, some of which had no indication as to composition or dosage, were seized in the logistics centre of an express mail company in China, concealed in a package from Australia that should have contained baby formula.
Large undeclared quantities (214,613 units) of tramadol, a synthetic opioid, and its substitute socomol were found by several African Customs services.
Offences relating to IPR infringements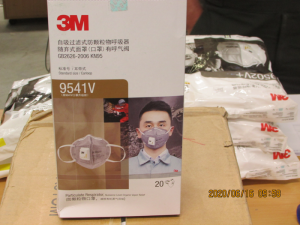 A total of 107 cases of infringement of intellectual property rights were reported for a total of 196,237 items. Certain products fell into the category of COVID-19-related products targeted during the operation. Hungary, Japan, Germany, the United Kingdom and Austria intercepted protective masks bearing registered trademark names or acronyms. In the United States, where the UL conformity label is a registered trademark, cases of IPR-related infringements were also reported in relation to COVID-19 test kits. Cyprus Customs reported seizures of counterfeit medicines, while Saudi Arabia Customs reported seizures of protective equipment bearing a registered trademark acronym or name.
Since Asia-Pacific region countries are the main producers of medicines, reagents and medical supplies used in combating COVID-19, they represented the broad majority of countries of departure of goods seized or detained, mainly because of lack of authorization to enter the market or the failure of products to comply with the rules in force in destination countries.
Because import formalities and national standards for medicines and medical supplies vary considerably between countries, importers who lack experience in the sector and who are under time pressure have sometimes purchased products without knowing the supplier, without verifying their conformity and without familiarizing themselves with the procedures to be followed. Certain importers have also been misled and have never received the goods purchased.
The lack of visibility of the supply chain is also problematic. The crisis has led to the emergence of many opportunistic intermediaries who have no experience in the medical supplies sector and little knowledge of the products they resell. Some have even produced invalid conformity certificates, i.e. certificates issued by certification bodies not qualified to certify medical products, while others have produced false certificates that are passed off as originating from a certified company.
The participants agree that the operation allowed them to improve their targeting ability by facilitating the exchange of information between countries. It also became clear, however, that certain countries had to improve their ability to draw up reports, since the quality of information reported via CENcomm is sometimes not good enough to be used by analysts and investigators. The operation also highlighted the importance of rapid and effective cooperation between border agencies, particularly in times of crisis. The WCO Secretariat will continue to follow closely the seizures reported by Customs administrations and intends to develop a second operation to stimulate the sharing of information.
More information
Stop@wcoomd.org