Nigeria: two agencies, one mission
25th February 2021
By
Mohammed Babandede, Deputy Comptroller of Customs
and
Afolabi Aderemi Basiru, Afolabi Aderemi Basiru, Deputy Director at NAFDAC
In Nigeria, the authority responsible for ensuring that foods, drugs, cosmetics, medical devices, chemicals, detergents and packaged water leaving or reaching Nigeria's shores meet prescribed quality standards is the National Agency for Food and Drug Administration and Control (NAFDAC). NAFDAC officials inspect products at international gateways – airports, seaports and land borders – as well as at production plants owned and operated by manufacturers both of processed foods and pharmaceutical products.
Another line of defence is the Nigeria Customs Service (NCS), which is also mandated to combat the import of substandard goods, among many other things. The NCS supplements the work done by NAFDAC; however, it does not replace the latter's oversight, control and surveillance of regulated products.
The establishment of a good working relationship between the NCS and NAFDAC has set in motion effective and efficient control processes enabling both agencies to safeguard human health and protect the environment. This collaboration is especially welcomed in times of crisis, such as the COVID-19 pandemic. The fact that NAFDAC staff are working alongside their NCS counterparts in Nigeria's ports of entry to conduct product quality controls is crucial to ensure that goods deemed essential to combat the COVID-19 pandemic as well as perishable goods reach their destinations on time.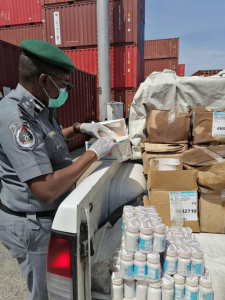 The NCS has developed effective clearance processes for products that require NAFDAC certification and approval. All regulatory agencies involved in the implementation of cross-border trade regulations have access to import and export data via the Nigeria Single Window platform – the Integrated Customs Information System (NICIS). They are required to input updated risk indicators to the application risk engine, develop importer risk profiles and share intelligence with each other when appropriate. In this way, NAFDAC is able to monitor trade transactions, manage licences and issue electronic permits via the platform, while the NCS is able to complete release formalities prior to the arrival of perishable or time-sensitive goods, such as vaccines, imported by a NAFDAC-licensed company. If the NCS decides to conduct an inspection, it can request that NADFAC and any other regulatory agencies participate in the examination of the goods.
As for NAFDAC, it has taken several measures to expedite inspections:
processing the issuance of electronic licences via the Single Window;
requiring importers to input the Approval Reference Code stated on their NAFDAC e-licences on "Form M", a mandatory document to be completed by all importers for importation of goods into Nigeria;
developing automated verification and validation systems for documents and licensing, in order to detect forgeries;
equipping officers with technology devices and access to laboratories.
In addition, both agencies have established quarterly, bi-annual or annual joint staff training focused on collaborative sharing of skill sets, technical expertise, manpower, resources and information.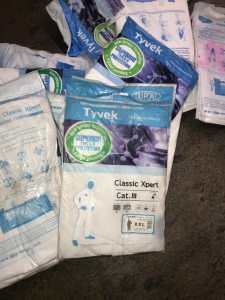 All these initiatives have strengthened the capacity of the NCS and NAFDAC to translate the concept of cooperation into tangible and effective actions and to facilitate effective emergency responses.
Although the partnership between the NCS and NAFDAC has yielded tangible benefits, there are nevertheless obstacles that have hampered service delivery. These range from limited capacity to test products to poor information and communications technology (ICT) connectivity. The most significant obstacles are listed below:
Risk to life: officers' safety is constantly being threatened by disgruntled importers and declarants, many of whom belong to organized crime groups.
Lack of non-intrusive inspection equipment: there are currently no functional scanners and cargo inspection is carried out manually, which is a cumbersome and time-consuming process.
Lack of onsite or mobile laboratories at ports of entry to enable product analysis: there is one central laboratory in each of Nigeria's 36 states; however, the time required to test products is rather high given the volume of requests received.
Constant changes in tactics employed by criminals, such as variations in mode of concealment, country of origin and means of shipment.
Poor infrastructure, especially a dilapidated road network: traffic builds up on the roads, meaning that ports remain congested. Lorries take a long time, sometimes days, to exit ports.
Lack of motivation among enforcement staff as officers are not being commended for outstanding achievements.
Porosity of the country's borders, which are difficult for officers to monitor.
More information
m_babandede@yahoo.co.uk
remi_afolabi@yahoo.com