China Customs disrupts major wildlife trafficking syndicate
By
the Environmental Investigation Agency UK
The New Year kicked off with positive news for wildlife, with the Chinese authorities announcing the capture and repatriation of a prolific ivory trafficker. This was the culmination of a major investigation led by the Anti-Smuggling Bureau of China Customs, which has disrupted two major wildlife trafficking syndicates.
The Chinese operation was initially prompted by confidential information provided by the Environmental Investigation Agency UK (EIA), a non-governmental organization dedicated to combating environmental crimes, and which has been documenting and analysing the role of organized crime in wildlife trafficking for more than two decades.
Ivory trafficking: a grave threat to elephants
Ivory trafficking continues to pose a major threat to elephants. In 2016, the International Union for Conservation of Nature (IUCN) reported that the African elephant population had declined by between 93,000 and 111,000 elephants from 2006 to 2015, marking the worst decrease in the number of elephants in 25 years.
The IUCN also found that Eastern Africa was most affected by poaching, largely due to a greater than 60% decline in Tanzania's elephant numbers. Neighbouring Mozambique's elephant population was also reduced by an estimated 25%, mostly due to severe poaching in the north. Overall, elephant poaching in Africa continues on a worrying scale, with more elephants dying from poaching than from natural causes.
In-depth research and investigations by the EIA between 2014 and 2017 provided unique insights into the role of a major Chinese criminal syndicate involved in the trafficking of elephant ivory from East Africa to Shuidong, located in southern China's Guangdong Province. At an early stage, it became clear that there was a close connection between the trade in marine products and ivory trafficking.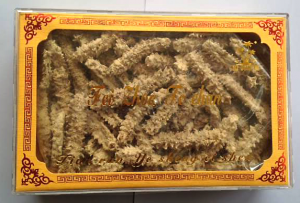 Traders from Shuidong originally involved in the sea cucumber and fish maw business had diversified into the profitable illicit trade in ivory and other wildlife, such as rhino horn and pangolin scales. By following leads from previous investigations in Tanzania on Shuidongese sea cucumber traders, in 2016, the EIA encountered three major ivory traffickers in Mozambique – Ou Haiqiang, Xie Xingbang and Wang Kangwen, all of whom have been apprehended by China Customs in the last two years.
Organized crime. The Shuidong syndicate demonstrated several organized crime characteristics: significant financial investment; sophistication of smuggling techniques and routes; facilitation of multiple shipments; reliance on corruption; money laundering; and trade in multiple species such as ivory, pangolins, rhino horn, and fish maws. The syndicate's operations were heavily dependent on establishing relationships with local "confidantes" and corrupt officials, for example, through the payment of bribes to Customs officers and port officials to ensure safe shipping and non-inspection of goods. Indeed, syndicate members admitted that corrupt officials would themselves weigh the goods, and charge the bribe, according to the weight of the ivory being shipped.
Concealment methods. The syndicate used a variety of legitimate products to conceal several tonnes of ivory in containers. According to Xie Xingbang, the choice of "filler" or legitimate goods to conceal the ivory is critical to avoid arousing suspicion at the point of export or import. The goods used by the Shuidong syndicate to conceal ivory included plastic pellets, sea shells, peanuts, and tea leaves. The nature of a consignee's business is also an important factor as this appears on the shipping documents.
Avoiding possession. The Shuidong syndicate operated with caution, minimizing physical contact with the ivory, and instead employing locals in Africa to collect and store the tusks. One exception being when traffickers decide to inspect tusks prior to shipping, checking on the quality of the product they were buying. However, such inspections were conducted under tightly controlled conditions.
Trade routes. The syndicate chose their route carefully to evade detection by enforcement authorities. Direct transport from Africa to China was considered too great a risk, so the group chose multiple transit ports such as Mombasa (Kenya), Singapore, Busan (South Korea), and Hai Phong (Vietnam). Accomplices, including corrupt government officials and complicit freight agents, were placed at strategic points throughout the trade chain, which enabled the syndicate to "own the route."
Illicit money flows. All payments in Africa were made in US dollars, with the group using Chinese black-market moneychangers based in Dar es Salaam (Tanzania) and Pemba (Mozambique). Money was paid in Chinese renminbi into designated accounts in China, after which local moneychangers in Africa were informed, who then provide the cash for collection in dollars.
"Switching" the bill of lading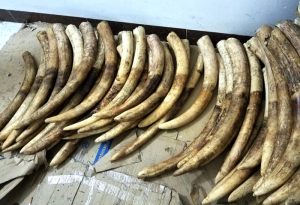 In April 2016, the Shuidong syndicate used a 40-foot container to ship 2.3 tonnes of ivory (sourced from over 340 elephants) concealed in grey plastic pellets weighing a total of 21 tonnes. The bill of lading described the contents of the container as "960 bags of plastics."
The container was loaded onto a cargo ship at the port of Pemba and safely transited through the ports of Mombasa and Singapore, arriving at the port of Busan, then destined for Hong Kong for onward transportation to Shuidong in mainland China, where the ivory would be securely stored while various buyers were contacted. When the price was agreed, and payment made, the buyers would load the tusks into a fleet of SUVs for onward transport from Shuidong.
The Shuidong syndicate used complicit freight agents to submit fraudulent documents for Customs clearance along the route. The freight agents are responsible for "switching" the bill of lading to conceal the origin of the container and the identity of the sender and recipient. This involves the use of two bills of lading to "break the route": the first one issued at the port of export incorrectly lists a transit port as the final destination, and the second one is produced at the transit port, listing the correct final destination.
Thus, the goods are exported to a specific destination under cover of one bill of lading, the destination being merely a transit point, and then re-exported to the final destination under a "new" bill of lading. Complicit freight agents selected by the Shuidong syndicate for switching the bill of lading typically have a clean record and have avoided interception.
In the case of the 2.3 tonne ivory shipment, mentioned earlier, the Shuidong syndicate planned to switch the bill of lading at Busan. With a new bill of lading issued at Busan, Hong Kong Customs cleared what appeared to be a routine shipment of plastic pellets from South Korea; by September 2016, the ivory had finally arrived in Shuidong. In October 2016, EIA undercover investigators were invited to Shuidong for an "ivory viewing," enabling them to confirm that the ivory had indeed reached Shuidong from Mozambique.
China Customs' enforcement success
Since 2010, at least 291 tonnes of ivory have been seized globally, sourced from approximately 43,486 elephants [based on open source information collated by the EIA]. Of this, approximately 70% of the volume seized constitutes large-scale ivory seizures (weighing 500kg or more), indicating the involvement of organized criminal groups trafficking large quantities of ivory.
Too often, wildlife crime enforcement action ends with seizures, and traffickers continue to operate with impunity. However, leading a ground-breaking investigation into the Shuidong syndicate, the Anti-Smuggling Bureau of China Customs has successfully turned the tide against wildlife crime, resulting in arrests and prosecutions of major traffickers, and the disruption of criminal networks.
Acting in response to information provided by the EIA on the syndicate, in 2017, the Bureau led a raid involving up to 500 enforcement officers in several locations in Shuidong and surrounding areas. One of the three key figures of the Shuidong syndicate, Wang Kangwen, was arrested during these raids and subsequently sentenced to 15 years imprisonment.
Follow-up operations resulted in the apprehension of the second key ivory trafficker, Xie Xingbang, who was tracked down in Tanzania and voluntarily returned to China to face trial. He was sentenced to six years imprisonment.
Finally, on 5 January 2019 it was announced that following the issuance of an INTERPOL Red Notice, Ou Haiqiang had been tracked down in Nigeria, arrested by local law enforcement and repatriated back to China. So far, 11 suspects have been convicted and sentenced to jail terms ranging from six to 15 years.
The intelligence-led investigations and the pursuit of the suspected wildlife traffickers by China Customs, in collaboration with relevant stakeholders, serves as a best practice in apprehending and disrupting wildlife crime syndicates globally. The recent enforcement action carried out by China Customs demonstrates that working together, wildlife crime can indeed be stopped.
Need for global coordinated action
Globally, there continue to be significant challenges in tackling wildlife trafficking. Ivory sourced from Forest Elephants in West and Central Africa is becoming more attractive to traffickers over ivory from Savannah Elephants in East Africa, and other imperilled wildlife, such as leopards, pangolins, rhinos and tigers, also continue to be targeted for the illegal trade in their parts and products.
The incontrovertible fact that many of these targeted species are being rapidly depleted due to poaching and trafficking underscores the urgent need for effective and coordinated action, particularly by Customs authorities across the globe.
More information
Shruti Suresh: shrutisuresh@eia-international.org
https://eia-international.org/report/shuidong-connection-exposing-global-hub-illegal-ivory-trade