Danish Customs deploys underwater drone
By
Thomas Petersen and Bo Damggard Nielsen, Rummage Team, Danish Customs
The use of sophisticated concealment methods by traffickers requires the use of proper inspection equipment by Customs administrations. As with all modes of transport, vessels present their own challenges when it comes to search operations. Rummaging vessels is extremely time consuming and expensive, requiring highly specialized personnel, especially when underwater parts have to be searched.
In Denmark, Customs does not have its own diving team and the Danish Customs Rummage Team relied on the services of the Danish Navy to undertake underwater rummaging until it purchased new equipment: a Remotely Operated Vehicle (ROV), also called an underwater drone, specifically designed and developed to make underwater observation easier. If anything suspicious is identified from the images received from the ROV, Customs will still rely on Danish Navy divers to carry out an inspection.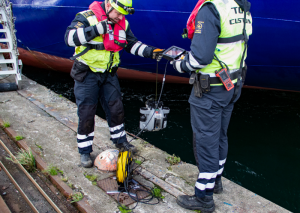 The drone was selected for the simplicity of its use and its affordability. Among other things, the operator can quickly and easily pilot the underwater drone using a gaming-style controller, without any extensive prior training. In addition, it can be easily transported and launched into the water from a dock.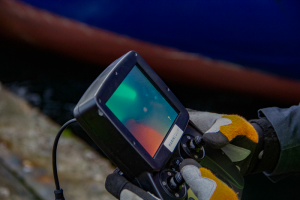 The drone has undergone testing since December 2017 and the Customs Rummage Team has been both impressed and pleased with this highly effective tool, which makes it possible to search underwater parts that are difficult to reach, such as the hull of vessels, the rudder, and the bow thruster (a ship's propellers that provide lateral support, making the vessel more manoeuverable).
However, the equipment has its limitations, low water visibility being one of them. Depending on the port, the water visibility may vary from 2-3 metres to as little as 30 centimetres. This vast difference may be due to weather conditions, the depth of the water (if it is low, the ship's propellers may have swirled up mud from the bottom), and water currents. It can be very challenging to navigate underwater if there are both strong currents and low visibility, making the inspection process less precise.
To solve the problem, the Customs Rummage Team is currently working on upgrading the drone by mounting a sensor package that will allow the team to see the depth of the drill, mounting a crawler that will enable the drone to crawl under the ship's base during strong currents, and installing a sonar that will provide underwater visibility up to 30 metres. These upgrades will make inspections more efficient during poor underwater conditions.
More information
Thomas.Petersen@toldst.dk
Bo.Damgaard.Nielsen@toldst.dk